Dean Cain And Teri Hatcher Want A Lois And Clark Revival After Show's Weird Ending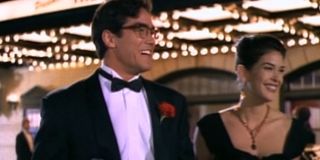 It looks like the recent announcement of Tom Welling and Erica Durance's appearances in the Arrow-verse crossover "Crisis on Infinite Earths" might not be the only Clark Kent and Lois Lane reunion on the horizon. Dean Cain and Teri Hatcher, who famously played the aforementioned characters on Lois and Clark: The New Adventures of Superman, wouldn't be opposed to a revival of their show (if only to answer the big question left during the series finale cliffhanger).
Lois and Clark: The New Adventures of Superman managed to balance both of Superman's personas and his personal life (romance, job, etc.). The series lasted for four seasons before it was cancelled in 1997. If you're not familiar with the show, Lois and Clark ended with the couple receiving the gift of a baby, who was left on their doorstep by an unknown person (or alien). Of course, the show was cancelled before fans ever learned where the baby came from and who dropped him off.
Speaking with Entertainment Tonight at an event for the American Heart Association, Dean Cain seemed enthusiastic about the possibility of a Lois and Clark revival.
Onscreen, Dean Cain and Teri Hatcher shined as Lois and Clark. They were very much partners-in-crime, even when they didn't always see eye-to-eye on some things. It seems that same energy translates off screen as well.
While the actors won't be reprising their roles for the "Crisis on Infinite Earths" crossover (there are already two Lois Lanes and three Clark Kents, so it'd probably be an over saturation anyway), both Dean Cain and Teri Hatcher have appeared in several episodes of Supergirl.
Dean Cain played Alex and Kara Danvers' father, Jeremiah. He had been a scientist working with the DEO, but had been presumed dead (but, he'd actually been kidnapped and held by Project Cadmus).
Teri Hatcher, on the other hand, played Mon-El's mother, Queen Rhea of Daxam. As the villainous queen, she attempted to terraform Earth and kill off all humans at the end of Season 3. Though these characters are far different than Lois and Clark, Dean Cain and Teri Hatcher both managed to maintain the DC Comics connection without having to play their original characters. But, with all kinds of shows getting a second wind nowadays, it would be nice to see them as Lois and Clark again, even if it were only for six episodes.
Supergirl will return to The CW for its fifth season on Sunday, October 6 at 8 p.m. ET. To find out when the other Arrow-verse shows will be returning, be sure to check out our complete guide to all of the fall TV shows.
Your Daily Blend of Entertainment News
Thank you for signing up to CinemaBlend. You will receive a verification email shortly.
There was a problem. Please refresh the page and try again.