8 Classic DC Actors We'd Love To See Appear In 'Crisis On Infinite Earths'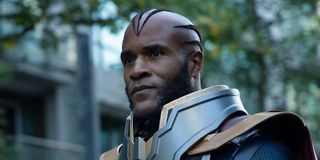 The 2019-2020 TV season is going to be a huge one for the Arrow-verse, as The Flash, Arrow, Legends of Tomorrow, Supergirl and Batwoman will take on one of the biggest DC comic stories of all time, "Crisis On Infinite Earths." That all-encompassing is so well-known for a reason, as the tale of Earths colliding and heroes uniting to thwart the Anti-Monitor fundamentally changed DC Comics storytelling forever.
So far, it doesn't seem the Arrow-verse will disappoint in bringing in different heroes, such Legends of Tomorrow's Brandon Routh suiting up as Superman like he did in Superman Returns. We also know that the 1960's Batman veteran Burt Ward will be appearing in the mega crossover, although it is not yet known if he'll be appearing as Robin. It's possible though, and if other classic DC heroes can return, here are some realistic gets we'd love to see appear.
Tom Welling's Superman - Smallville
We're incredibly blessed to be getting Brandon Routh to suit up as the Man of Steel once again, but c'mon, this is "Crisis On Infinite Earths!" Several duplicated heroes are allowed in this affair, and we'd like to think The CW has been doing all it can to get its former Smallville golden boy Tom Welling to play Superman for the five-episode crossover.
There's a decent enough chance it could happen, too. Stephen Amell had posted pictures with Tom Welling and Michael Rosenbaum ahead of the "Elseworlds" crossover, which did have Smallville reference, though neither Welling nor Rosenbaum appeared. Then, Welling said months ago he was going to be in Arrow Season 8, which doesn't make a ton of sense, provided he's not playing some random character that is yet to be announced. Was he confused, or is his Superman appearing on the Arrow portion of "Crisis on Infinite Earths?" We'll see!
David Mazouz's Batman - Gotham
After years of waiting, Gotham fans finally got to see David Mazouz Bruce Wayne as Batman. Unfortunately, the moment happened in the finale, and audiences only got a brief glimpse of the cape and cowl, which didn't even have Mazouz in them. "Crisis On Infinite Earths" is a chance for the actor to reprise his former role, but with the possibility of getting into the Batsuit for the Arrow-verse (which is missing its own Batman) to bust some heads.
It's a scenario that feels improbable, especially given DC's reluctance to let any Batman into the Arrow-verse to date, and Batwoman's Batman has left Gotham City, and is likely far older than Mazouz, who wants to play the role again, for the record. Then again, the company at least let him show up in Gotham, and Bruce Wayne is heading to Titans Season 2, where Batman showed up in Season 1 (albeit as a fantasy). The odds feel greater than ever that a Batman is coming to The CW, and if not Mazouz's version, then who?
Chris O'Donnell's Robin - Batman Forever, Batman & Robin
Batman Forever and Batman & Robin get a lot of flack in the movie world as "bad" Batman films, which is a bit unfair. The decade-spanning Batman film franchise has had some great entries, and while these are arguably at the bottom of the barrel in terms of acclaim and fan praise, one of them isn't all that bad. Also, these two flicks gave us our only live-action movie Robin to date!
These days, Chris O'Donnell's crime-fighting roles are mainly uncostumed and are confined to NCIS: Los Angeles, but there's a chance The CW could rope in the CBS actor for a quick cameo. Of course, after 20 years, one would imagine O'Donnell's Dick Grayson is probably Nightwing or some other heroic iteration, giving the Arrow-verse costume department something interesting to whip up. Let's get some redemption for those films by getting O'Donnell back in the superhero genre!
Justin Hartley's Green Arrow - Smallville
Let's face it, Stephen Amell is the definitive Green Arrow on The CW or anywhere else in live-action. That being said, he's not the only high-profile TV actor to have donned the mask, as Justin Hartley previously played the hero (and almost Aquaman) in Smallville. We know this upcoming "Crisis" crossover has a big arc in store for Amell's Green Arrow, but that doesn't mean he has to be the only one in the fight!
Justin Hartley has said he'd be down to appear on Arrow, so hopefully The CW saw that and contacted him about "Crisis On Infinite Earths." The This Is Us star would be a great addition to the cast if he could fit it in his schedule, and it'd be a great reminder that while Stephen Amell may have been the face of Green Arrow and DC TV for a long time, he's not the only one who's done it. Plus, we'll have to get another Oliver Queen someday, right?
Dean Cain's Superman and Teri Hatcher's Lois Lane - Lois & Clark
Ok, so it may be a little crowded to have so many versions of Superman in one crossover, but are we really going to leave Dean Cain's Clark Kent out of the fun? The same goes for Teri Hatcher's Lois Lane, who has earned the right after her stunning portrayal as Rhea in Supergirl. And of course, let's not forget Cain's portrayal of Jeremiah Danvers in the same series.
The fact that both of these iconic Lois & Clark actors have already been a part of the Arrow-verse in different ways makes it feel possible that both could return to portray their original DC characters. Let's just hope no scheduling conflicts or anything else gets in the way of bringing television fans this iconic duo once again. By the way, these two are paired because they have to appear together for maximum effect. One or the other just won't work.
Lynda Carter's Wonder Woman - Wonder Woman
You can't talk about Wonder Woman without talking about Lynda Carter. She's to Wonder Woman what Adam West was to Batman, only with out the comedic irony. There will always be a generation of people who learned about Wonder Woman first through Carter, and if she's available to appear in "Crisis On Infinite Earths," she has to come back as Wonder Woman.
Much like the case with Teri Hatcher and Dean Cain, it shouldn't be too hard for The CW to reach out to Lynda Carter considering she's already been a part of Supergirl. Seeing her appear as Wonder Woman would be great just for a scene in which Kara's mind is blown to learn that President Olivia Marsdin is one of the world's strongest heroes in another Earth; talk about having a charmed existence in the multiverse! Not that the two would need to be connected.
Dina Meyer's Batgirl/Oracle - Birds of Prey
Birds of Prey may be one of the lesser-celebrated DC shows from the past, which is all the more reason to give the people who loved it a great cameo to enjoy. Dina Meyer is a great pick because it adds yet another member of the Bat-Family to "Crisis On Infinite Earths," as her Barbara Gordon could appear either as Batgirl or Oracle. (Do we know how time works across the multiverse?)
Truth be told, adding Oracle to a brainy task force assigned with working from the sidelines would be ideal, so Dina Meyer may be the best character to add who could actually be of use. Heroes need competent and determined folks working behind the scenes, and with The Flash down a genius with Earth-2 Wells, and Arrow down its own by losing Felicity, the heroes will need some added brains to the equation for "Crisis on Infinite Earths."
6 Arrow-verse Heroes Who Could Die In Crisis On Infinite Earths
"Crisis On Infinite Earths" is headed to The CW this fall, with the Arrow-verse shows starting up in October. Stick with CinemaBlend for updates on the latest news on the big event and for news on what's happening in television and movies.
Mick likes good television, but also reality television. He grew up on Star Wars, DC, Marvel, and pro wrestling and loves to discuss and dissect most of it. He's been writing online for over a decade and never dreamed he'd be in the position he is today.