This Is Us Spoilers: Why Kate And Toby's Coping Methods Have Us Worried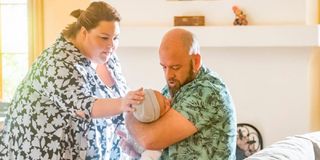 Warning! The following contains spoilers for Season 4 of This Is Us. Read at your own risk!
We learned pretty early in This Is Us Season 4 that things will work out for Jack Damon in the long run, but in the present there's a good deal of people worried about how the little baby will live with his ocular disability. No one is more stressed than his parents, though Toby was more willing to admit it than Kate. The two have gone about coping with the stress of the situation in different ways, and we're a bit worried.
Toby noted to Rebecca that while Kate hasn't missed a beat since learning of baby Jack's condition, he has noticed his wife has been doing a good deal of overeating. As for Toby, he told Kate towards the end of the episode that he was making a run to the store, but was seen later working some Battle Ropes something fierce in the gym. So, is this really a big problem? Let's dive in.
Why Toby's Gym Habit Could Be A Problem
Getting fit is typically a good thing, though Toby's secret trips to the gym could cause some issues between he and Kate. A sneak peek at a future episode showed Kate was shocked by Toby's weight loss, which means he may have kept his gym visits quiet for a long time. How will Kate react to her husband finally coming clean about this, and why is Toby being so secretive?
Weight has always been a touchy subject for Kate, which may be why Toby is keeping his gym time under wraps. We don't know how she'll feel seeing him make such progress in the midst of this stressful time, though the typical Kate response to lies and deception is anger. Toby talking about her overeating to Rebecca might also piss her off, and make Kate think he's judging her. This stressful situation is already a powder keg for drama, and Toby may have unintentionally set the fuse for a future explosion.
How Kate's Overeating Can Be A Problem
This Is Us has long showed Kate cope with stress through eating, and while she's had some ups and downs in keeping it in check throughout the years, this is a stressful situation that won't ever completely go away. We already know there's no miracle cure coming for Jack, and unless Kate can find a way to cope and maybe even stop blaming herself for getting pregnant when she wasn't in the best of health, she's going to continue eating.
For those who don't remember, keep in mind that we still have yet to see Kate in the 10-year flash-forward at Rebecca's death bed. There have been teases that Jack will be arriving with someone in that flash-forward, though we're not sure exactly who that will be. If Kate is continuing with her unhealthy eating habits, there's a good chance it'll catch her eventually.
Keep in mind Toby had some apprehension about showing up to Rebecca's death bed, which could be tied to something that happens this season. I'm thinking the weight loss/overeating fight combined with the stress of Jack could drive them apart, or that some life-altering health scare is happening down the stretch with Kate. I'd love to be optimistic and think everything works out like it did for Beth and Randall, but remember this is the sad show we're talking about here!
What This Is Us' Huge Three Season Renewal Could Mean For The Endgame
This Is Us airs on NBC Tuesdays at 9:00 p.m. ET. Continue to stick with CinemaBlend for updates on what's happening in Season 4, and for many more updates on what's happening in television and movies this fall season.
Mick likes good television, but also reality television. He grew up on Star Wars, DC, Marvel, and pro wrestling and loves to discuss and dissect most of it. He's been writing online for over a decade and never dreamed he'd be in the position he is today.
Your Daily Blend of Entertainment News
Thank you for signing up to CinemaBlend. You will receive a verification email shortly.
There was a problem. Please refresh the page and try again.