Why Star Wars: The Mandalorian Is Using IG-11 Droid Instead Of IG-88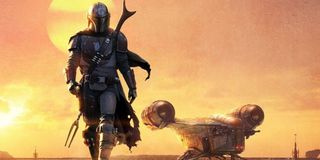 The Star Wars franchise has such a long history that brand new characters are often met with a questionable raising of the eyebrows, but it's admittedly tiresome to reuse the same characters over again. So it's no surprise that after the new Disney+ series, The Mandalorian opted to tease fans with the familiar character of IG-88, the loyal droid who was at Boba Fett's side, it was revealed that Thor: Ragnarok director Taika Waititi would actually be voicing the new droid character, IG-11.
The Mandalorian, which was created and written by Jon Favreau, will be the first series to debut on Disney+, and like every movie and series in the Star Wars universe, there's the expectation held by long-time fans for it to be good. Executive producer Dave Filoni, who also directed the first two episodes of The Mandalorian, wanted to stray away from familiar IG-88, though. The droid has a long history with the franchise, though largely within the Expanded Universe, which is no longer considered canon. Basically, Filoni didn't want revive old characters for this all-new story.
In an interview with IGN, Dave Filoni discussed his decision regarding the embrace of IG-11 in place of IG-88.
He makes a good point about new characters. Fans often grumble with hope that a familiar face (or droid, in this case) will appear in an unfamiliar new series or movie, but Ahsoka is an example of why new characters are so important in a long-running franchise. They breathe new life into the world of Star Wars and work to expand the universe in surprising ways.
Plus, Filoni didn't want an overlap. New characters come with no strings attached, so no one has to worry about whether they're screwing up the mythos that came before. In Filoni's words:
Dave Filoni truly believes in The Mandalorian, claiming the show is unique because the title character is just "a survivor and he's just trying to find his way on a day-to-day basis." He isn't a part of the Resistance, nor does he have any close ties to the Jedi or First Order. He's simply an ordinary-ish citizen of the galaxy trying to make a living for himself and that is reason enough to watch.
The Mandalorian premieres on Disney+ on November 12. In the meantime, be sure to check out our fall TV guide to every new and returning show.
Your Daily Blend of Entertainment News
Your Daily Blend of Entertainment News
Thank you for signing up to CinemaBlend. You will receive a verification email shortly.
There was a problem. Please refresh the page and try again.