The Flash Season 6 Trailer: New Villain Bloodwork, Barry's Parents And More Familiar Faces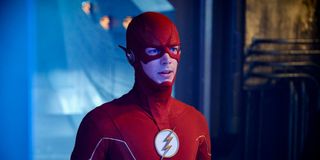 The Flash is back with a fiery new extended trailer that teases "Crisis on Infinite Earths." Grant Gustin's Barry Allen has his work cut out for him and decides that he'll probably have to train his team for the upcoming Crisis-tastrophe while also dealing with his impending death.
The trailer boasts a ton of familiar faces, including Michelle Harrison's return as Nora Allen (or Earth-3 Joan Garrick), new villain, Bloodwork, Breacher, and more. Check out the full trailer below!
Barry wonders if he was given powers specifically so that he could save the multiverse, but even so, the burden he'll have to carry is a heavy one. This is especially true considering he'll likely be preparing his wife, Iris West-Allen (Candice Patton) and everyone else for a "world without the Flash."
The Flash's extended trailer comes a whole week after the lengthy trailers dropped for the other Arrow-verse shows. This isn't surprising considering that new showrunner Eric Wallace wanted to keep spoilers at minimum. We already know that "Barry Allen has to die" and that The Monitor (LaMonica Garrett) will be paying the scarlet speedster a visit at the end of the Season 6 premiere, so The Flash is truly going all in on the emotions and consequences of the newspaper date changing from 2024 to 2019.
In the trailer, Barry turns around to see his mother, Nora Allen, and his whole face changes. Only, the woman in the trailer might not be his mom at all, but Joan Garrick of Earth-3. We know John Wesley Shipp will return to The Flash as Jay Garrick (and Henry Allen's doppelganger) in Season 6, Episode 2. And since Barry's paying Jay a visit, finding out he's married to Nora Allen's doppelganger makes a whole lot of sense and explains why she looks a bit different.
In another scene, Cisco (Carlos Valdes) and Iris stand in an alleyway, welcoming New Wells (Tom Cavanaugh). Or "angry Wells," as Cisco calls him after being thrown into the wall. The two characters have always been close, no matter what version of Harrison Wells Cavanaugh turned out to be. This time around, he'll be an Indiana Jones version of Harrison Wells, so it should be fun.
The extended trailer also implies that Barry will time travel again, presumably to the near future to see what "Crisis on Infinite Earths" will truly look like. If that isn't enough, there's The Monitor to explain it in detail, just in case.
One of the biggest surprises in the Season 6 trailer was seeing Danny Trejo's Breacher again. No one knew he was coming back, but there he is. If you'll notice in the background, Cisco and his girlfriend Kamilla are in bed. As always, Breacher appears at the most inopportune moments.
Then there's Bloodwork, who seems like a terrifying villain and is played by the fantastic Sendhil Ramamurthy. He only appears in the trailer once, but he narrated the San Diego Comic-Con trailer and the timbre of his voice alone proved that he can be incredibly menacing.
The Flash is sure to be a wild ride this season when it returns to The CW on Tuesday, October 8 at 8 p.m. ET. For all other Arrow-verse premieres, be sure to check out our complete TV guide for premiere dates and times.
Your Daily Blend of Entertainment News