What The Flash Season 6 Premiere Photos Tell Us About The Crisis Ahead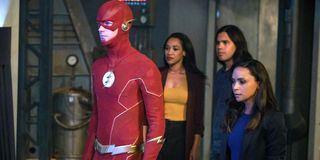 In just a few short weeks, The Flash will be back on our screens. The heartbreaking Season 5 finale, which saw Barry and Iris' daughter, Nora West-Allen (Jessica Parker Kennedy) disappear following changes to the timeline, left a tremendous hole in the hearts of the couple. However, they'll have plenty more sad news to contend with when they discover that Barry's disappearance in "Crisis on Infinite Earths" has moved from 2024 to 2019. Several photos from the Season 6 premiere were released and, though they don't tell us much, the biggest takeaway is that The Monitor is wasting no time at all in paying a special visit to Central City.
In newly released photos for the Season 6 premiere, titled "Into the Void," Barry, Iris and the rest of Team Flash will once again have their hands full. It was revealed during San Diego Comic-Con that the premiere will begin ten seconds after the events of the Season 5 finale. The episode's synopsis pretty much confirms this, especially since Grant Gustin's Barry Allen and Candice Patton's Iris West-Allen (who'll be getting a new look this season) will still be reeling from the loss of Nora.
But, it wouldn't be The Flash if they were allowed to deal with their grief like any normal couple. Nope, right on the heels of this tragedy, they -- along with the rest of Team Flash -- will be dealing with another threat that could potentially destroy Central City. It seems they're already trying to come up with ways to save the city from its impending doom in the picture below.
As for The Monitor, it's unclear exactly when he will show up in the episode, but my money's on it being at the very end. That would make for a great cliffhanger and would allow for the news of Barry's impending death to hang over the rest of the season. After all, "Barry Allen has to die," according to series star Grant Gustin and it'll be the cosmic being who delivers this tragic news. He's already called Oliver Queen to action, so Barry is next on his list. The speedster will have time to get his affairs in order, at least, but he won't take the news lightly.
In the photos, there's a solo shot of The Monitor, played by LaMonica Garrett, and he's standing in the time vault.
In another picture, Barry and Iris are standing together, their expressions showing disbelief. To no one's surprise, they're also standing in the time vault. It's nice to know that they'll probably be receiving the terrible news together and that there'll be no secrets between them. The Flash showrunner Eric Wallace is definitely trying to break fans' hearts right out of the gate. It's already been confirmed that the characters will react differently to this news, and if Barry and Iris' faces are anything to go by, they won't take it well.
The plot synopsis also teases Danielle Panabaker's Caitlin Snow and alter ego Killer Frost's trajectory this season. Though the photos don't reveal too much, Eric Wallace has said that we'll be seeing much more of Killer Frost this season. That doesn't mean that Caitlin will be gone completely, but it will offer the chance for the icy villain to explore her relationship with the team, which is exciting considering Killer Frost has largely been relegated to the background. However, while Caitlin has been in charge of both personalities for two seasons, that looks to change after Killer Frost experiences a near-death situation that "will change her relationship with Caitlin forever."
Additionally, Cisco Ramon (Carlos Valdes) took the metahuman cure last season, so he'll no longer be Vibe. What does that mean for his character moving forward? From the looks of the Season 6 photos, Cisco looks stressed and a bit unhappy. He's been put through the ringer, but getting rid of his powers won't necessarily make for a better life. According to showrunner Eric Wallace, Cisco will be exploring a normal life with his girlfriend, Kamilla, and will grapple with trying to find what happiness means for him. That contemplation could start as soon as "Into the Void."
With "Crisis on Infinite Earths" around the corner, the rise of Sendhil Ramamurthy's Bloodwork, and Barry's disappearance hanging over everyone like a dark cloud, Team Flash will be pretty busy. Hopefully, they'll be able to have some downtime before the chaos begins. They deserve that much after everything.
The Flash Season 6 premieres Tuesday, October 8 at 8 p.m. on The CW. For the rest of the Arrow-verse shows' premiere dates, be sure to check out our complete TV guide for new and returning series coming this Fall.
Your Daily Blend of Entertainment News
Thank you for signing up to CinemaBlend. You will receive a verification email shortly.
There was a problem. Please refresh the page and try again.