Arrow Season 8: All The Former Cast Members Returning For The Final Season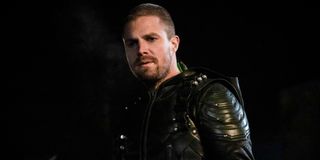 In what may be the most action-packed year in the Arrow-verse yet, it's only fitting that Arrow enters its final season. The CW's flagship superhero series isn't going gently into the good night either, as Season 8 is jam-packed with returning stars who had left the series.
There's a staggering amount of names coming back for Arrow Season 8. Enough, at least, that it makes the sting of those who probably won't be returning hurt just a little less. So, who all is set to return? Let's take a look!
Willa Holland (Thea Queen)
Willa Holland's exit in the midst of Season 6 was a surprise to many, though her role had already been reduced from what it was early on. Holland had returned for the show's 150th episode, but her appearance in Season 8 was by no means a sure thing.
Things worked out, however, and Thea Queen will be a recurring character throughout Season 8 of Arrow. Expect to see Speedy return in Episode 3, titled "Leap of Faith," and then to potentially pop in episodes a couple more times from there on out.
Colton Haynes (Roy Harper)
Colton Haynes' Roy Harper was back in action during Arrow Season 7, and was even brought back as a series regular. When news surfaced that he lost his series regular status fans got up in arms, fearing this was another situation similar to what happened with Emily Bett Rickards and Haynes was dropping the show to pursue other things.
Luckily, that wasn't the case and it has recently been confirmed Haynes will have a recurring role in Season 8. There are no details on what Arrow has in store for him, though we're hoping for some reconciling with Thea.
Colin Donnell (Tommy Merlyn)
While Colin Donnell's return to Arrow felt like a dream scenario that would never happen in the superhero show's early years, these days it's more or less old hat. That's not to say his last few appearances on the show haven't been entertaining, but at this point it would've been weird if the show couldn't have brought in Oliver's dead best friend for one last hurrah!
It seems like Arrow could be saving Colin Donnell's best appearance for last as he and Stephen Amell have teased fans are going to enjoy his Season 8 role. All we know so far is that Donnell will once again be entering as someone other than the Tommy fans first fell in love with. If it's as good as his last couple appearances, fans should be very excited.
Josh Segarra (Adrian Chase)
As great as all these Arrow character returns are, even the diehard fans have to be a little nervous about Josh Segarra coming back. Adrian Chase, or Prometheus, is arguably the biggest bad of the series, and even in death he really rocked the Green Arrow's world.
If there is some good news in this return, it's that Adrian Chase will come back in a different way than fans expect in Season 8. We don't know what to expect, though I would love to see some form of redemptive character just for the sake of contrast.
John Barrowman (Malcolm Merlyn)
The last time John Barrowman's Malcolm Merlyn was seen in the Arrow-verse was in the "Elseworlds" crossover as a hallucination. Before that, he had sacrificed himself for Thea by taking her place on a landmine on Lian Yu, and it looked like that was that for the meddlesome rival archer of Oliver Queen.
Right now we have no idea what to expect, though it wouldn't be all that surprising to learn that Merlyn survived that landmine he stepped on. He's gotten out of crazier situations in the past, though we'd have to wonder where he's been since then and why he hasn't resurfaced. Maybe he'll be part of some weirdness that happens through Oliver's working with The Monitor?
Susanna Thompson (Moira Queen)
Arrow has featured a lot of deaths over the years, but few were quite as shocking as the execution of Oliver's mother Moira Queen. Susanna Thompson's character has surfaced a few more times since she was killed off, though she's showed up far less than other characters that were once as prevalent as she.
No word yet on how exactly Susanna Thompson will be used in Arrow Season 8, but whatever will happen will probably be depressing. Moira's death was just so brutal it's almost hard to remember she wasn't that great of a person to Oliver before her death, so hopefully her arrival will be in a way that doesn't totally bum us out.
Rila Fukushima (Tatsu Yamashiro)
Tatsu -- or Katana, if you prefer -- is back for Season 8! She and Oliver had their issues but eventually wound up on good terms. This mission with The Monitor is going to presumably put Oliver through hell, so it would be great if Katana were able to help out her old friend with those awesome blade skills.
Rila Fukushima's character is believed to be returning in the Season 8 episode "Welcome To Hong Kong." This makes sense, as Oliver crossed paths with Tatsu when he was working for A.R.G.U.S. in Hong Kong a while back. Let's hope for the best!
Byron Mann (Yao Fei Gulong)
In perhaps the deepest cut of Season 8, Byron Mann is coming back to come Yao Fei Gulong, the man who trained Oliver on Lian Yu. Mann had a big role in the flashbacks in Season 1 of Arrow, and hasn't appeared since outside of one Season 5 episode.
Now it's not like this is the first time we've listed the return of a character that should be dead, but Yao Fei's return is pretty interesting. It definitely feels like Season 8 is making a point to resurrect long-dead characters, and that they will play a role in Oliver's final arc.
Lexa Doig (Talia al Ghul)
Talia al Ghul was initially believed to be one of the dead after Lian Yu, but she ended up resurfacing in "The Demon." Oliver ended up helping her escape prison, and while he could've escaped as well, he opted instead to have her deliver a flash drive to Felicity and the gang to help bring some dicey experiments at his prison to an end.
Talia can be a trouble-maker, though with how well she worked with Oliver in Season 7 it would be nice to see these two teaming up again. Together they could take on just about anything, except maybe The Monitor and Oliver's unavoidable fate that's coming down the stretch.
Why Stephen Amell's Oliver Won't Be Miserable In Arrow Season 8, Despite Losing Family
Arrow is back on The CW for its final season on Tuesday, October 15 at 8:00 p.m. ET. Stick with CinemaBlend for more Arrow-verse updates as they come, and for all that's happening in the world of television and movies.
Mick likes good television, but also reality television. He grew up on Star Wars, DC, Marvel, and pro wrestling and loves to discuss and dissect most of it. He's been writing online for over a decade and never dreamed he'd be in the position he is today.
Your Daily Blend of Entertainment News
Thank you for signing up to CinemaBlend. You will receive a verification email shortly.
There was a problem. Please refresh the page and try again.