The Boys' Chace Crawford Shares Hilarious Story Behind Character's Penis Bulge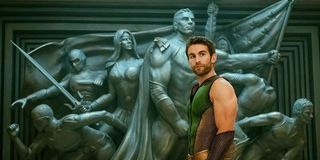 With the oversaturation of superheroes on TV shows and in the movies, Amazon's The Boys stood out because it completely flipped the script (and wasn't Marvel or DC) by asking: what if the heroes were actually the villains? The superhero elite known as The Seven was revealed to be a most diabolical group of people, and the same might be said for the marketing team that gave the world Chace Crawford's highly discussed penis bulge.
In a hilarious move, Amazon released a Boys-themed calendar, and Gossip Girl's Chace Crawford had to try and explain The Deep's over-the-top penis bulge after fans took notice. Awkward... Chace Crawford admits he's aware of the over-sized bulge, and he's had good laughs about it, too.
Despite its incredibly dark tone, The Boys didn't shy away from comedy. though like the rest of the show, the comedy got very dark. Even something as terrible as a dolphin being thrown out of a truck took on a darkly hilarious tone. It's no surprise, then, that The Boys-themed calendar is no different.
The photos seen inside include Chace Crawford's The Deep hilariously posing while surrounded by a badly Photoshopped ocean. However, it didn't take long for fans to start noticing the rather eel-shaped bulge in the crotch area, which seemed exaggerated for the sake of the photos.
Though Chace Crawford can joke about it now, he didn't realize what The Boys promo team was up to until he was suddenly in front of a green screen posing for another set of pictures.
Though Homelander proved to be a bigger menace, Chace Crawford's The Deep – a send-up of Aquaman – committed a slew of horrible acts as well. Near the end of The Boys Season 1, however, it seemed like he was getting a taste of his own karma. But even though he attempted to reform himself, it never seemed to work out. Instead, The Deep ended up becoming a disgrace, and it honestly makes the calendar and the hilarious bulge debacle all the more entertaining.
The Boys Season 1 is currently available to stream on Amazon Prime and has already been renewed for Season 2. Be sure to check out the complete guide to everything coming to Amazon, along with other streaming services and networks, this fall.
Your Daily Blend of Entertainment News