The Office's Jenna Fischer And Angela Kinsey Give Fun Updates On Jim, Pam And More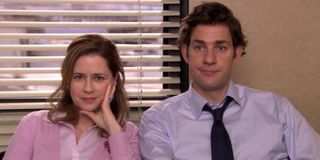 It's hard to imagine that Jim and Pam from NBC's The Office got married ten years ago, because binging the show on Netflix has made the sitcom feel so timeless. But, time makes fools of us all. Still, it's often fun to wonder what the characters might be up to years after we last saw them. Did Jim and Pam stay married? The Office stars Jenna Fischer and Angela Kinsey weigh in on where all of the characters are now.
The Office ended on a high note after nine seasons. All the characters, including Steve Carell's Michael, returned in the series finale for Dwight and Angela's wedding. It capped off the show with an emotional ending that was so perfect, even showrunner Greg Daniels is reticent about bringing the comedy series back for a revival.
However, it's been six years since The Office aired its series finale and fans have always wondered where their favorite characters ended up. Sometimes, such as in the case of J.K. Rowling giving her two cents about where the beloved Harry Potter characters ended up, it doesn't always end well. Still, out of sheer curiosity, fans want to know, regardless.
The Office's Jenna Fischer and Angela Kinsey recently appeared on Watch What Happens Live with Andy Cohen to promote the launch of their podcast about The Office. After Cohen brought up Chrissy Teigen's poll on Twitter, which asked whether or not Jim and Pam would still be married, he ran down a list of characters to get their thoughts on what they'd be up to now. While there, they provided an update on the status of Jim and Pam's relationship, whether Stanley's still in retirement, if Tobey ever successfully launched his book career, and much more.
Jim and Pam: Jim Halpert and Pam Beesly are probably one of the cutest, sweetest TV couples of all time, so even the idea of them not still being married is preposterous. Sure, they've had their ups and downs, as couples are wont to do, but they've always been a strong pairing (even if Chrissy Teigen thinks they're probably divorced now). Jenna Fischer says:
Whew, I'm glad Jenna Fischer and I are on the same page.
Angela and Dwight: This relationship was one of the stranger occurrences on The Office, but as bizarre as it was, Angela and Dwight made a whole lot of sense. She loved cats and he loved beets and everything worked out for them in the end. But are they still together? Yes, Angela Kinsey still believes they're going strong.
I'm wondering whether Dwight's brother, Mo, is still around, helping with all those Schrute babies. Probably.
Michael and Holly: Michael went through many a bad relationship before meeting and marrying Holly, the awkward yet sweet human resources professional. Together, she and Michael were a match made in heaven and they could do Yoda impressions all day long. Michael moved away with her at the end of Season 7, but did they ever make it back to Scranton. Nope, says Jenna Fischer, but:
Wedded bliss and kids is what Michael always wanted, so it's nice to know he's still happy. This next couple, maybe not so much.
Kelly and Ryan: They both had their own issues, and, together, their relationship was toxic but continued in an off-again/on-again manner for years. During Angela and Dwight's wedding, Kelly ran away to be with Ryan, even though she seemed to have a very stable relationship with an attractive doctor.
According to Angela Kinsey, they're still very much a "hot mess." That sounds pretty accurate.
Phyllis and Bob Vance: Are they still sneaking in some "afternoon delights?" Angela Kinsey says yes, but Jenna Fischer notes that their relationship may have taken a dark turn.
Does Phyllis have it in her to kill someone? You be the judge.
In other non-couple updates: Tobey, the creepy human resources employee who was always feeling sorry for himself, never did find success as an author. Andy was absolutely at the center of other humiliating viral videos, Oscar did win that senate seat, and Stanley is still enjoying retirement, but probably has "multiple families" in Florida.
You can watch Jenna Fischer and Angela Kinsey break down the fate of every character in the video below!
There are currently no plans for The Office to make its return to television, and, come 2021, the series will be moving from its current home on Netflix to join NBC's new streaming service, Peacock.
In the meantime, there are plenty of other new shows on TV this fall, so be sure to check out our complete guide to every new and returning show premiering through November.
Your Daily Blend of Entertainment News
Thank you for signing up to CinemaBlend. You will receive a verification email shortly.
There was a problem. Please refresh the page and try again.