Netflix Series Halts Filming For Up To Nine Months Over John Cho Injury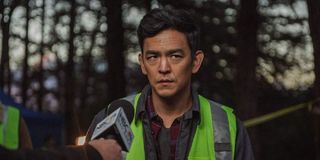 There are plenty of actors who are often praised for doing their own stunts. However, stunt doubles exist for a reason, but sometimes accidents happen regardless. Such is the case with John Cho, who suffered from an extensive knee injury that has stalled production on Netflix's live-action Cowboy Bebop in New Zealand.
The live-action Cowboy Bebop is being adapted from the Japanese anime series of the same name. The animated series had a total of 26 episodes and gained popularity when it aired on Cartoon Network's Adult Swim back in the late 1990s. The live-action was originally announced back in 2017 but didn't have a network attached to produce. However, Netflix announced late last year that it would produce the adaptation and things really got rolling.
In April of this year, John Cho -- who is playing spikey-haired bounty hunter Spike Spiegel -- was revealed as one of four main cast members, including Mustafa Shakir, Daniella Pineda, and Alex Hassell.
Although things were looking up, Deadline is reporting that production was completely halted after a freak accident landed the Searching actor in the hospital. While filming a scene for the series, Cho suffered a knee injury that ultimately required surgery. As one of the main characters, Cowboy Bebop was forced to shut down production in the interim.
John Cho was flown back back to Los Angeles to undergo surgery and rehabilitation for his knee. As the actor heals, production on Cowboy Bebop is expected to last around seven to nine months until Cho can return to New Zealand to film.
Netflix had ordered the series for a ten-episode season and it had been in production for a few episodes prior to John Cho's accident. Now, the streaming service could've easily recast the role, especially since shutting down production for nine months is a long time for any series, but Netflix is adamant about Cho staying on to play Spike Spiegel.
This is great news because fans were already impressed by John Cho's commitment to the role, commenting on how accurate his hairdo was and how much he resembled his character. With just one glimpse, fans of the anime were hopeful that the live-action adaptation would be faithful to the original Cowboy Bebop anime.
John Cho posted to Instagram, updating fans on his injury and thanking everyone for their support throughout this difficult time.
His spirits seem high despite the months-long recovery and rehab he'll be facing. Alongside the caption, John Cho posted a photo of Spike Spiegel's belt, which you can check out below.
Given this major setback, Cowboy Bebop probably won't announce a production start date until John Cho is fully rehabilitated and ready to return to work. Stay tuned to CinemaBlend for more information as it breaks.
In the meantime, you can watch the original Cowboy Bebop anime series on Hulu. In need of more shows to watch? Make sure to check out our complete guide to every new and returning show premiering through November.
Your Daily Blend of Entertainment News