How Popular Is El Camino: A Breaking Bad Movie? Netflix Lets Us In On The Numbers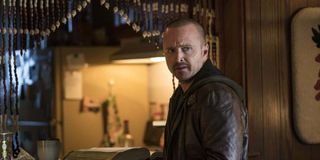 Prior to Netflix announcing El Camino: A Breaking Bad Movie, no one had accounted for the possibility of a Breaking Bad spinoff movie at all. The film, which premiered on Netflix on October 11, focused primarily on Walter White's portege, Jesse Pinkman. Now that the film's been out for a little over a week, the streaming service let us in on how many people watched El Camino! So far, the film has averaged well over 25 million viewers.
When Breaking Bad premiered on AMC, it was hard to gauge whether or not it would be a hit. However, the series, which aired from 2008 - 2013 and spanned five seasons, was a runaway hit with audiences and received plenty of critical acclaim. Naturally, AMC wanted to bank on its popularity, so the streamer ordered the prequel spinoff series, Better Call Saul, which followed the story of lawyer and con-man Jimmy McGill (Bob Odenkirk).
Somewhat surprisingly, El Camino: A Breaking Bad Movie landed on Netflix instead of AMC, but it still garnered a lot of attention from fans, who could never get enough of the world of Breaking Bad. Netflix is reporting that an average of 25,734,392 households have tuned into watch Jesse Pinkman's solo outing.
This is actually above average when compared to the original show and spinoff series. Breaking Bad's final season ratings averaged around 4.32 million total viewers during its initial run, while Better Call Saul garnered around 1.5 million viewers an episode in Season 4. Although it's worth pointing out a lot of people had caught up for the final season and the finale brought in 10.28 million in Live+7 day viewing--which is a shorter period of time than just under two weeks. Still, El Camino: A Breaking Bad Movie drawing in over 25 million viewers in less than two weeks is an incredible feat and showcases the fans' desire for this kind of content.
Now, it's best to remember that Netflix ratings are tricky and there is no third party company to confirm the numbers the streamer releases, which also should include wordwide viewership and not just US households. The way the streaming service calculates the number of viewers is based on subscribers finishing at least 70% of a movie. It remains unclear, however, whether Netflix also calculates the number of times a movie was viewed by the same household, etc.
El Camino: A Breaking Bad Movie follows the redemption story of Aaron Paul's Jesse Pinkman after his escape from captivity. The film was written and directed by Breaking Bad creator Vince Gilligan and included a flashback scene of Bryan Cranston's Walter White telling Jesse that it's good that he didn't have to wait his entire life "to do something special."
It seems Bryan Cranston isn't ready to let Walter White go completely. The actor is more than willing to make an appearance on Better Call Saul, which is set to return to AMC for its fifth season in 2020. Even if Cranston returned, fans shouldn't expect his appearance to be more than a cameo role.
El Camino: A Breaking Bad Movie is now available to stream on Netflix. Want more TV shows to watch? Be sure to check out our complete guide to every fall show premiering through November.
Your Daily Blend of Entertainment News