Why American Horror Story Probably Won't End With Season 10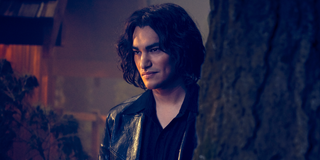 American Horror Story, FX's critically acclaimed anthology series, is fast approaching its current contractual endgame. With American Horror Story: 1984 halfway over, series creator Ryan Murphy already has ideas swirling in his head for Season 10, which is slated to be its last for the time being. While all good things must eventually come to an end, Murphy is always hungry for more AHS, as is the fanbase.
While Season 10 of the FX series is being touted as the last, executive producer extraordinaire Ryan Murphy doesn't think he's ready to be done with the show. AHS recently celebrated its 100th episode and here's what the Pose co-creator had to say about the fan-favorite series possibly carrying on past Season 10:
Ten seasons is a long time for any TV project, especially when so many get cancelled in their early years, while others never even make it to air. However, with an anthology series like American Horror Story, every season is different and doesn't have to rely on previous seasons or storylines to maintain its longevity. Ryan Murphy's growing stable of eclectic stars also helps, as does the energy to keep making more seasons.
It sounds a lot like Ryan Murphy still has a whole host of ideas for future AHS seasons, going by what he told Variety, and I'm here for it. In fact, AHS: 1984 has revitalized the anthology series in a lot of ways. With its ode to 1980s horror (and hairstyles and fashion) and its success even while missing AHS staples Sarah Paulson and Kathy Bates, Season 9 has flourished on its own terms.
Still, Sarah Paulson, who was in attendance at the series' 100th episode party, would always be up for returning to the series, but believes that AHS is at its best when it changes things (and characters) up.
While FX has not confirmed whether or not the series could actually take its frights beyond a tenth season, Ryan Murphy is currently cooking up ideas for what the next batch of installments will be and he's giving himself a Halloween deadline.
In the meantime, fans can continue enjoying the twists and turns of American Horror Story: 1984 every Wednesday at 10 p.m. ET on FX. Need more TV shows to watch? Be sure to check out our complete guide to every new and returning show premiering through November and December.
Your Daily Blend of Entertainment News
Your Daily Blend of Entertainment News
Thank you for signing up to CinemaBlend. You will receive a verification email shortly.
There was a problem. Please refresh the page and try again.