11 Shows You Should Stream If You Love American Horror Story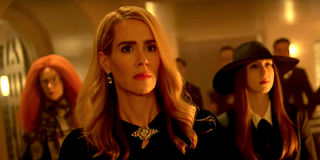 With Halloween right around the dark and spooky corner, American Horror Story is in full crossover-friendly swing with its mysterious new season on FX, titled AHS: 1984. The throwback thrills attracted a solid crowd for the long-running anthology, no doubt giving FX execs reason to crank up their '80s boomboxes in celebration. Unfortunately, one episode of American Horror Story a week often just isn't enough, and something else is needed to fill the void.
Here, we've rounded up a selection of different shows currently streaming that should, for one reason or another, be attractive to fans of each of American Horror Story's past seasons. After all, everyone deserves to make it through the Halloween season with their sanity intact. (Or not, if that's preferred.) Let's kick things off with arguably the worst setting for a House Party remake.
The Haunting of Hill House - Netflix
From Oculus and Gerald's Game director Mike Flanagan, The Haunting of Hill House is a lofty and extensive retelling of Shirley Jackson's seminal novel, as led by talents such as Carla Gugino, Henry Thomas, Elizabeth Reaser and more. The concept of a big and spooky mini-mansion haunting its familial inhabitants, complete with some damned frightening supernatural incidents, should definitely speak to everyone who watched AHS' first season, dubbed American Horror Story: Murder House. Just expect more deliberately emotional acting in Hill House.
WHERE TO STREAM: Haunting of Hill House currently has one season available on Netflix, and there are thankfully plans for Season 2 to come in 2020. Titled Haunting of Bly Manor, it will touch upon not only Henry James' Turn of the Screw, but also the author's other works, in terrifying ways.
Legion - FX
Perhaps the most esoteric and artistic TV series to come out of Marvel Television, Legion spent three seasons digging into the dark and twisted psyche of Dan Stevens' David Haller, as helped by Rachel Keller's Syd and haunted by Aubrey Plaza's Lenny (sort of). Legion's genre-bending antics, musical moments and insane visuals are right in line with Ryan Murphy and Brad Falchuk's affinity for splicing absurdity and dark comedy with terrorizing dread. What truly anchors this pick is the fact that, like American Horror Story: Asylum, some of Legion's craziest moments occur within a mental institution.
WHERE TO STREAM: Legion currently has all three of its FX seasons available on Hulu and on FXNow, with no plans for creator Noah Hawley to return to this narrative in the future.
A Discovery of Witches - Sundance Now / Shudder
First released in the U.K. before making the jump to the U.S., A Discovery of Witches is the televised adaptation of Deborah Harkness' novel trilogy. In the series, Teresa Palmer's witch historian and Matthew Goode's vampire professor team up to protect a powerful manuscript in the midst of creature-filled chaos. The largely praised first season should line right up with the interests of American Horror Story fans who adored the bewitching Coven season above all others, even if Lily Rabe's Misty Day isn't around to make things more awesome.
WHERE TO STREAM: A Discovery of Witches' first eight episodes are available to stream on Sundance Now or on Shudder, and not only is a second season in the works, but a third season was also ordered up.
Carnivale - HBO
HBO's Carnivale remains one of the most critically acclaimed cancelled-too-soon TV shows out there. It was a sprawling epic of a dark fantasy mystery that centered on the variety of interesting Dust Bowl souls keeping a traveling carnival on its metaphorical feet, with a strong Good Vs. Evil rift being driven between Nick Stahl's healer Ben and Clancy Brown's powerful preacher Brother Justin. As American Horror Story fans know, carnivals can be quite fun and scary places, thanks to Twisty the Clown and the rest of American Horror Story: Freak Show's ensemble. Though unlike Carnivale, Freak Show did get to finish its story.
WHERE TO STREAM: Carnivale's two lone seasons are available to stream on HBO Go and HBO Now, though it will take all the miracles in the world to bring it back for the rest of creator Daniel Knaupf's planned seasons.
Hotel Beau Séjour - Netflix
For those who need reminding of the hallway-filled thrills and chills of American Horror Story: Hotel, the Dutch-language series Hotel Beau Séjour could be just the creepy ticket. This show, at least the first season, focuses on a teenager who wakes up inside a hotel in Limburg without any memories, and soon discovers her own corpse in the bathtub. The supernatural crime drama doesn't have Angela Basset or Lady Gaga, but it does have a gripping story to share with audiences.
WHERE TO STREAM: Hotel Beau Séjour Season 1 is available on Netflix, while Season 2 is set to be released in Belgium in 2020.
The River - ABC
All of ABC's more recent high-profile inevitably get compared to Lost, and The River was no exception. One of the only found-footage-style TV shows of any era, The River followed a team searching for a lost explorer (Bruce Greenwood) near the Amazon basin. There were some growing pains, but The River delivered some sweat-covered scares across its eight-episode first season, which also starred Paul Blackthorne, Leslie Hope and Joe Anderson. Though the setting may be different, the found-footage thriller should be a worthy discovery for fans who adored the P.O.V.-switching American Horror Story: Roanoke.
WHERE TO STREAM: The River's lone season is currently available to stream on Amazon or on ABC's website. Low ratings led to this show's cancellation, but there were hopes that it would live on somewhere beyond ABC. Maybe a reboot someday?
The Path - Hulu
With a killer lead trifecta of Breaking Bad's Aaron Paul, True Detective's Michelle Monaghan and Hannibal's Hugh Dancy, Hulu's The Path offered up a look at largely well-meaning believers within a troublesome group that straddled the line between a religion and a cult. While the Meyerist sect in The Path isn't nearly as hate-mongering as the titular group seen in American Horror Story: Cult, fans of the latter will likely be enthralled and consumed by the relationships and the mysteries going all the way up The Ladder.
WHERE TO STREAM: All three seasons of The Path are currently streaming on Hulu, and given its cancellation, that will likely be all that fans will get about all things Meyerism.
Chilling Adventures of Sabrina - Netflix
After the success of The CW's dark Archie take with Riverdale, creator Roberto Aguierre-Sacasa (the current CCO of Archie Comics) went even deeper and darker into supernatural teen mythologies with Chilling Adventures of Sabrina, a much spookier and more demonic take on the teenage witch, as played here by Kiernan Shipka. While Sabrina might seem like a better match for American Horror Story: Coven, the Netflix horror's religious elements, combined with the threat of an impending armageddon, is more complementary of AHS: Apocalypse's narrative, which partially hinged on the fantastic debut of then-newcomer Cody Fern as the antichrist.
WHERE TO STREAM: Chilling Adventures of Sabrina currently has two 10-episode seasons streaming on Netflix, along with a Christmas special that serves as the connective tissue between the seasons. Another 16 episodes are on the way, which will be split into 8-episode chunks.
Pose - FX
Finally, because AHS: 1984 is still in the early days and thus can't be judged as a whole, we're offering up FX's Pose as a suitable choice for a streaming suggestion. In reductive terms, both shows were created by Ryan Murphy and Brad Fulchuk, both place in the 1980s (at least for Pose's first season), and center on groups of fun-loving people who are often victimized by others who see themselves as superior. Granted, Pose is focused on the New York ballroom dancing circuit amongst the LGBTQ community, and not on a summer camp killer, but I think anyone would agree that Pose's Billy Porter slays everything in his path.
WHERE TO STREAM: The first season of Pose is currently available to stream on Netflix, while both seasons are available through FXNow.
Channel Zero - Syfy
One of the most unpredictable and unsettling TV shows creeping around, Channel Zero was a perfect combination of the talents of author and Hannibal vet Nick Antosca with spine-chilling creepypasta (Internet-born horror tales and lore). Like American Horror Story, Channel Zero gave fans new and original stories each season, though I dare say that the Syfy anthology packs more psychologically warping bangs for viewers' bucks, packed into only six episodes for each new cycle. From Candle Cove's tooth monster to No End House's memory-munching to every fucked-up thing that happens in Butcher's Block and Dream Door, Channel Zero stays lodged in the brain long after the eps are over.
WHERE TO STREAM: The first three seasons of Channel Zero are currently available on Shudder, with only the Dream Door season not up yet.
Scream Queens - Fox
What better way to wrap up this American Horror Story list than with another Ryan Murphy and Brad Falchuk horror-tinged anthology that also starred Emma Roberts. Before turning Fox on its head with 9-1-1, Murphy and Falchuk created the extremely sardonic and biting Scream Queens, which aligned itself just as much with dark comedy as with splatter gore. Celebrated for bringing Jamie Lee Curtis back to the horror genre (ahead of her return to the Halloween franchise), Scream Queens was like a YA version of American Horror Story as led by some of the most intentionally miserable characters – The Chanels – in the genre.
WHERE TO STREAM: Both the college-set first season and the hospital-set second season of Scream Queens are currently available on Hulu.
Anyone looking for more darkly intriguing (and often bizarre) anthology series should hit up Netflix's Black Mirror and Love Death & Robots, Amazon's Lore, and/or AMC's The Terror. Hopefully all of those shows will help make the wait between American Horror Story episodes that much easier to deal with during Fall TV.
2019 Fall TV Premiere Schedule: Dates For New And Returning Shows
AHS: 1984 airs Wednesday nights on FX at 10:00 p.m. ET.
Your Daily Blend of Entertainment News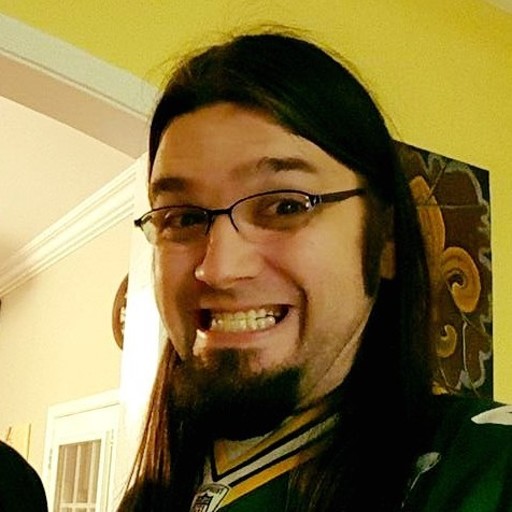 Assistant Managing Editor
Nick is a Cajun Country native, and is often asked why he doesn't sound like that's the case. His love for his wife and daughters is almost equaled by his love of gasp-for-breath laughter and gasp-for-breath horror. A lifetime spent in the vicinity of a television screen led to his current dream job, as well as his knowledge of too many TV themes and ad jingles.