Why Game Of Thrones Didn't Show More Of Ramsay's Final Scene With The Hounds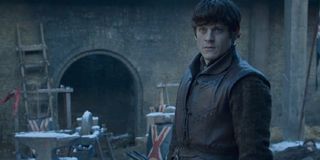 When Game of Thrones premiered on HBO, it quickly became a fan-favorite program and a cultural phenomenon. Prior to Iwan Rheon's Ramsay Bolton appearance on the show, Joffrey was thought to be the worst of the worst. But, Ramsay proved he was as evil a character as they come. Seasons after his arrival, he was killed off by his own hounds, but the camera panned away (some thought) too soon. Recently, series creators David Benioff and D.B. Weiss revealed the reason Game of Thrones didn't show more of Ramsay's final scene.
David Benioff and D.B. Weiss, who are no longer writing the next Star Wars trilogy, have been on the receiving end of some of the fanbase's ire after Season 8 of Game of Thrones disappointed many viewers. The duo, who later cancelled their San Diego Comic-Con appearance, did have a panel at the Austin Film Festival over the weekend to discuss Game of Thrones. During it, Ramsay's death became a topic of conversation.
When an audience member mentioned wanting to see Ramsay being eaten by his hounds, David Benioff and D.B. Weiss explained (via ForArya) that the dogs were rendered completely by VFX and so to have them onscreen for longer than necessary would've looked "cartoonish."
That's interesting, considering how much money was probably spent on bringing Daenerys Targaryen's dragons to life onscreen. It seems that HBO didn't feel the need to spend as much money on those special effects (because dragons!) if the camera could cut away to Sansa's satisfied face instead. Despite not showing much of the hounds, Ramsay's screams could still be heard and so the impact of his death remained.
Ramsay Bolton was the cream of the crop when it came to Game of Thrones villains. He was evil in all the excruciating ways. He physically and mentally tortured Sophie Turner's Sansa Stark and Alfie Allen's Theon Greyjoy -- and reveled in it as well. So, when Sansa sicced his very own killer hounds on him, it felt like poetic justice.
Even though Game of Thrones ended and the series creators are off doing other projects, HBO was busy developing several new spinoff series, one of which would've fleshed out the Night King's backstory. That's a bust now, though, since HBO pulled the plug on the unnamed prequel series starring Naomi Watts, citing a "troubled" pilot production and creative differences.
Hours after this announcement, news broke that HBO had ordered another series, one that would follow House Targaryen. So, expect a whole lot of dragons to be a part of the show, which has already been given a 10-episode order. The series, which has already received the fitting title of House of Dragons, will be based on George R. R. Martin's Targaryen-centric book called Fire and Blood and will take place 300 years before the events of Game of Thrones.
Stay tuned to CinemaBlend for more Game of Thrones news. Can't wait for the next HBO fantasy installment? Then be sure to check out our complete guide to every new and returning show premiering through November.
Your Daily Blend of Entertainment News