The World Series Wins Big, Who's Watching Watchmen And More In This Week's TV Ratings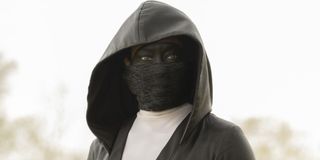 (Image credit: HBO)
Fall TV season was mostly business as usual until this past week, when the last few games of the 2019 World Series turned everything upside down. Baseball made for the most buzz-worthy broadcasts, resulting in some shows airing reruns while still others (including HBO's freshman Watchmen) went ahead with new episodes. Basically, non-sports primetime was up for grabs this week, and there was no saying how the 2019 World Series would compare in the ratings to past MLB championship series. There were some twists and turns this week, so read on for a rundown of what was most interesting in the TV ratings!
Note: unless otherwise specified, all calculations are Live+Same day in the key 18-49 age demographic.
The World Series Won Big, But There's Bad News For MLB
In the least surprising news of the week, Major League Baseball's World Series between the Washington Nationals and the Houston Astros was the dominant force in primetime. Fox won big, which no doubt came as a relief considering the World Series going to seven games meant Fox had to skip another week of ratings juggernaut The Masked Singer. The Nats came out on top of the Astros, Fox came out on top of the ratings, but that's not the whole story, or else why would we care?
First, the good news. Three of the seven games of the 2019 World Series aired this week, and they easily won their slots. Game 5 on Sunday, October 27 scored a demo rating of 2.4 in 18-49, and won 10.22 million viewers. Game 6 followed on Tuesday, October 29, and was an even bigger hit thanks to a rating of 2.8 and audience of 15.3 million.
Unsurprisingly, Game 7 was the highest-rated and most-viewed, with a rating of 5.6 and audience of 21.19. Congratulations to the Washington Nationals/Walgreens for the 4-3 win over the Houston Astros, to Fox for winning the week, and to Major League Baseball for an exciting series that went to seven games!
Well, semi-congratulations to MLB. Despite attracting a whole lot of people in the most valuable demographic of television viewers, Sports Media Watch reports that, on average, the 2019 World Series was the lowest-rated since Giants vs. Tigers in 2012 and least-watched since Giants vs. Royals in 2014. Furthermore, it was the second lowest-rated and fourth least-watched in World Series history. If not for the boosts from the sixth and seventh game, the 2019 World Series would have been the lowest-rated of all time.
But hey, at least the World Series won the week!
NBC's One Chicago Vs. CBS' NCIS Got A Twist
If you've been reading these rundowns on a weekly basis, you may have noted special attention to the three series of NCIS and the three series of One Chicago. Well, as the two most notable multi-show network TV universes not on The CW -- which will never compete with the likes of CBS and NBC -- comprised of three shows each, they're worth comparing, and the battle has been difficult to call for one side or the other so far this season. This week, however, there was a twist that could impact the numbers moving forward: reruns vs. new episodes.
For the first time since fall TV season started back in September, NCIS and NCIS: New Orleans on CBS both aired reruns in the same week as three brand new episodes of One Chicago on Wednesday. NCIS: Los Angeles was the only one of the NCIS shows to air a new episode. Based on the average ratings for the 2019-2020 TV season so far, the NCIS franchise may not have been able to afford an off week for two of the three shows.
Let's break it down. Throughout the 2019-2020 TV season so far, NCIS has consistently crushed all of the other NCIS and One Chicago series in viewership, with the season averages not even close. In fact, the closest runner-up in viewership to NCIS' Season 17 average of 11.7 million is Chicago Med Season 5 with 7.9 million. NCIS gets the top prize by far in viewership.
The issue is a lot stickier than just declaring the NCIS franchise the winner based on the mothership's superior viewership, though. None of the NCIS shows are actually on top in the average ratings so far, although it is close. Chicago Fire currently averages a 1.2 rating, with NCIS averaging a 1.19.
Still, I give the ratings win overall to One Chicago easily, because Med, Fire, and P.D. are all averaging within 0.1 of each other, with Med at a 1.17, Fire at its 1.2, and P.D. at 1.1. To contrast, NCIS has its 1.19, but NCIS: Los Angeles averages 0.72 and NCIS: New Orleans averages only 0.7. Even worse for the NCIS franchise is that all three Chicago shows have higher average viewership than LA and NOLA.
Considering NBC solidified its status as the place to be on Wednesday nights for a three-hour block of in-universe entertainment, contrasted with the NCIS series split between two nights, it's possible that One Chicago's numbers will continue to remain more or less equal and consistent, while NCIS' only advantage is the massive audience. Could the NCIS and NCIS: NOLA reruns this week have turned off some viewers, while the Chicago Med, Fire, and P.D. viewers all got a new installment to motivate them to tune in again next week?
As always, I have to note that none of the NCIS shows on CBS and One Chicago shows on NBC directly compete against each other, with NCIS: LA on Sundays at 9:30 p.m. ET, NCIS on Tuesdays at 8 p.m. ET, and NCIS: NOLA on Tuesdays at 10 p.m. ET, whereas Med, Fire, and P.D. air in NBC's primetime block on Wednesday nights, and Med didn't have to compete against The Masked Singer this week.
Interestingly, however, all of these shows had to compete against a game of the World Series. Considering the huge boost in numbers from Game 6 on Tuesday to Game 7 on Wednesday, it should definitely be interesting to see if One Chicago gets a bump next week without the climactic game of the 2019 World Series as direct competition.
So, as of this week in the fall TV season, I'm going to declare One Chicago the winner over the NCIS franchise, and the Tuesday reruns could work against NCIS in the long run, but the game can still swing in either direction. Stay tuned!
Who's Watching Watchmen On HBO?
To move on from dueling procedurals, let's take a look at HBO's most high-profile premiere of the fall: Watchmen. The premium cable network, which has struggled somewhat in the months since the end of Game of Thrones and made the unsurprising move this week of ordering a Game of Thrones spinoff to series, hyped Watchmen pretty heavily ahead of the premiere. Set in the same universe as the critically-acclaimed and popular comic series of the same name, Watchmen has the potential to make HBO want a whole lot more than the originally-planned single season.
Well, based on numbers from TV Series Finale, it turns out that HBO has a pretty good thing going with Watchmen so far. The network often does exceptionally well when it comes to delayed viewing, but Watchmen isn't doing too shabbily in Live+Same numbers. The first episode scored a rating of 0.24 and audience of 799,000 viewers, and this week's second episode remained even in the ratings with another 0.25 and only slightly dropped in the viewership, with a 4.26% fall to 765,000 viewers.
HBO's Watchmen Episode 2: All The Big References To The Original Comic Book
Bearing in mind that these are pre-delayed viewership calculations for a premium cable network -- a.k.a., not expected to match the likes of NCIS or One Chicago -- Watchmen is off to a respectable start. The consistency in the demo from first to second week reflects an audience that largely stuck around following the premiere, which is rarely the case for freshman series. The viewership drop is relatively minor, and could have been impacted by Game 5 of that pesky World Series.
Is Watchmen the next Game of Thrones for HBO? Probably not. Could it be solid enough for HBO to want to continue the series beyond the original single-season plan? Definitely. There are still another seven episodes of Watchmen's first (and possibly only) season, and these numbers or some of the ones to watch as fall season continues.
Arrow May Avoid A Crisis In Final Season
The Arrow-verse on The CW may never be able to catch One Chicago on NBC or the NCIS universe on CBS, but it remains unique as a five-show shared universe of superheroes that can and will cross over for big adventures. With the "Crisis on Infinite Earths" mega-crossover that could be truly amazing in the works and original Arrow-verse series Arrow wrapping up for good shortly after "Crisis," my eyes have been on that show's numbers in particular. And those numbers were unfortunate for its first two episodes. Arrow seemed to be facing a ratings crisis well ahead of the "Crisis" crossover!
Well, Oliver Queen may be going through an existential crisis at the moment, but Arrow got a much-needed boost with its third episode of Season 8 on Wednesday. Was it still the lowest-rated and least-watched show of the night with its 0.3 rating and audience of 0.81 million? Yes. But those numbers represent a boost from the previous week, so score!
The Walking Dead Needs Life Support, Superheroes Aren't So Super And More In This Week's TV Ratings
Yes, Arrow bumped up 7% in the ratings and 4.6% in viewership, and when a show was missing the target in the numbers as much as Arrow was in its first two episodes of its last season, even relatively minor bumps are impressive. Arrow is also the only one of the four shows of the Arrow-verse currently airing new episodes (with Legends of Tomorrow being held until midseason) to grow in ratings and viewership from last week to this week.
The Flash, airing ahead of Arrow on Tuesday nights, dropped nearly 2% in the ratings, while Batwoman dropped more than 3% and Supergirl dropped more than 13% in the ratings. Arrow probably won't be setting any records in ratings or viewership -- at least, any positive records -- this season, but maybe there's hope that it will go out with a bang rather than a whimper. And hey, news of the return of Emily Bett Rickards could win back some viewers too!
So, there you have the latest rundown of impressive developments, biggest outliers, and most hopeful trends from the past week of TV ratings! Be sure to check back with CinemaBlend next week for the newest rundown of TV ratings, and don't forget to drop by our 2019 fall TV premiere schedule for some shows that haven't yet launched.
Laura turned a lifelong love of television into a valid reason to write and think about TV on a daily basis. She's not a doctor, lawyer, or detective, but watches a lot of them in primetime. Resident of One Chicago, the galaxy far, far away, and Northeast Ohio. Will not time travel, but will sneak references to The X-Files into daily conversation.