Watch Arrow's Stephen Amell Take On His Toughest Enemy Yet: An On-Set Hammock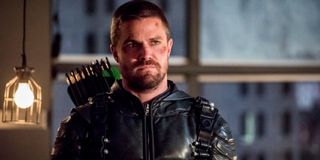 Oliver Queen can rock the salmon ladder, survive through dark times, and has almost died and come back to life on more than one occasion. So, you'd think that Arrow's Stephen Amell would be able to face anything at this point, but he recently took on his toughest enemy yet: an on-set hammock.
A couple of weeks ago, Stephen Amell shot his final scene with The Flash's Grant Gustin, whose Barry Allen doesn't know about Oliver's deal with The Monitor, and fell asleep lying on a hospital bed. In a video posted to Twitter, Amell is back with some on-set hilarity, but this time he fought a hammock and the hammock won.
You can watch Stephen Amell's battle with the hammock below!
It seems Stephen Amell was in the middle of a break from filming a crossover scene when he attempted to relax in the hammock, which is housed on the Legends of Tomorrow Waverider. Watching the actor struggle to get into a comfortable position works as a source of comedy and second-hand embarrassment. But, hey, we've all been there. Hammocks are hard to master, just like archery skills.
It's been about a month since the Arrow-verse actors began filming the upcoming five-episode crossover, "Crisis on Infinite Earths," but the extended shoots are not surprising, given the scope of the event. The crossover is bringing together the many worlds of DC TV, including Batman: The Animated Series' Kevin Conroy as a "future Bruce Wayne" and appearances from Smallville's Tom Welling and Erica Durance.
Over on Arrow, Oliver is dealing with the "Crisis" in the only way he knows how, by looking for answers about the mysterious cosmic entity known as The Monitor. At the end of Season 8, Episode 2, Lyla was revealed to be working with The Monitor, which makes sense since she'll be suiting up as the legendary "Crisis" character known as Harbinger. (Something tells me she wouldn't have time to get stuck in a hammock.)
However, Oliver got a few unexpected guests in the bunker at the end of Season 8, Episode 3 when his daughter Mia (Katherine McNamara) and son William (Ben Lewis), arrived from the past. Their arrival might explain why Katherine McNamara was spotted filming scenes alongside Stephen Amell for "Crisis on Infinite Earths." It could also mean big things for the upcoming Arrow spinoff show, Green Arrow and the Canaries. Perhaps the Queen family will be reunited at some point before the series final scene, since Emily Bett Rickards has been confirmed to return as Felicity Smoak in Arrow's series finale.
The last we saw of Felicity, she was saying goodbye to Mia and William before heading off to rendezvous with The Monitor. After which he opened a gateway to the great unknown (seriously, I don't know where she went), presumably to go be with Oliver… somewhere. Maybe the series finale will offer clues as to where that is. Maybe their future involves a field full of hammocks to get wrapped up in. Or maybe not.
Arrow airs Tuesdays at 9 p.m. ET on The CW. "Crisis on Infinite Earths" kicks off with Supergirl on December 8, Batwoman on December 9, and concludes its first half with The Flash's midseason finale on December 10. Arrow and Legends of Tomorrow will be the final "Crisis" episodes to air on January 14, following the winter break.
Your Daily Blend of Entertainment News
Thank you for signing up to CinemaBlend. You will receive a verification email shortly.
There was a problem. Please refresh the page and try again.