First Look At Arrow Vet As DC's Harbinger For Crisis On Infinite Earths Crossover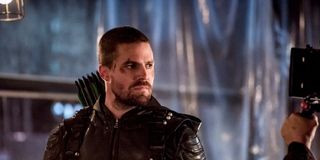 Lyla Michaels is finally claiming her namesake as Harbinger in the Arrow-verse crossover, "Crisis on Infinite Earths." Arrow veteran Audrey Marie Anderson has been tapped to play the cosmic role of a lifetime in The CW's five-part crossover, which kicks off this December. Anderson has played Lyla Michaels since the first season of Arrow. As Harbinger, who could be crucial to the crossover, she'll finally get her time to shine.
For awhile, it truly seemed like the Arrow-verse had forgotten all about Harbinger, who is The Monitor's right-hand in all things relating to "Crisis" in the comics. Since Oliver Queen (Stephen Amell) is being sent on a specific mission for The Monitor (LaMonica Garrett) — plucked from the life he shared with his wife and daughter in the Season 7 finale of Arrow — I presumed that Harbinger's role would essentially be filled by the Green Arrow himself.
Thankfully, any such fears were put to rest with the announcement that Audrey Marie Anderson would be playing the powerful superhero, Harbinger. And there was no better way for The CW to make that announcement than with the release of a fantastic new poster showcasing the actress in her new Harbinger threads. Check out the full poster below!
Lyla Michaels as Harbinger makes a whole lot of sense because they literally share the same name. While live-action adaptations of comic books are never exact, it was still strange that Arrow's version of the character was not actually Harbinger at all, but an agent-turned-director of A.R.G.U.S and the wife of John Diggle (David Ramsey). The long-awaited transformation into Harbinger is a big deal for Audrey Marie Anderson, who's been a recurring guest star on Arrow for years, as well as Lyla. It's a win-win situation.
Per her comic book origins, Harbinger was rescued and raised by The Monitor. Though The Monitor had already foreseen the future and Harbinger's tragic actions, he let fate play out. He tasked Harbinger with bringing together Earth's heroes from past, present, and future to battle the Anti-Monitor and save the multiverse.
This announcement comes at the perfect moment, too, since "Crisis on Infinite Earths" has already begun filming. Elizabeth "Bitsie" Tulloch, known best for her role on Grimm, recently posted a picture with Superman actors Tyler Hoechlin and Tom Welling. Meanwhile, Smallville's Erica Durance also shared a picture with Welling, both of whom starred on the long-running superhero show.
Johnathon Schaech, who's reprising his role as Jonah Hex, joined in on the crossover fun and posted a photo from the set of "Crisis," which included The Flash's Grant Gustin (Barry Allen), Arrow's Katherine McNamara (Mia Smoak), and Legends of Tomorrow's Caity Lotz (Sara Lance) and Matt Ryan (John Constantine).
"Crisis on Infinite Earths" will bring the entire Arrow-verse and a few Black Lightning characters together for the first time. Supergirl will kick things off on December 8, followed by Batwoman and The Flash December 9 and 10. It's likely Barry Allen's disappearance will serve as the crossover cliffhanger before "Crisis" concludes on January 14, 2020 with Arrow and Legends of Tomorrow.
Arrow will return to The CW on Tuesday, October 15 at 9 p.m. ET. For the rest of the Arrow-verse premiere dates, be sure to check out our TV guide to see when they'll be returning.
Your Daily Blend of Entertainment News