The Little Mermaid Live: John Stamos' Flub, Shaggy's Thriller Look And More Highlights From The Live ABC Event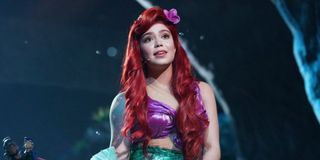 (Image credit: ABC)
Live TV musicals were all the rage for a while thanks to huge ratings hits like NBC's The Sound of Music Live and The Wiz, but some of that musical magic started to be lost on the small screen... until now, thanks to The Wonderful World of Disney Presents The Little Mermaid Live! The live adaptation of 1989's beloved The Little Mermaid took some big risks and was nothing like previous live TV musicals, and the finished product was magical, flashy, and spectacular.
The Little Mermaid Live! intercut the high-flying live musical numbers with animated footage from the 1989 film, meaning that the production had plenty of time to put together elaborate sets, set up wire work, and maneuver the actors into crazy costumes while viewers from home watched the movie.
The animated element could have been a letdown for fans who were expecting something entirely live a la Grease: Live from a few years ago, but the combination of live-action and animation for an undersea extravaganza was pure Disney. If you're a musical fan who enjoys show-stopping musical numbers, then The Little Mermaid Live! was probably a great way to spend two hours.
Of course, all musicals have their share of highs and lows, as well as the inevitable missteps that come with a live production. So, read on for a rundown of some of the biggest highlights of The Little Mermaid Live! on ABC.
The Cast
I'd be remiss if I didn't begin a rundown of The Little Mermaid Live!'s highlights by singing the praises of the musical's cast. Starring Auli'i Cravalho as Princess Ariel, Graham Phllips as Prince Eric, Queen Latifah as Ursula the sea witch, Shaggy as Sebastian the crab, Amber Riley as the emcee for the daughters of Triton, and John Stamos as the wacky Chef Louis, The Little Mermaid Live! was packed with people who could carry the notes as needed, play the characters as meant to be played, and ham it up when the situation called for it. (I'm looking at you, Stamos!)
Of course, Shaggy isn't exactly a crooner, not even Queen Latifah can pull off intricate dance moves while wearing an octopus costume, and John Stamos won't be winning any Grammys any time soon, but all of these elements worked for their characters. I think we can all be happy that Auli'i Cravalho was cast to play the second Disney princess of her career, and congratulate Disney and ABC for assembling a talented group of people to bring the beloved story of The Little Mermaid to live-action on the small screen. That said...
John Stamos Named The Wrong Prince
John Stamos was fantastic at channeling the manic energy of Chef Louis for The Little Mermaid Live! to the point that I was ready to cheer on the little crabs as they scuttled away from his utensils while he tried to cook them up. Where he wasn't so fantastic was at remembering the name of The Little Mermaid's iconic prince, who is of course Eric. At the end of Chef Louis' big "Les Poissons" number, Stamos dropped what seemed to be an ad-lib one liner: "I knew I should have played Prince Albert!"
What Excites John Stamos About Playing Chef Louis In The Little Mermaid Live
Now, to John Stamos' credit, he did quickly add "...or Eric!" but the flub was caught on live TV by people all over the country. Fortunately, the flub was funny rather than detrimental to the overall show, and frankly it felt kind of in-character for Chef Louis. Maybe if Stamos' hadn't been distracted by his son being adorable during rehearsals, he might have remembered Prince Eric's name!
Prince Eric Got To Sing
Speaking of Prince Eric, Little Mermaid fans got to see -- and hear -- a lot more of Ariel's love interest than in the original movie. Yes, Eric did more than wear a deep-V, nearly drown a couple of times, and ultimately stab Ursula during the pursuit of a happily-ever-after with Ariel. Graham Phillips, known for Riverdale and Atypical, got to sing as Prince Eric, including a sweet duet with Auli'i Cravalho that didn't appear in the 1989 film.
In fact, he lent his voice to the very first number of the musical extravaganza and sang a solo as well! The Little Mermaid always had some of the most popular Disney music of the 90's golden age thanks to songs like "Part of Your World" and "Under the Sea," and "Poor Unfortunate Souls" ranks as one of my personal favorite villain songs. Now, thanks to the ABC special, Prince Eric got to show off his musical side as well.
Shaggy's Thriller Look
Most of the actors who played sea creatures were decked out in elaborate costumes that made them look as much like fish and crustaceans and mer-people as possible. In fact, most of the crabs of The Little Mermaid Live! looked like crabs. The exception was, of course, Shaggy as Sebastian. Shaggy wasn't sporting a bunch of extra legs or scuttling around the stage or even wearing crab claw gloves, but rather dancing and singing while wearing what looked an awful lot like Michael Jackson's iconic "Thriller" music video outfit.
Social media had a lot of fun with the fact that Shaggy's look as Sebastian was so "Thriller"-esque and understated compared to the other actors' outfits. After all, Auli'i Cravalho was wearing a full mermaid tail for half the show and Queen Latifah did a full musical number when getting in and out of an octopus outfit, to name only two! Oh, Shaggy.
All That Disney Magic
Say what you will about Disney and its dominance over a whole lot of the entertainment industry, but no company can produce movie (and now TV) magic quite like the House of Mouse. While most people probably wouldn't look at a movie that spends the first half of its screen time underwater, stars a cast largely comprised of anthropomorphic animals and mer-people, and culminates in a battle against a supersized octopus sea witch and think that it should be translated to a live TV musical, Disney pulled it off.
There were mermaids swimming around the stage, sea creatures dancing and singing to try and convince Ariel to stay under the sea, sailors giving a very inaccurate portrayal of life in the navy, and so much more that shouldn't have been possible in live-action on a broadcast network. The Little Mermaid Live! was pure Disney magic, and I find myself wishing that I could un-watch it so I could relive the first experience all over again.
The Grand Finale
Speaking of magic, The Little Mermaid Live! delivered a grand finale that definitely didn't happen in the movie but was perfect to close out a live stage show. The celebration of Ariel and Eric/Albert's wedding turned into a spectacular number that brought out the full cast for the live TV version of a curtain call. There was singing, there was dancing, and there were huge smiles on the faces of the cast members.
Did Shaggy once again stick out for basically just wearing red leather while everybody else was dressed in elaborate outfits, with Auli'i Cravalho deserving special credit for neither falling over nor knocking Graham Philips over with the massive skirt of Ariel's wedding dress? Sure. Was it an incredibly fun number that was the ideal way to close out a high-energy night of Disney magic? 100%. Can we have more of these please, Disney? You don't have to put everything on Disney+!
Ariel 1.0 Took The Stage
The Little Mermaid Live! found arguably the perfect way to start the show that both honored the original movie and proved that viewers were in for something different: Jodi Benson kicked things off. Jodie Benson is the voice actress who brought Ariel back to life for audiences in 1989. Although she didn't have a role in The Little Mermaid Live!, she did appear in the beginning, and she looked as excited as any of the rest. The original Ariel welcomed the next Ariel, and what's not to love about that?
Only time will tell if The Little Mermaid Live! will be the first of many live-action stagings of animated Disney movies. A lot may depend on the ratings, which I'm guessing will be pretty fantastic. After all, who doesn't love The Little Mermaid?
If the numbers are high enough and Disney can pull another popular classic animated movie from its vault, then maybe viewers who loved The Little Mermaid Live! will get more productions of its kind. It may be a little early to start pitching Beauty and the Beast Live! to ABC, but seriously, who do I call at ABC to make this happen?
In all seriousness, the ratings for The Little Mermaid Live! could say a lot about the future for live musicals on the small screen, so be sure to swing back to CinemaBlend on Friday for our weekly TV ratings rundown. For more viewing options now and in the not-too-distant future, check out our 2019 fall TV premiere schedule.
Laura turned a lifelong love of television into a valid reason to write and think about TV on a daily basis. She's not a doctor, lawyer, or detective, but watches a lot of them in primetime. Resident of One Chicago, the galaxy far, far away, and Northeast Ohio. Will not time travel, but will sneak references to The X-Files into daily conversation.