Why Craig T. Nelson Returned To TV For Young Sheldon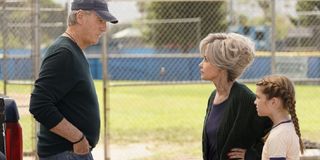 Craig T. Nelson is returning to the TV comedy arena. After playing Zeek Braverman on NBC's Parenthood, Nelson has nabbed a recurring guest role on The Big Bang Theory spinoff, Young Sheldon. Poised to butt heads with Sheldon's beloved Meemaw, Nelson's excited to be playing a "fun jerk" on the CBS sitcom.
While Craig T. Nelson is known to today's TV viewers as Zeek Braverman from Parenthood, the actor is actually going back to his Coach roots in more ways than one. Not only is his guest stint on Young Sheldon a return to the sitcom world, but he'll ironically be playing a little league coach whose disposition isn't unlike that of the surly Hayden Fox. In fact, after being cast in so many dramas over the years, Young Sheldon being a sitcom played a major factor in Craig T. Nelson's triumphant return to comedy.
It turns out Sheldon's Meemaw (Annie Potts) won't appreciate Coach Dale Ballard being a jerk, no matter how fun the actor thinks he is. The biggest reason behind Meemaw's disdain for Coach Ballard is his refusal to let her granddaughter Missy (and Sheldon's twin sister) onto the little league team.
Craig T. Nelson offers reasons for why his character is a jerk, describing Coach Ballard to TV Insider as being an old school thinker, among other things.
It sounds a lot like Coach Ballard's personal issues are bleeding into his little league choices and Young Sheldon's 1980s setting fuels that line of thinking, especially with regards to Missy's position on a boys' team.
This is Young Sheldon's first season flying solo without The Big Bang Theory, which CBS has lost the rights to air. However, Young Sheldon seems to be doing just fine on its own. Craig T. Nelson's upcoming appearance on the show will surely spice things up a bit too, especially since his character will continue to be on the series for at least the next couple of episodes, per CBS listings.
Young Sheldon airs Thursdays at 8 p.m. ET on CBS. For more on when your favorite fall shows will air, be sure to check out our complete TV guide to every new and returning show premiering through the end of 2019.
Your Daily Blend of Entertainment News