All The TV Shows That Have Already Been Cancelled In Fall 2019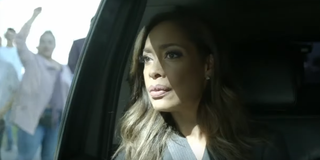 Ahhhh...fall. It's a wonderful time of year when the leaves change colors, we can finally break out our best boots and sweaters and television is new all across the land. This season has already brought us some freshman hits, while some returning shows have continued to solidify their places in primetime for yet another season. Unfortunately, as we roll into late fall and the pre-hiatus time that dominates network television as the holidays come upon us, something else that this time of year sees is the beginning of the TV bloodbath known as cancellation.
That's right, folks, we're solidly in post-fall premiere time for most shows now, and that means that networks are examining ratings from the past several weeks and deciding which series will stay and which ones will go. As can be expected, we already have a crop of freshly cancelled shows from broadcast networks and cable, along with two shows from the same network (surprisingly enough) which are unlikely to return after their initial episodes air, but haven't quite been officially laid out to pasture just yet.
Well, let's not keep you in suspense any longer, lest we find this list of TV shows that have already reached the chopping block in fall 2019, cancelled itself!
Bluff City Law (NBC)
Now, this is one of the aforementioned cases where a series hasn't officially been cancelled yet. Bluff City Law is one of the freshmen series on this list, and focuses on father / daughter attorney duo Sydney (Caitlin McGee) and Elijah Strait (Jimmy Smits), who began practicing law together again in Memphis after the death of her mother. The legal drama failed to connect with fans after its debut, but instead of cancelling it outright, NBC simply released word that production would wrap once the original 10 episodes that were ordered are filmed.
Generally, a new show like Bluff City Law will get a smaller episode order so that the network can see how it performs, with the hope that it does well enough to increase faith in the series and get episodes added to its order. But, since this is not the case with Bluff City Law, even though NBC plans to continue airing the show until episodes run out, it's effectively cancelled.
Sunnyside (NBC)
Another NBC freshman for fall 2019, another show that's been effectively cancelled without officially getting the ax. Sunnyside stars Kal Penn as a disgraced New York councilman who is forced to move in with his sister and then gets hired by a rag tag group of idealists to help them achieve their dreams of becoming American citizens. The news isn't looking good for Sunnyside, as it was pulled from NBC's fall schedule (and replaced with the final revival season of Will & Grace) four weeks into its run.
But, wait! That's not all! One of the reasons that the tale of Sunnyside doesn't quite count as a cancellation right now, aside from the fact that NBC isn't calling it such, is that while the comedy has been pulled from the network, the remaining episodes will air on Hulu and NBC's own streaming platforms. So, if you were hoping to catch up on Sunnyside, or were hoping to see more from the show, you still have time to do so.
Cloak & Dagger (Freeform)
Well, things are beginning to look mighty tricky for Marvel TV shows outside of what we'll be seeing on Disney+. After only two seasons on Freeform, Cloak & Dagger was cancelled, making it the most recent in a long list of Marvel superhero shows to bite the dust over the past year or so. The drama followed two New Orleans teens with special abilities, Tyrone (Aubrey Joseph) and Tandy (Olivia Holt), from different backgrounds who grow closer when they have to go on the run while developing their powers.
While die hard fans of superhero shows tend to be very dedicated, networks much prefer it when a show can hold or increase it's audience, and Cloak & Dagger was unable to do either. Season 1 debuted to some pretty strong numbers, but by the time it got into Season 2, the ratings had dropped by almost 40%. And, that's the kind of precipitous ratings fall that will portend cancellation, no matter how strongly the core fan base feels. But, if you think you'll miss the characters, they are still set to appear on Hulu's Runaways next season.
Lodge 49 (AMC)
AMC might mostly be known for a certain zombie-filled show, but it had a very original series on its hands with the dramedy Lodge 49. The show, which was billed as a modern fable, focused on Dud (Wyatt Russell), a former surfer who was left drifting through life after the death of his dad and collapse of the family business...until he stumbles upon a rundown fraternal lodge and the members of the order. But, AMC was uninterested in seeing how Dud's adventures would continue.
While Lodge 49 has had some of the best critical response and audience reviews of any show on AMC, the already modest ratings fell about 40% in Season 2. Luckily, for the dedicated fans who will probably be missing the show now that Season 2 has finished airing, word has it that those behind Lodge 49 are planning to shop it around and see if Season 3 will be possible elsewhere. So, there is some small hope it could continue.
Pearson (USA)
All of the Suits fans were really hoping that they could carry their affection for that long-running legal drama, which just ended its Meghan Markle-less run a few weeks ago, over to the Gina Torres led spinoff, Pearson. Alas, it appears that it was not to be, because the show, which saw the disbarred Jessica Pearson head back to Chicago to try and reconnect with family and work as the fixer for the city's new mayor, has already been cancelled after just one season.
As is the case with every other show on this list, Pearson was simply unable to capture the audience that Suits did, and it ended up as USA's lowest rated scripted original series, ever. With Suits proper being dunzo as well, it would appear that we've seen the last of characters from this franchise.
BH90210 (Fox)
There are plenty of revivals and reboots hitting the small screen lately, and some of them have managed to revitalize properties that were long thought dead. So, when the cast of the Fox megahit Beverly Hills 90210 started trying to bring the the former teen drama back to TV in some way, fans were delighted. The new series, now titled BH90210, debuted in early August and switched the story up in an unexpected way. Instead of simply following the characters in their 40s, the show followed the original stars as they attempted to mount a reboot of their show. Yes, really.
There was certainly a lot of buzz around this newfangled version of Beverly Hills 90210, but once people checked it out, well, it would seem that they decided to bow out altogether. BH90210 actually had a 60% drop in the key demo ratings between the premiere and the penultimate episode of the show. Cast members had been hoping that this revival would lead to more seasons, but it looks like that was not to be.
Fresh Off The Boat (ABC)
Well, this is one cancellation that is less than surprising for a couple of reasons. Fresh Off the Boat started off in 2015 with some strong ratings and reviews, which were bolstered by the fact that it was the first show to focus on an Asian American family since 1994's All-American Girl. The comedy focuses on the Huang family, with Randall Park and Constance Wu as parents who relocate their three sons from Washington D.C. to Florida and open a steakhouse.
Things didn't stay so solid, though, and ratings began to decline. Fresh Off the Boat hit a new low in Season 4, which led to ABC moving the family comedy to Fridays for Season 5 and 6, where the situation got worse with a 20% decline in ratings for the, currently airing, Season 6. While ratings certainly didn't help things, it's likely that star Constance Wu's very disappointed social media reaction to the show being renewed for this season also led to the network deciding to cut ties. The show will enjoy a one hour series finale on Friday, February 21.
Wow, the cancellation wheels are turning at full speed now. Be sure to bookmark this list, as it'll be updated with new info as shows continue to fall by the wayside.
Yennefer's apprentice, Gilmore Girl; will Vulcan nerve pinch pretty much anyone if prompted with cheese...Yes, even Jamie Fraser.
Your Daily Blend of Entertainment News
Thank you for signing up to CinemaBlend. You will receive a verification email shortly.
There was a problem. Please refresh the page and try again.