NBC Just Gave Will And Grace Great News, And Bad News To Low-Rated Sunnyside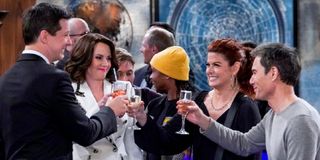 Fall TV can be brutal. This is especially true for new shows that don't already have a built-in audience. With traditional networks still relying on a series' performance in ratings, patience is not necessarily a virtue. All that said, NBC has quickly decided that Sunnyside is not doing well enough and has essentially cancelled the series, moving the third and final season of Will & Grace up to take the now empty Thursday night slot.
Co-created by and starring Kal Penn (Harold and Kumar Go to Whitecastle), Sunnyside was axed due to its exceptionally low ratings. Per The Hollywood Reporter, the freshman series was the lowest performing first-year show on any of the main networks, including CBS, ABC, and Fox. Sunnyside will air its final episode on TV this Thursday, October 17. NBC will be replacing the Mike Schur-produced comedy in the 9:30 p.m. timeslot with the third and final season premiere of Will & Grace beginning October 24.
Sunnyside followed the story of former and disgraced Councilman Garret Modi, played by Kal Penn. Strapped for cash and trying to regain his footing after publicly embarrassing himself, Garret ends up helping a group of immigrants who are working to become American citizens.
While the news obviously doesn't bode well for Sunnyside, this is great news for Will & Grace fans. The revival series was originally not set to premiere until midseason, so viewers will be getting to see the series far earlier than expected.
You can watch the new Will & Grace promo below -- it comes with huge news for Grace!
Although Will & Grace fans got some exciting and unexpected news, there's still hope for viewers who enjoyed Sunnyside. Even though NBC cancelled the show after only a few episodes, the network is not giving up on the comedy completely and has a backup plan despite the cancellation.
Sunnyside had much higher viewership when taking into account delayed ratings and viewership on other platforms. The series jumped from 0.4 to 1.0 in the adults 18-49 demographic and went from 1.4 million viewers to 2.3 million after a week of delayed viewing. So the Peacock network made the decision to move the show to NBC.com, as well as to the NBC app. Sunnyside was also given an extra episode, so the series will have a total of 11, presumably in an effort to help the show end in the best possible way.
CinemaBlend had previously reported on Sunnyside's low ratings, which had been a cause for concern due to such low numbers. Now that the series has been cancelled (in the traditional TV sense), those concerns weren't unfounded. In the golden age of TV, ratings still matter for the Big Four networks, but there are at least other options to watch than on TV.
Still, it's rough out there and viewers aren't usually drawn in from the get-go. So many shows have built up a fanbase over the course of many seasons, relying on word-of-mouth, syndication, or streaming services to binge and catch-up enough to watch live. That is, if viewers watch live at all, which is admittedly not the case for many.
Sunnyside will air its final episode on NBC Thursday, October 17 at 9:30 p.m. ET before moving to its new home online. For more on what to watch this fall, be sure to check out our handy guide to every new and returning show that hasn't been cancelled yet.
Your Daily Blend of Entertainment News
Thank you for signing up to CinemaBlend. You will receive a verification email shortly.
There was a problem. Please refresh the page and try again.