Carnival Row Season 2 Started Production, And The Cast Is Just As Curious As We Are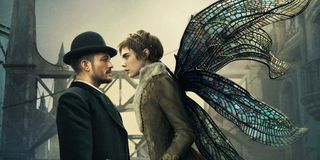 Before Carnival Row aired a single episode, Amazon had already renewed the neo-noir fantasy series for Season 2. Season 1, which premiered in August, ended with a series of loose plot threads that definitely need explanations in the show's sophomore season. With production for Carnival Row Season 2 now underway, the cast is just as curious as the audience is about what lies ahead for their characters.
Over on Twitter, the official Carnival Row account posted about the start of Season 2's production and included a video that had the cast wondering about what would become of their characters. You can watch the cast discuss their excitement for Season 2 below, but know that there are some spoilers involved for those who haven't finished Season 1!
Orlando Bloom seemed very excited about filming. And since the role of Philo is much different than past fantasy roles, Bloom is very much looking forward to what's in store for his character after his big discovery at the end of Season 1. The Pirates of the Caribbean actor says he's ready to explore more of Philo's journey, which will certainly change now that's he's gotten some important new information.
Meanwhile, Cara Delevingne, whose on-set corset was so tight she lost her voice, didn't reveal much about her own character, but she did tease that there might be new characters and creatures introduced in Season 2. That's exciting because it means that the world of Carnival Row will expand beyond what we've already seen on the show.
David Gyasi brought up the fact that he'd just heard "some stuff" about Agreus that is apparently "both exciting and terrifying." Will Imogen and Agreus make it safely out of the confines of The Burge or will they be hunted and brought back by her brother, Ezra? No one really knows quite yet, but that's all part of the anticipation.
The Amazon series, which had a huge presence during San Diego Comic-Con, worked in a lot of storylines that reflected the real world in Season 1, including immigration and societal intolerance. I expect Season 2 to continue in that vein and expand upon everything the fantasy show has already introduced.
At the end of Carnival Row's first season, Philo (Orlando Bloom) discovered that he was half-human and half-fae and decided to take a stand, joining Vignette (Cara Delevingne) and the rest of the fae behind The Burge's blockade. Meanwhile, David Gyasi's Agreus and Tamzin Merchant's Imogen had escaped the city on a ship to who knows where.
Amazon has yet to announce any new actors for Season 2, nor does the sophomore season have a set release date just yet. Stay tuned to CinemaBlend for more information about Carnival Row's second season as it's released. In the meantime, be sure to check out our complete TV guide to every new and returning show premiering through the end of the year.
Your Daily Blend of Entertainment News