Why Dancing With The Stars' Ally Brooke Tried To Give Up Her Spot In The Finals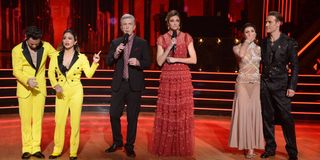 Spoilers ahead for the Season 28 semifinals of Dancing with the Stars**.**
No one expected the Dancing with the Stars Season 28 semifinals to make everyone cry with an elimination, but that's exactly what happened. While stuck in the bottom two alongside Ally Brooke and her partner Sasha Farber, Dawson's Creek vet James Van Der Beek and pro Emma Slater were eliminated. Like many viewers, Ally Brooke was shocked about the results and actually tried to give up her spot in the finals.
There wasn't a dry eye left in the audience during the Dancing with the Stars semifinals and Ally Brooke may have cried the hardest out of everyone following James Van Der Beek's elimination following his heartbreaking admission. So rattled by the judges' decisions — and even the fact that Van Der Beek was in the bottom two at all — Brooke pleaded with the judges and host Tom Bergeron to have the Dawson's Creek actor take her spot in the finals.
Here's what Ally Brooke had to say about the reasons for her visceral reaction:
It's completely understandable that Ally Brooke realized the unfairness of it all. Brooke, though a consistently strong dancer, was no stranger to being in the bottom two. Having landed there three times already, she was more shocked by being pitted against James Van Der Beek.
Earlier in the Dancing with the Stars semifinals, the audience learned that Van Der Beek's wife had suffered a recent miscarriage. It helped to explain the missteps in his first dance, but fans still hoped that the judges, knowing how strong of a dancer he was, would choose him to move onto the finals.
Speaking with ET, Ally Brooke continues, discussing her heartbreak over the situation.
While this isn't the first heartbreaking elimination for Dancing with the Stars, the tragic circumstances certainly lent themselves to the tearful reactions from the judges, who've shared their disappointment with Season 28, and the audience. And to think that fans were already complaining about the unfairness of the new voting rules not that long ago! Although James Van Der Beek won't be in the finals, Ally Brooke's heart was in the right place.
Stay tuned for the Dancing with the Stars finals, which will air next Monday, November 25 at 8 p.m. ET on ABC.
Your Daily Blend of Entertainment News
Thank you for signing up to CinemaBlend. You will receive a verification email shortly.
There was a problem. Please refresh the page and try again.