Dancing With The Stars Judges Share 'The Biggest Disappointment' Of Season 28 And More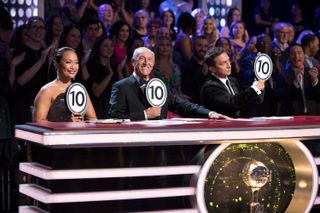 Spoilers for anyone who hasn't yet watched the latest Dancing with the Stars episode.
Last night's episode of Dancing with the Stars put Kate Flannery and professional dance partner Pasha Pashkov up against Ally Brooke and pro partner Sasha Farber in a dance-off. Both couples wound up landing in the bottom two, though, forcing the judges to choose between them. Flannery was ultimately eliminated from the competition and the judges spoke up afterward about their disappointment with this decision, as well as how Season 28 is shaping up thus far.
Len Goodman, Carrie Ann Inaba, and Bruno Tonioli have been judges on Dancing with the Stars since its inception in 2005, and they're used to seeing competitors being eliminated by now. However, that doesn't mean they don't get irritated with decisions that boil down to two talented dance couples.
Speaking with Entertainment Tonight, judge Len Goodman weighed in on Dancing with the Stars Season 28 and the loss of so many dancers, though he sounded a bit resigned in the wake of Kate Flannery's departure.
Unlike Len Goodman, Carrie Ann Inaba very directly expressed her distaste for having to make a decision between Kate Flannery and Ally Brooke, as opposed to White House vet Sean Spicer, who hasn't improved as much as they have and yet still remains a strong Dancing with the Stars contender. According to Inaba:
Bruno Tonioli didn't seem quite as resentful, but he offered some advice to fans regarding how they should vote a bit more objectively.
Voting sensibly is difficult, though. When Dancing with the Stars changed their voting tactics in Season 28, it enraged fans of the show, and the unfair voting practices makes it even harder to swallow Sean Spicer's continued presence while more talented contestants are getting booted.
Prior to the Season 28 premiere, host Tom Bergeron shaded ABC's decision to keep the former White House press secretary on the reality show. But all politics aside, Spicer still one of the lowest scoring contestants on the show, and it's a wonder he's made it this far.
Next week should prove interesting, so tune in then to see which dancers will get eliminated, and who will get upset about it. Either way, CinemaBlend will be there with all the coverage. Dancing with the Stars airs every Monday at 8 p.m. ET on ABC.
Your Daily Blend of Entertainment News
Your Daily Blend of Entertainment News
Thank you for signing up to CinemaBlend. You will receive a verification email shortly.
There was a problem. Please refresh the page and try again.