Everything Fans Should Know About Norman Reedus And His Family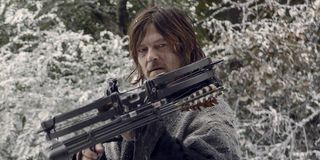 (Image credit: AMC)
AMC probably expected lead actor Andrew Lincoln to be the star of the zombie drama series, The Walking Dead, until casting Norman Reedus as Daryl Dixon changed everything.
Norman Reedus was formerly best known as Murphy MacManus in 1999's The Boondock Saints, but was cast as a character who was new to the television adaptation and ended up becoming the character who kept bringing audiences back.
Perhaps you are the kind of person who watches The Walking Dead faithfully, eagerly anticipating Daryl Dixon's latest walker kill by crossbow, but how well do you know the real Daryl Dixon, Norman Reedus?Unless you're that fan who actually bit Norman Reedus, probably not that well. Luckily, there's plenty of information out there about Norman Reedus, his family, and what is next in store for his career.
When Was Norman Reedus Born?
Norman Reedus was born on January 6, 1969. He is a natural-born native of Hollywood, Florida (different Hollywood), but spent much of his childhood living in various places all over the world, such as in Japan, Spain, and the U.K.; he later followed a girlfriend to Los Angeles, but they eventually split.
Before stumbling upon his career in acting (more on that later), Norman Reedus worked at a Harley-Davidson motorcycle shop in Venice, California. Yes, Daryl Dixon's infatuation with motorcycles on The Walking Dead is not just for show - it's Reedus' bread and butter.
Norman Reedus' fascination with motorcycles even earned him a second show on The Walking Dead network, AMC, called Ride with Norman Reedus. The docuseries follows Reedus taking motorcycle trips with a rotation of celebrity guests, including a few of his Walking Dead co-stars and his Boondock Saints brother, Sean Patrick Flanery.
Who Are Norman Reedus' Parents?
Norman Reedus was born to Ira Norman and Marianne Yarber Reedus. Marianne did most of the parenting to little Norman as Ira, or Norman Sr., had split from Marianne and was away for much of his son's childhood.
Marianne had a career in education, which took her to Japan, where her son lived with her throughout his high school years. She has taught Kindergarten, high school, and even ran an orphanage at one time, but earlier in life, she was a Playboy bunny.
Despite his absence for most of the actor's life, Norman Reedus was able to reunite with his father shortly before he died in 2002. He has stated that he used the memory of Norman Sr.'s death to invoke the right emotional reaction for a scene in which his character, Daryl Dixon, discovers his brother, Merle Dixon (Michael Rooker), has succumbed to a walker bite in Season 3 of The Walking Dead.
Now, Norman Reedus continues to carry that memory with a tattoo of his father's name gracing his chest.
What Nationality Is Norman Reedus?
Norman Reedus is a natural-born American, his aforementioned birthplace being Hollywood, Florida. His paternal grandfather was of Italian descent, but he also carries traces of English, Irish, and Scottish ancestry.
He channeled his Irish roots into one of his most iconic roles, Murphy MacManus in The Boondock Saints. The 1999 cult classic stars Norman Reedus and Sean Patrick Flanery as two Irish Catholic brothers who believe they are called upon by God to rid Boston of its criminal underworld.
Norman Reedus would reprise his role as Murphy MacManus 10 years later in the sequel, The Boondock Saints II: All Saints Day. A third installment was announced in 2014, but it does not appear that Reedus or Flanery will be involved. Reedus' Boondock Saints counterpart would remain his most celebrated role until 2010 when he was cast as Daryl Dixon in AMC's The Walking Dead.
Does Norman Reedus Have A Brother?
Brotherhood, coincidentally, has been a recurring theme throughout Norman Reedus' career. His two most iconic roles are as Murphy MacManus, brother to Connor in The Boondock Saints, and Daryl Dixon, brother to Merle in The Walking Dead.
However, Norman Reedus' only sibling is his sister, Leslie Reedus. While her brother is wildly famous from film, television, and social media, there is very little about Leslie that is known to the public eye.
So, without further ado, how about more information about Norman Reedus?
How Did Norman Reedus Become An Actor?
Norman Reedus has endured a plentiful career in film and television for almost 30 years. No one is more surprised by how it began than he is.
Right after losing his job at a Venice, California motorcycle shop following a fight with his boss, a friend took then 17-year-old Norman Reedus to a party that same night. After engaging in a drunken, angry rant toward some fellow party guests, one guest approached Reedus and asked if he would like to act in a play. The auditioning process is not like it used to be.
Norman Reedus was cast as an understudy for a production of Maps for Drowners, a comedy about AIDS, at the Tiffany Theater on Sunset Boulevard. When the lead never showed up for the performance, Reedus had to take on the terrifying task of taking the stage, which paid off handsomely.
In the mid-nineties, Norman Reedus reluctantly became a model for Prada while also being frequently cast in alternative rock music videos, among them Bjork's "Violently Happy" and Radiohead's "Fake Plastic Trees," before landing his first major film role in Guillermo del Toro's acclaimed creature feature, Mimic, in 1997. He starred in several thrillers, including future cultural phenomenon The Boondock Saints in 1999, before his first television role on the hit series Charmed came along in 2003.
Norman Reedus maintained a steady streak of parts in cinematic thrillers and TV dramas, which he assumed his 2010 casting as Daryl Dixon in zombie apocalypse drama The Walking Dead would be, given the character was not a part of the original comic book series by Robert Kirkman. Instead, Daryl Dixon became the AMC series' most popular character (inciting the phrase "If Daryl Dies We Riot" on t-shirts) and now the actor is the show's lead, following star Andrew Lincoln's exit in 2018.
The actor has reprised his role as Daryl Dixon in two video games inspired by The Walking Dead. The 2013 console game The Walking Dead: Survival Instinct and the 2015 mobile app The Walking Dead: No Man's Land put Norman Reedus at the forefront of the action, with Rick Grimes nowhere in sight.
When he is not in front of the screen, Norman Reedus also indulges in photography, painting, and sculpture in his free time. He also runs a production company call Big Bald Head, the name his Instagram handle takes from. He also notably lives in the woods while shooting The Walking Dead, so he's definitely interested in the outdoors.
Who Is Norman Reedus' Wife Or Partner?
Norman Reedus is not currently married, and never has been either. He has, however, been in a relationship with Diane Kruger since 2016.
The Walking Dead star and the German actress, known for starring alongside Nicolas Cage in the National Treasure movies and Quentin Tarantino's Inglourious Basterds, met in 2015 on the set of Sky. The French-produced drama stars Diane Kruger as a woman searching for a new lease on life after running from her husband whilst on an American vacation.
Norman Reedus plays the Nevada park ranger she falls for. A year after filming the movie, their onscreen romance would become a reality… with the exception of the film's midlife crisis storyline.
Since going public with their relationship in 2018, the couple have gone onto having their first child together. Speaking of which...
Does Norman Reedus Have Kids?
Norman Reedus is the proud father of two children. Both of them have made subtle appearances on the actor's Instagram, as seen here:
The above post from Norman Reedus's instagram is a snapshot of the feet of his daughter with partner Diane Kruger. The couple welcomed the baby in November 2018. It is Reedus' first child with Kruger, but the second child he is a father to.
Mingus Lucien Reedus was born on October 13, 1999, in Copenhagen, Denmark. He is the son of Norman Reedus and former Victoria's Secret model Helena Christiansen, whom Reedus dated from 1998 until 2003, but remains on good terms with.
While Mingus Lucien Reedus has dabbled in modeling recently, having walked his first catwalk in New York in 2017, he has not expressed interest in pursuing acting like his father. Norman Reedus even revealed in an interview with the Phillipine Daily Inquirer that Mingus was offered Tom Holland's role of Spider-Man in Captain America: Civil War and turned it down, unamused by the idea of fame.
What Else Is In Store For Norman Reedus' Career?
AMC will air the premiere of the tenth season of The Walking Dead in October 2019, as is tradition. Leading the show as Daryl Dixon is sure to keep Norman Reedus busy until the series' end, which has yet to be announced.
AMC also has renewed his unscripted series Ride with Norman Reedus, which allows him to live out his love of motorcycles while hanging out with celebrities. Norman Reedus will also make his latest video game appearance in the lead role of Hideo Kojima's hotly anticipated PlayStation game Death Stranding, which has been in development since 2016.
Norman Reedus is one of the hardest working and notable artists of his generation and his legacy on The Walking Dead will most certainly always be remembered.
Jason has been writing since he was able to pick up a washable marker, with which he wrote his debut illustrated children's story, later transitioning to a short-lived comic book series and (very) amateur filmmaking before finally settling on pursuing a career in writing about movies in lieu of making them. Look for his name in just about any article related to Batman.
Your Daily Blend of Entertainment News
Thank you for signing up to CinemaBlend. You will receive a verification email shortly.
There was a problem. Please refresh the page and try again.