Steve Harvey Identifies Miss Universe Contestant By Wrong Country, Immediately Blames Teleprompter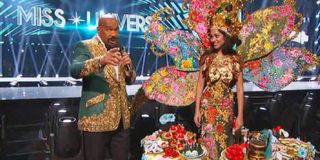 It wouldn't be a Miss Universe pageant without a Steve Harvey error. While hosting last night's Miss Universe pageant, Steve Harvey identified a contestant by the wrong country and then immediately blamed the teleprompter for the mistake.
Here's what happened. Steve Harvey was announcing the winner of the national costume contest, Miss Philippines Gazini Ganados. After the announcement, Harvey turned to the contestant next to him and declared, "This is the outfit right here." However, the contestant standing next to him was clearly wearing a different costume than the one shown in the picture.
Before he could go any further, the host was stopped by contestant Shweta Sekhon. "It's not Philippines, it's Malaysia," she helpfully informed him. Clearly upset and a bit flustered about the mix-up, Steve Harvey immediately turned to blame the teleprompter for the error. Here's what he said after being corrected:
You can watch the video of the incident below!
However, it turns out the 2019 error was indeed not Steve Harvey's fault. Later on during the show, the official Twitter account for Miss Universe confirmed that Steve Harvey was actually correct. It was Miss Philippines Gazini Ganados who won the national costume contest and they had it wrong, sending out Miss Malaysia Shweta Sekhon instead. The confusion robbed Miss Philippines of her moment, which is the saddest part of all.
This may not have topped the 2015 incident, but it's yet another flub Steve Harvey can add to the growing list. This time around, however, Harvey's reaction to the mix-up was pretty funny and didn't really take away from the night's events for the most part.
For some background, when Harvey hosted the 2015 Miss Universe pageant, he wrongly announced the winner as Miss Colombia instead of Miss Philippines. (Side note: Why is the Philippines always involved in Steve Harvey's mistakes?) No one's let him live it down since. Harvey didn't forget about the incident, either, and even managed to joke about it in the show's opening.
Here's hoping there are no hard feelings this time around either, though it makes me wonder if Steve Harvey will be asked back to host again. Maybe sixth time's the charm and the Miss Universe pageant will be error-free next year.
Stay tuned to CinemaBlend for all the latest in TV news, and be sure to check out our complete TV guide for all the upcoming winter and spring premiere dates.
Your Daily Blend of Entertainment News