Is The Arrow-verse Giving Superman And Lois Lane More Than One Kid In New TV Show?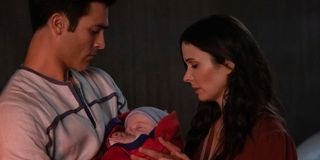 Last year's Arrow-verse crossover, "Elseworlds," introduced Earth-38 Lois Lane and concluded with the announcement that she and Clark Kent were expecting a baby. A year later, "Crisis on Infinite Earths" welcomed baby Jonathan Kent — as well as Tom Ellis' Lucifer — into the shared universe. With Superman & Lois currently in production, a new casting call implies that the Arrow-verse is giving the super couple more than just one kid.
Jonathan Kent could be getting a sibling or two. A casting notice for Superman & Lois called for two teenage boys named "Ethan" and "Matthew" to be cast as series regulars on the show. Matthew is described as being "clean cut, modest, and kind-hearted," while Ethan has an "inherent darkness to him." Both of the roles call for a male between the ages of 13 and 16.
Casting calls rarely, if ever, reveal the actual names of the characters. However, this casting call seems to indicate that Lois and Clark will be raising not one, but two kids. The fact that they'll be series regulars leads me to believe the boys will be Jonathan and Jason Kent.
For some background, "Crisis on Infinite Earths" already introduced Jonathan as Earth-38 Lois and Clark's son. In hopes to save him from the anti-matter wave approaching Argo, Lois and Clark send him to Earth-38 in an escape pod, but he winds up on Earth-16. Although they get him back safely, the family's reunion is short-lived after they're all erased from existence in The Flash's "Crisis" cliffhanger.
Now, executive Marc Guggenheim has teased that "Crisis on Infinite Earths" will alter some things in the Arrow-verse moving forward. So it's possible Jonathan Kent will return at the end of the crossover, but will no longer be a baby. After all, the Book of Destiny can rewrite history; or it might be that the anti-matter wave altered Jonathan's DNA to make him age faster.
"Crisis" already managed to introduce Jason Kent as well. When Lois, Clark, and The Flash's Iris show up on Earth-96, Brandon Routh's Superman tells Clark that he "looks just like my son, Jason." It served as a nice callback to Superman Returns, but it may have also unknowingly set up the premise of Superman & Lois.
Now that Earth-96's Superman was replaced as the Paragon of Truth by Lex Luthor, Lois and Clark could adopt Jason Kent and raise him as their own. The Arrow-verse shows have adapted comic book stories before and Superman & Lois could be loosely adapting the comic book version of Super Sons.
In the comics, the Super Sons are Jonathan Kent and Damian Wayne, but the spinoff series could change that and replace Damian with Jason. Keep in mind that this is all speculation, so take it with a grain of salt. The casting call (via CBR), offers only a piece of the puzzle and how Superman & Lois showrunner Todd Helbing ends up working the teenage boys into the show remains to be seen.
Stay tuned to CinemaBlend for updates and news about Superman & Lois. In the meantime, be sure to check out what's coming to The CW with our 2020 midseason schedule.
Your Daily Blend of Entertainment News