Arrow-verse Boss Explains Giant Crisis On Infinite Earths Crossover Shock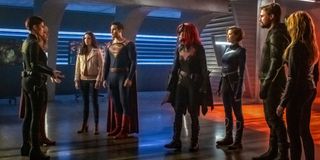 Warning! Major spoilers ahead for Supergirl's episode of "Crisis on Infinite Earths."
The first hour of the Arrow-verse's five-part "Crisis on Infinite Earths" crossover didn't waste any time raising the stakes. Before Part 1 was done, Supergirl had lost both Argo and Earth-38, but the biggest shocker came when Oliver Queen died in the episode's final minutes. Arrow-verse boss Marc Guggenheim knew he'd have to justify such an act, and did indeed have an explanation for the giant shock.
An after-special immediately followed Part One of "Crisis on Infinite Earths," which included multiple cameos from across the DC-verse, and featured executive producer Marc Guggenheim joining "Crisis Aftermath" host Kevin Smith to discuss the shocking death of Oliver Queen. (Among other things.) Guggenheim revealed that Oliver's journey was always headed down this tragic path. Here's what he had to say:
As someone who's watched Arrow from the beginning, I'm in agreement with Marc Guggenheim and Stephen Amell's line of thinking. A lot has changed for Oliver Queen since the beginning of Arrow, but his death makes more sense than the vigilante getting a happily-ever-after ending. Knowing how far he's come in his journey, and what he's sacrificed over the years, made his death in "Crisis" all the more meaningful.
That said, with four more episodes left of "Crisis on Infinite Earths," the earliness of Oliver's crossover death proved to be the biggest surprise of all. Marc Guggenheim continued, explaining that Oliver's premature demise was by design. After all, there was no other way "Crisis" could shock fans who already knew Oliver was dying.
It was so shocking that not even The Monitor foresaw Oliver's early demise, which pretty much means that no one is really safe at this point, and anything can happen. And who knows? There's a strong chance that Barry Allen's doomed fate could change as well.
The crossover continues with Batwoman on Monday, December 9 at 8 p.m. ET on The CW, followed by The Flash on December 10. The crossover will conclude on Tuesday, January 14, 2020 with Arrow and Legends of Tomorrow at 8 p.m. and 9 p.m. ET. For more on what to watch, be sure to check out our 2020 winter and spring premiere schedule to find out what's coming to TV.
Your Daily Blend of Entertainment News