Where Rogue One Fans Can Find Out How Cassian Andor And K-2SO Met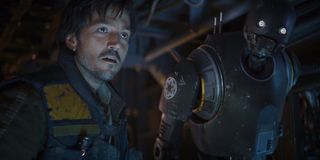 Unlike the entries in the main Star Wars saga, Rogue One: A Star Wars Story was a one-and-done tale, and considering how the movie ended, it's painfully clear that we won't see this particular corner of a galaxy, far, far away explored again on the big screen. Fortunately for fans of the first Star Wars Anthology spinoff, Lucasfilm is turning to the printed page to provide more background on Rogue One's main characters, and it was announced today one of these tales will be a Marvel Comics series centered on how Cassian Andor (Diego Luna) met K-2SO (Alan Tudyk).
This summer, Marvel will publish Star Wars: Rogue One --- Cassian & K-2SO Special #1, a 40-page prequel one-shot will show how Rebel operative Cassidan Andor crossed paths with Imperial enforcer droid K-2SO, and will also reveal how the former reprogrammed the latter so he could be an asset to the Rebel Alliance. According to StarWars.com, the story was written by Duane Swierczynski and illustrated by Fernando Blanco.
Warning: SPOILERS for Rogue One: A Star Wars Story are ahead!
Casein Andor and K-2SO were two of Jyn Erso's closest allies in Rogue One. If not for them, Jyn would have remained imprisoned, and while her life was cut short due to working with the Rebellion on stealing the Death Star plans, she was able to reunite with her father and deal a massive blow to the Empire before she and the other perished. Cassian shed light on the Rebellion's darker side through controversial decisions he had to make to ensure his missions were successful, while K-2SO served as Rogue One's primary source of comedic relief when he wasn't bashing in stormtrooper heads.
This Cassian and K-2SO comic book isn't the only Rogue One story on the way. For those interested in learning about Jyn Erso's time fighting alongside Saw Gerrera, you can pick up Rebel Rising next month. Those of you who couldn't get enough of Baze Malbus and Chirrut Îmwe can see what their time protecting the Cyber Temple on Jedha was like and how they joined the planet's resistance against the Empire in Guardians of the Whills. Then there's Inferno Squad, which takes place after Rogue One and will follow an elite team of Imperial soldiers that is sent to destroy Saw Gerrera's remaining followers after the destruction of the Death Star. You can also check out the already-released Catalyst: A Rogue One Novel to learn how Galen Erso met Orson Krennic and got drafted into the Death Star project.
You can find Star Wars: Rogue One --- Cassian & K-2SO Special #1 digitally or at your local comic book shop in August. In the meantime, Rogue One: A Star Wars Story is now available on Digital HD, Blu-ray and DVD, and the Star Wars series will continue on December 15 with Star Wars: The Last Jedi.
Connoisseur of Marvel, DC, Star Wars, John Wick, MonsterVerse and Doctor Who lore. He's aware he looks like Harry Potter and Clark Kent.
Your Daily Blend of Entertainment News
Thank you for signing up to CinemaBlend. You will receive a verification email shortly.
There was a problem. Please refresh the page and try again.