The Confession Killer: The Story Behind Netflix's True Crime Docuseries About Henry Lee Lucas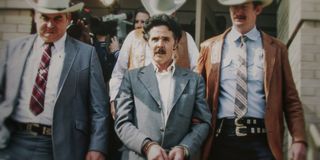 True crime is a constant source of riveting television. That remains the case with Netflix's latest docuseries, The Confession Killer, which is centered around Henry Lee Lucas. Known as "America's most prolific serial killer," the real-life story of Henry Lee Lucas might be more complex than it initially seemed. Specifically, the show raises the question of whether Lucas, who confessed to killing 600 women over the course of eight years (only to retract his statements after the fact), was a serial killer or a serial liar.
It's a fascinating and deeply disturbing story. The streaming documentary series goes into great detail about the subject's history, exploring the conflicting evidence against him, leading up to his death in 2001 and onward. The new docuseries has expectedly drummed up a lot of interest in Henry Lee Lucas' true life story. With that, here's what you should know about the subject.
Who Was Henry Lee Lucas?
Henry Lee Lucas was a man who claimed to have killed more than 100 people to the Texas Rangers and other law enforcement officials in prison. Born in 1936 in Virginia and into an abusive household, with an alcoholic father and a prostitute mother who reportedly forced her son to watch her have sex with her clients and cross dress in public, Lucas was said to have an IQ of 87 and had a difficult upbringing. It was also said that he was known to get attention for displaying odd behavior. When he was 23, Lucas was accused of murdering his mother following an argument. He was sentenced to 20 to 40 years in prison, though he was released early on account of overcrowding. In 1971, Lucas was convicted of trying to kidnap three schoolgirls.
For this crime, Henry Lee Lucas served a five-year sentence, where he was released in 1975. He once again was arrested in 1983 for charges of unlawful possession of a firearm in Texas. He then confessed to the murders of Frieda Powell and Kate Rich. He later confessed to several other murders, thus resulting in Lucas confessing to the murder of 600 women. Though as the years went on, Henry Lee Lucas would retract statements.
What Did Henry Lee Lucas Confess To?
As mentioned earlier, Henry Lee Lucas confessed to killing his mother, Viola Lucas, his 82-year-old landlord, Kate Rich, and his 15-year-old girlfriend, Becky Powell. While it's hard to confirm for certain, it would seem that Lucas did murder these three women. While incarcerated, Lucas confessed to several murders throughout the country, with a task force led by Sheriff Jim Boutwell . Per The New York Times, to keep these confessions coming, Lucas was apparently given a steady stream of tranquilizers and milkshakes. He was also allowed to travel around the jail without handcuffs. The task force reportedly also provided Lucas with crime-scene photographs, as well as other key details related to the individual crimes, and Lucas would confess to them.
Later on, Henry Lee Lucas was convicted of 11 murders and he was sentenced to death. This 1998 sentence, however, was reduced by governor-at-the-time George W. Bush. He died in 2001 due to congestive heart failure, though before he passed, Lucas had recanted several of his confessions. It was through an investigation conducted by The Dallas Times Herald that doubt was ultimately cast upon several of Lucas' murder confessions, since he claimed to be killed someone in a state that he wasn't in, which resulted in a follow-up investigation by Attorney General of Tax. This particular investigation labeled Lucas to be a fabulist, one who was creating an elaborate series of confessions to which he was not actually the real murderer.
Was Henry Lee Lucas A Serial Killer?
Ultimately, one cannot say for certain. But as The Confession Killer details, there is stern evidence to suggest that Henry Lee Lucas wasn't the one who killed all these people. But this started after Lucas was on trial for the death of his landlord and he blurted out, "And I got at least 100 more out there." He was convicted of 11 murders, though this aforementioned investigation suggests that Lucas might not the one who killed all these people. As the Times article states, he later retracted his statements, claiming he confessed because he was given tranquilizers and milkshakes by the investigators.
With that, there's good reason to believe that Henry Lee Lucas wasn't exactly the serial killer he was made out to be. Though, how many people Lucas murdered is still left unclear. Especially with reason to believe that this media-friendly personality killed three or more people he knew earlier in his life.
How Did The Case Of Henry Lee Lucas Change Law Enforcement And Judicial Practices Moving Forward?
With the case of Henry Lee Lucas, the police were given a re-evaluation of their techniques, as well as a strong sense of awareness when it comes to the possibility of false testimonies. Ultimately, the police task force claim they didn't think the privileges given to Lucas influenced his confessions, nor did they think the evidence shown to Lucas influenced his decision. The task force thought showing the files refreshed his memory for these crimes.
Meanwhile, director Robert Kenner told The Guardian that he made The Confession Killer with the hopes of offering some sense of retribution for the survivors of the victims. The series often features testimonials from the survivors of the victims, and they offer their perspective on the cases, as well as their thoughts on whether or not they believe Henry Lee Lucas was capable of committing the very high volume of murders he confessed to.
The Confession Killer is now available on Netflix.
Will is an entertainment writer based in Pittsburgh, PA. His writing can also be found in The Playlist, Cut Print Film, We Got This Covered, The Young Folks, Slate and other outlets. He also co-hosts the weekly film/TV podcast Cinemaholics with Jon Negroni and he likes to think he's a professional Garfield enthusiast.
Your Daily Blend of Entertainment News
Thank you for signing up to CinemaBlend. You will receive a verification email shortly.
There was a problem. Please refresh the page and try again.