The Mandalorian: 6 Biggest Questions After Episode 8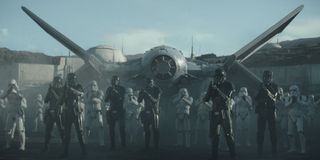 The following contains MAJOR SPOILERS for episode 8 of Season 1 of The Mandalorian**. Go check it out on Disney+, then come back and see what questions we have.**
The first season of The Mandalorian has come to a close. The first live action Star Wars television series was met with great fanfare, and it largely met the high expectations of fans. It had great action, interesting characters, and each episode left us with compelling questions that we looked forward to seeing the answer to.
The final episode of Season 1 did finally give us answers to a few burning questions. We officially got The Mandalorian's name, we learned a bit more of the backstory of the character, and yes, we finally got to see something we were beginning to wonder if we'd ever get to witness. However, along with all the answers, we still have a few burning questions about the episode titled "Redemption."
Just How Fast Can IG-11 Run?
We've seen IG-11 in a fight, and we get to see him in this episode as well, so there's no question that IG-11 moves a hell of a lot faster than your average bipedal droid, that almost always look like they're in danger of falling over. Having said, IG-11 appears to move with incredible speed in the opening minutes of this new episode.
At the end of the previous episode, the speeders caught up with Kwiil just outside the Mandalorian's ship, while it's not clear exactly how much ground there is to cover between the ship and the town, the Mandalorian had to camp overnight on the way, so while it isn't necessarily a massive distance, it's considerable. The speeders clearly took off with The Child and didn't know they were being tailed, but IG-11 arrives only a couple minutes after the Troopers get back to town. That guy can apparently move.
What's the Night of 1,000 Tears?
While there's still a lot that we don't quite understand about what it means to be a Mandalorian, this episode confirms that the title refers to an order, not a race, even though there's a planet called Mandalore. We know about the Siege of Mandalore by name, but during his monologue, Moff Gideon makes reference to a particular event that was part of that conflict which he calls the Night of 1,000 Tears.
Clearly, it was not a bake sale. We're told what happened during the event. Mandalorian recruits were killed in massive numbers. We expect to learn more about the Siege of Mandalore in the forthcoming revival of The Clone Wars, so will we learn a bit more about this tragic event there, and how will it color the events of The Mandalorian if we do?
Is Mando Over His Problem With Droids?
Since the very beginning of The Mandalorian, we've seen that this character has a serious problem with droids. He doesn't care for them much and, whenever possible, has avoided doing business with them all together. Of course, he hasn't always had the choice.
Of all the droids we meet in Season 1, the one that Mando (and yes, I'm still calling him Mando) has the biggest issue with is the hunter IG-11. We learn that Mando doesn't believe that droids can truly be reprogrammed and they have an essential nature. However, by the end of this episode, it seems clear that Mando has come to care for IG-11. Is this change of heart one that will change his opinion of all droids or just this one?
Was...Was That The Fucking Darksaber?
When Moff Gideon's Tie Fighter crashes after his battle with Mando, most of us probably weren't all that shocked to see that he actually survived. We honestly would have been more shocked to see his dead body in those final minutes. And clearly, Jon Favreau knew we felt that way, so he added another twist to the reveal, the discovery that Moff Gideon is almost certainly in possession of the Darksaber.
The Darksaber has never been seen in a live action Star Wars story, until now apparently, but it's played a significant role in The Clone Wars and Rebels, the two popular animated series. There's currently a gap in the history of the object, which is understood to have been created by a Mandalorian Jedi, and now we apparently know where the thing ended up. The fact that Gideon holds a rare Jedi relic, and also is hunting a rare Force user, can't be coincidence.
Can Taiki Waititi Direct More In Season 2?
Season 1 of The Mandalorian had some incredible talent behind the camera. Jon Favreau, Deborah Chow, Rick Famuyiwa, and Dave Filoni, all got to show off their skill and each brought something unique to the episodes they directed. And then some insane person let Taika Waititi direct an episode.
To be sure, part of what makes this episode so great is just the fact that it's the season finale, and so it was written to pull out all the stops. It's got great action, it answers questions, and it drops some huge moments designed to get Star Wars fans talking. Of course, it also has five minutes of two Stromtroopers hilariously shooting the breeze, and being bad at target practice. This is everything we love about Waititi and hopefully he'll be back for Season 2, and if he could, at the very least, get more than one episode, that would be awesome.
What's Next?
This, of course, is the big question. We know that The Mandalorian Season 2 is already on the way and now we have at least something of an idea of what it will be about. Mando and The Child share a clan and he will continue to protect the child. It appears he will do so as he hunts out the kid's home world, though he has no idea where it might be.
With Moff Gideon still alive, clearly, Mando and the child will still be hunted. Will we see Cara Dune and Greef Carga again? Will Season 2 finally give us the answers about Yoda's race that we still don't have?
We still don't know exactly when the next season of The Mandalorian will arrive. We know that it has already begun filming, but with at least two other Star Wars series slated for Disney+, it could still be a while before we see our clan of two again. Hopefully it won't be too long. If nothing else, we need new memes.
Your Daily Blend of Entertainment News
Content Producer/Theme Park Beat
CinemaBlend's resident theme park junkie and amateur Disney historian. Armchair Imagineer. Epcot Stan. Future Club 33 Member.