Power Creator Talks Big Premiere Death, Gets Cryptic About Ghost's Fate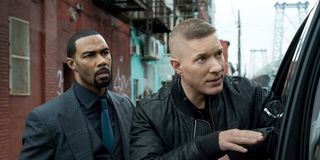 Warning! Major spoilers ahead for Power's Season 6 midseason premiere, "Still Dre."
Power's Season 6 midseason finale ended on a massive cliffhanger back in 2019. After being shot by an unknown assailant, Ghost was left bleeding out on the floor of his nightclub Truth. Fans were kept in the dark about Ghost's fate during the hiatus, but the midseason premiere thankfully picked up not long after the cliffhanger, but quickly changed gears. With Ghost seemingly dead for real, Power turned its attention to love-to-hate-him Dre, who didn't manage to stay alive through the credts. Following the airing, series creator Courtney Kemp discussed that big premiere death and also got cryptic about Ghost's fate.
In an interesting turn of events, Dre, not Ghost, was the central focus of Power's midseason premiere. In the events leading up to Ghost's death, the aptly titled "Still Dre" backtracked and showcased one of the show's most merciless killers, just as he's about to get the short end of the stick. After he'd found himself in jail not just once, but twice, Ghost's hired guns successfully killed Dre by setting his prison cell on fire. Asked why Dre was the focus of the midseason premiere, creator Courtney Kemp had this to say about the choice:
Power is always full of surprises, and while Dre's death wasn't entirely unexpected this close to the finale, it's timing still came as a shock. Tension has definitely been building, but the choice to pull focus from Ghost in the midseason premiere allowed Dre's backstory time to breathe, and also gave fans time to continue pondering whether or not Ghost is really dead, which is a situation likely to remain unconfirmed for a while.
Dre died believing Ghost was dead, and the news stations were also convinced of his demise, giving viewers more than enough reason to believe it. So, is Ghost really gone? Speaking with TVLine, Courtney Kemp predictably didn't have a direct response and remained cryptic.
I'm not sure what "self-explanatory" means, unless he's trying to say that fans should just believe things at face value. With only a handful of weeks left of the sixth and final season, fans will find out Ghost's fate soon enough. However, since the remaining Season 6 episodes all take place within the same day, viewers will likely see more suspects eliminated before learning that Ghost is actually alive in a safe house somewhere, recovering from being shot. At least, that's one hope to cling to.
Power is back with new episodes every Sunday at 8 p.m. ET on Starz. For more on what to watch, be sure to check out our 2020 midseason schedule.
Your Daily Blend of Entertainment News
Your Daily Blend of Entertainment News
Thank you for signing up to CinemaBlend. You will receive a verification email shortly.
There was a problem. Please refresh the page and try again.