The Biggest TV Deaths Of 2019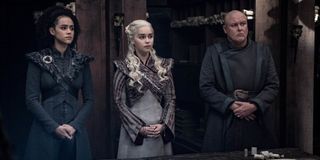 Television had an eventful year in 2019, with the end of some of the biggest shows on the small screen in the forms of Game of Thrones and The Big Bang Theory, reality TV getting wilder than ever, and new streaming services launching to add even more competition to the market. Oh, and a whole bunch of characters died, and they weren't even all from Game of Thrones and The Walking Dead!
Yes, while some shows were delivering laughs from start to finish in 2019, others were striking down beloved and/or impactful characters right, left, and center. Some were deaths that fans could see coming from a mile away, and others were shocking enough to change the way TV should be watched. So, as we look ahead to 2020 and all the wonderful possibilities in a new year of television, let's take a moment to reflect on the biggest TV deaths of 2019.
Warning: MASSIVE SPOILERS AHEAD for the 2019 TV season lie ahead. If you want to avoid finding out who bit the dust on TV shows large and small last year, feel free to check out some of our less deadly articles.
Christopher LaSalle, NCIS: New Orleans
Despite its status as a CBS procedural that generally saves any twists with lingering effects for premieres and finales, NCIS: New Orleans delivered one of the most shocking deaths of TV in 2019 by killing off Christopher LaSalle in a seemingly random Season 6 episode. LaSalle was no background player or newcomer to NCIS: NOLA, and there was no fanfare leading up to his demise. There wasn't even a cliffhanger. While trying to avenge his brother's death, he was shot, and eventually succumbed to his wounds in the hospital. LaSalle died, NCIS: NOLA honored him, and it wasn't even the fall finale yet! R.I.P. LaSalle.
Pennsatucky, Orange Is The New Black
Orange Is the New Black wrapped its run as one of Netflix's defining series with Season 7 in July 2019, but one character did not survive for a life of freedom, fulfillment, and happiness: Tiffany Doggett, a.k.a. Pennsatucky. Despite working in Season 7 to overcome her learning disability and get her GED, Pennsatucky turned to fentanyl after believing she failed. Tragically, she overdose on the drug and died, found too late by Taystee. Viewers did get a little bit of closure, as Pennsatucky was last seen when her spirit walked away from Litchfield. Still, the belated reveal that she had passed her GED exam after all was salt on an open wound.
Mayor Adam West, Family Guy
The death of Family Guy's Mayor Adam West did not come as a surprise, as the real Adam West (who voiced the animated version of himself for the Fox series) passed away in 2017, and there was no intention to recast the role. Family Guy didn't actually detail what happened to the mayor when the time came to address his death, but it did find a way to honor the late actor that was poignant in its own Family Guy sort of way. The high school was renamed in Mayor West's honor, and Peter created a video dedication to him.
Henry, The Walking Dead
The Walking Dead proved in Season 9 that it wasn't done killing off teenagers with the big fair episode that was a bloodbath courtesy of Alpha. In a twist that was somehow both shocking and a long time coming, the episode revealed that Alpha and her Whisperers had murdered a number of the good guys and mounted their head on pikes, with Henry among the dead and decapitated. This marks the second child of Carol's to die an awful death (and the second played by a Lintz sibling) and was a sign that something needed to change in the fight against the Whisperers.
Logan Echolls, Veronica Mars
The Veronica Mars Season 4 revival on Hulu could have given Marshmallows everything they wanted after years of hoping for more... but unless they were hoping for Jason Dohring's Logan Echolls to be killed off and the iconic Veronica/Logan pairing to ended for good, then they were probably disappointed by the ending. It actually seemed like Veronica Mars was finally giving Veronica a happy ending when she and Logan tied the knot, but before they could take off on their honeymoon, Logan was killed in a car bomb. Showrunner Rob Thomas' explanation for killing off Veronica's longtime flame wasn't enough for some, and the show will look very different if it gets a Season 5.
Candy, Pose
Pose never shied away from showing that the trans women of the FX series face a lot of danger. Never was that more clear than in Season 2, when Candy was murdered in a motel room. Her friends had no faith in the NYPD devoting resources to solving the crime, and if Pose had ended Candy's story there, fans might not have gotten any closure. Instead, her friends threw her a memorial which even saw some resolution for the feud between Candy and Pray Tell. Angelica Ross also got one more ballroom performance as Candy, reminding viewers of the vibrant woman Candy was before her life was cut short.
Daenerys Targaryen, Game Of Thrones
Game of Thrones ended its divisive final season with a controversial twist: Daenerys Targaryen was killed by lover/nephew Jon Snow shortly after winning the Iron Throne. Her end seemed unavoidable after she made the decision to roast King's Landing with Drogon when it really wasn't necessary, and her speech about conquering the rest of the world -- including Winterfell -- was the last straw for Jon. He wasn't thrilled about killing her, and he didn't use her death as a means to claim the Iron Throne for himself, but it was still a brutal betrayal for Dany. Fortunately, Drogon didn't actually eat her when he flew away with her, so there's that!
Jack, Supernatural
Supernatural announced that it would end after its fifteenth season shortly before the Season 14 finale, so the stakes were very high for fans waiting to see how the show would set up its final season. Tragically, Supernatural went the route of revealing God as the biggest of big bads, who was the "writer" of the Winchesters' story all along, and he went ahead and killed Jack after the Winchesters decided they weren't going to play along anymore. The death of Jack, who had become like a son to Castiel and the Winchesters despite killing Mary, set up an intense beginning to Season 15. But are characters ever really gone on Supernatural?
Dr. Manhattan, Watchmen
HBO's Watchmen was more of a sequel to the iconic Alan Moore comic series than a straight adaptation, so viewers had no idea if and how the show would incorporate characters from the comics. Dr. Manhattan eventually debuted in all his blue glory, and the reveal that he'd actually been in the mix for some time was a game-changer. Sadly, Dr. Manhattan was vaporized in the Season 1 finale due to the ongoing attempt by several people to gain his powers for themselves. While he's gone, Angela may have inherited his powers, so surely fans deserve another season to see the post-Dr. Manhattan world of Watchmen, right?
Otis, Chicago Fire
Chicago Fire has a habit of ending season finales (and even midseason finales) on intense cliffhangers, and Season 7 closed with the lives of most of Firehouse 51 in very real jeopardy. Instead of opening Season 8 with the miraculous escapes of everybody, one firefighter lost his life: Otis. Not only was his demise heartbreaking and surprisingly gruesome, but it also meant the loss of one of Fire's original characters. Otis' death was arguably the biggest since Shay's in Season 3, and his loss continues to be felt even at the halfway point of Season 8. Hopefully he's the only big death Fire fans face for a while!
Jim Hopper, Stranger Things
The long-awaited third season of Stranger Things on Netflix (opens in new tab) ended on a twist that was long-dreaded: the demise of Chief Jim Hopper. In the desperate fight to close the latest gate to the Upside Down, Hopper wound up exposed to the deadly device that would do the job. Joyce made the difficult decision to sacrifice Hopper to save everybody, and the season ended with Eleven living with the Byers after losing her adopted dad. Well, that's almost how it ended. There was actually a post-credits scene that suggested Hopper could have survived by diving through the portal before it closed, but his presumed death lands him a spot on this list.
Lakeisha, Power
Power killed off no shortage of characters in Season 6 on Starz, but the death of LaKeisha was still a blow. Perhaps most striking about the big death was that LaKeisha was gunned down by a friend: Tasha. When the two got into an altercation and fought over a firearm, Tasha shot LaKeisha in the torso. Although clearly upset herself, Tasha didn't listen to LaKeisha's pleas not to finish the job, and she went ahead and shot LaKeisha in the head. Tasha did say that she was sorry before pulling the trigger, but that presumably wasn't much comfort to LaKeisha in her final moments before she was killed.
Oliver Queen, Arrow
Arrow leading man Oliver Queen's death has actually been foreshadowed since all the way back in December 2018, so the demise of the Arrow-verse's founding superhero in the "Crisis on Infinite Earths" crossover wasn't shocking. That said, some were surprised that he died with little fanfare in the first of five crossover episodes. His friends dipped him in the Lazarus Pit to bring him back, but he was still kinda sorta dead by the end of the first few episodes of the crossover event. It's probably a safe bet that he'll be back among the living for the Arrow series finale later in January, but his "Crisis" death was a very big deal.
Smurf, Animal Kingdom
TNT's Animal Kingdom delivered a shocker of a death in Season 4 when none other than Smurf was killed off, in a move that actress Ellen Barkin was seemingly not happy about at all. Although the stage was set for Smurf's potential demise after being diagnosed with terminal cancer, she went out in a far more violent way. Wanting to go out on her own terms rather than waste away, Smurf staged a heist designed to end in her death. Although it didn't go entirely to plan, the Cody matriarch got her wish and was shot to death, with son J taking the shot to end his mother's life.
Georgia, New Amsterdam
New Amsterdam wrapped its first season on NBC on a huge cliffhanger that guaranteed the death of one of the most important women in Max's life: friend Helen, coworker Lauren, and wife Georgia. While the Season 2 premiere played around with the reveal of which woman died, the ultimate reveal was that Georgia died but Max was refusing to process the fact and was instead imagining that she was still alive with him and his daughter. Georgia's death impacted the entire show in some huge ways, and New Amsterdam lingered on the effects rather than fast-forwarding Max into recovery and perhaps even another relationship.
Missandei, Game Of Thrones
While so many characters died in the final season of Game of Thrones that it's hard to narrow down the most important other than Daenerys, Missandei's death was both heartbreaking and key to the plot. Although Dany was arguably already approaching Mad Queen territory by the time of Missandei's death, she didn't fully snap until Cersei's executed her loyal friend in front of her. Missandei's final word was "Dracarys," and Dany certainly embraced that sentiment when she and Drogon went ahead and roasted King's Landing. If not for Missandei's death, would Dany have gone off the deep end to the point that Jon felt the need to kill her?
Fred Andrews, Riverdale
The death of Fred Andrews on The CW's Riverdale was written into the show after actor Luke Perry passed away. Although Perry died during Season 3, the show held his farewell episode until the Season 4 premiere, which brought in his former Beverly Hills, 90210 costar Shannen Doherty. The reveal came that Fred died after being hit by a car when he stopped on the side of the road to help a stranded driver. The episode got a little weird in true RIverdale fashion when Archie and his pals decided to retrieve his father's body themselves, but the premiere was a touching tribute to Perry.
Honorable Mention: Pretty Much Everybody Except The Starks And Co., Game Of Thrones
If all the notable characters who died in Game of Thrones' final season received an entry on this list, you might still be reading it by the time of the list for 2020 TV deaths. Between the Battle of Winterfell, the fighting on land and sea, Dany just going ahead and burning King's Landing, and the deadly finale, a whole lot of people died.
Varys, Theon, Ser Jorah, the Hound, and of course Jaime and Cersei were among the most important deaths, but Season 8 was such a bloodbath that it seemed like pretty much everybody important died except for the Starks and the other "good" guys. So, all of those who couldn't be remembered with their own entry on this list get an honorable mention!
So, there we have the biggest (although certainly not only) TV deaths from 2019! 2020 will undoubtedly see a lot more characters bite the dust, although hopefully none of those best new TV characters from last year! We'll have to wait and see. Game of Thrones won't have any contenders, but there are plenty of other deadly shows that could axe its characters at any point. For your viewing options now and in the not-too-distant future, be sure to swing by our 2020 midseason premiere schedule and our 2020 Netflix premiere guide.
Your Daily Blend of Entertainment News
Laura turned a lifelong love of television into a valid reason to write and think about TV on a daily basis. She's not a doctor, lawyer, or detective, but watches a lot of them in primetime. Resident of One Chicago, the galaxy far, far away, and Northeast Ohio. Will not time travel, but will sneak references to The X-Files into daily conversation.
Your Daily Blend of Entertainment News
Thank you for signing up to CinemaBlend. You will receive a verification email shortly.
There was a problem. Please refresh the page and try again.