Marvel Fans, Please Stop Swarming Coffee Shop Where Falcon And The Winter Soldier Films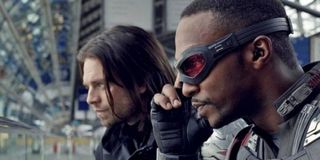 Filming for Marvel's The Falcon and the Winter Soldier is currently underway. After a leaked photo began circulating the internet, the Disney+ series' filming location was revealed to be in the area of Senoia, Georgia. Now, the coffee shop where the photo was taken has stepped in to ask Marvel fans for privacy and to stop swarming the location to take pictures of the cast and crew.
Celebrities, they're just like us! The Falcon and the Winter Soldier's Sebastian Stan, dressed in civilian clothes and sporting Bucky Barnes' metal arm from Wakanda, was recently pictured grabbing a coffee in Senoia. Armed with Stan's location, the photo emboldened fans to head to the coffee shop in hopes to get photos of the cast. In an attempt to put a stop to the overall lack of privacy, the coffee shop shared a message to their customers. Read what they wrote below:
The message was helpfully posted to Twitter and the user blocked out the name of the shop in hopes to maintain the privacy of the coffee shop and its surrounding location. Below is the photo of Sebastian Stan at the coffee shop that initially revealed the exact location of filming.
Senoia, Georgia is no stranger to filming, either. In fact, the location is also home to AMC series The Walking Dead. Still, it's important to keep boundaries while cast and crew film and the coffee shop was kind enough to remind fans to keep their distance while they're taking a break from their jobs.
The Falcon and the Winter Soldier is just one of many Marvel shows headed for Disney+. The series, which offered up first look concept art detailing Bucky and Sam Wilson's new suits, is set in the post-blip world first introduced in Avengers: Endgame. The titular characters fought in the final battle against Thanos, but they'll be facing a plethora of new challenges in their new series.
The Falcon and the Winter Soldier doesn't yet have a release date scheduled, but the series is set to premiere at some point in the fall of 2020. Stay tuned to CinemaBlend for more on the Disney+ show. In the meantime, be sure to check out the 2020 midseason schedule of new and returning shows.
Your Daily Blend of Entertainment News
Your Daily Blend of Entertainment News
Thank you for signing up to CinemaBlend. You will receive a verification email shortly.
There was a problem. Please refresh the page and try again.