Chicago Fire's Biggest Romantic Relationships, Ranked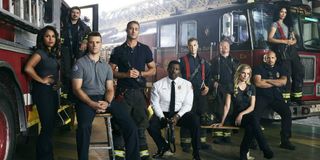 NBC's Chicago Fire is deep into Season 7, and any show that lasts for that long will at least dip its toes into the romantic waters of its' characters lives. Eventually, any long-running series worth its time slot will show our favorites dating, mating or hooking up. And, when the stakes are as high as they can be on Chicago Fire, those romances tend to be even more thrilling and inspire even more love from fans. Well, the firefighter drama has done much more than dip its toes into the romantic lives of Boden, Casey, Dawson and the rest over the years, and we've got a list of all the biggest couples for you...ranked!
8. Randy "Mouch" McHolland & Trudy Platt
As the firefighter who's been dubbed "half man and half couch," Mouch had a bit of a lovelorn path to his one true love. In Season 1, he met Mari, a woman from Japan, online and began a romance with her. While Mari visited and they seemed to hit it off, the extreme distance probably caused problems for the two, and they broke up not long after she headed back home. His next stop on the romance train took him to the dating site GoldenOldeez, and, as you can likely imagine, the string of dates that followed did not end up working out so well for Mouch.
But, just when everyone's favorite couch-man was beginning to fear that he'd spend his golden years alone, a friend's wedding changed everything. In the Season 2 finale, Chief Boden got married (we'll get to him in a bit) and Mouch met the woman who would become his better half: Chicago P.D. desk sergeant Trudy Platt. The no-nonsense cop and the unlucky in love firefighter hit it off immediately and begin one of the most drama free relationships that any televised drama has ever seen. Mouch was there for her when she was attacked and her father killed, and near the end of Season 4, as you can see from the photo above, they cemented their love by marrying in front of friends and family at Molly's.
7. Gabriela Dawson & Peter Mills
You can be forgiven for forgetting that Gabriela Dawson had any other firehouse love in her life besides Matt Casey, especially since a) her romance with Peter Mills only lasted less than one season and b) Mills hasn't been seen, heard from or mentioned since he decamped for North Carolina at the end of Season 3. But, this relationship gets a place on this list for one very important reason: it got Gabriela (and Matt) ready for each other.
Dawson and Mills shared of love of cooking that gave the two quick friendship status when he came to Firehouse 51 as a candidate. But, a shared meal one night turned into something much more, and the two began dating in secret. After they came out as a couple, trouble began to brew when Dawson overheard that Chief Boden, who worked with Mills' dad back in the day, had a romance of his own with Mills' mother while she was separated from his dad. Dawson decided to keep this info from Mills, but when she does finally tell him, he breaks up with her for not fessing up sooner. A few episodes later, he tells her he'd like to make another go of things, but only if she can assure him that she has no romantic interest in (you guessed it) Matt Casey. Dawson can't do that, so the young couple is over for good.
6. Matt Casey & Hallie Thomas
I can already hear you asking..."Who?" Well, just like Gabby had an ill-fated Season 1 relationship, so did Matt. In fact, in Matt's case it was with his fiancée, Hallie. When the show kicked off, Matt and Hallie were in the midst of an "on" period for the on and off relationship they'd had for the previous eight years. Hallie broke things off (I'm guessing she could feel those vibes that Matt and Gabby threw off when they were around each other), but later reconcile when Matt asks if they can start fresh. Obviously, things didn't end well for this couple, and by the end of Season 1 we're treated to the most shocking end for any Chicago Fire couple on this list.
Matt and Hallie are flowing merrily along, when she tells him that she doesn't want kids. Way to bury the lede, Hallie. So, they break up and she heads for a new life in South America, but Matt is hard to get out of her system. When she comes back to town, they reconcile (again) and are happy (again), but trouble is on the horizon (again). When Hallie accidentally sees some shady business go down at the clinic where she works, she ends up getting hit over the back of the head, and locked in a clinic security cage as the building is set ablaze. While Matt and Severide are able to get her out, Hallie is pronounced dead at Chicago Med not long after.
5. Wallace Boden & Donna Robbins
In one of the few romances on this list that actually led to a marriage, Chief Boden found his lady love, elementary school teacher Donna Robbins, while working the scene of a fire during Season 2. While he was already long-divorced from his ex-wife, Shaunda, when he met Donna, once he dated her for a while Boden let old fears of screwing up yet another relationship take over, and he ended things with her. But, fate intervened a few months later, when Boden ran into Donna, and she revealed that she was actually pregnant with his child.
In an attempt to do the right thing, Boden proposed to Donna, arguing that he could more easily support the baby financially if they married, but Donna was not impressed by his practical and totally emotionless reason for wanting to wed, so she turned him down. After going to Mills for advice, Boden understood that he'd need to make it clear that he actually cared about Donna and the baby and wanted to be with them, so he tried again (very romantically and in his full dress uniform) and this time she accepted. The Season 2 finale saw the couple tie the knot in front of the firehouse with the whole team in attendance, and they've been weathering the storm together ever since.
4. Kelly Severide & Anna Turner
Prepare yourselves, folks, because aside from our number one Chicago Fire romance, the one we saw between Severide and Anna was a true heartbreaker. Severide first met Anna early in Season 5, when he was asked by an old firefighter friend of his turned doctor to be tested to donate bone marrow to one of his patients. That patient was Anna, and, in absolute romantic fashion, Severide was a match. But, after getting to know Anna and being more eager than ever to donate, Severide was badly injured at work and told he wouldn't be able to donate any longer, since they wouldn't be able to give him the necessary epidural for the procedure. Severide threw a fit, though, and he was finally allowed to donate his bone marrow to Anna in an extremely painful procedure.
As they recuperated, Severide and Anna began to fall for one another, but once she was released form the hospital she had to return to Springfield to continue her work as a nurse in a hospital there. The separation was hard on both of them, with Severide considering moving to be with her, but Anna surprised him by taking a job at Chicago Med to be near him. You can see where this is going, right? After getting off to a pretty good start on a life together in Chicago, Anna develops an infection and ends up back in the hospital. She had signed a Do Not Resuscitate order earlier, so when the illness took her, there was nothing the doctors could do and their brief romance was over before Season 5 ended. Obviously, Severide was a mess for a long time after Anna died, but the relationship did open the playboy up to the possibility of more mature romances.
3. Sylvie Brett & Antonio Dawson
Ah, we have quite the unexpected coupling here. Antonio was divorced when he and Sylvie, his sister's partner on the ambulance, began dating, and Sylvie had been a bit of a romantic mess until then. She came to Chicago form Indiana after getting stood up before her wedding, briefly dated her controlling ex-fiancé again when he showed up in Chicago, had a short-lived fling with Cruz, and had a crush on firefighter Jimmy Borrelli, who was dating Chili, her partner on the ambulance at the time. A lot of Chicago Fire devotees ship Brettonio, but this relationship has been anything but easy.
After a semi-tumultuous Season 5 for the new (and possibly ill-advised) couple, which saw Sylvie ask Antonio out, only to be rejected because he was still dealing with residual feelings about his ex-wife, then start dating anyway, then break up when Sylvie was unexpectedly told off by that very same ex-wife, and then later making out when they realized they still had the hots for each other, the next season was no better for the two. They hooked up again, Sylvie broke things off again, they knocked boots (yeah, again), she had a pregnancy scare and almost finally admitted to Antonio that she really wanted to try a relationship again...but was cut off by him telling her that he was about to go out with another woman. Unfortunately for fans, there haven't been any Brettonio sightings in Season 7, and things look to be done for the foreseeable future since Sylvie now has a new man.
2. Stella Kidd & Kelly Severide
Now we're starting to get into the nitty gritty ships of Chicago Fire, as hopes have been high for Stellaride ever since Kidd first hit the scene in Season 4. It was obvious from her first episode that she and Severide had a thing for each other, but, at the time they first met she was still with Grant, who's her ex-husband by the time she shows up for work at Firehouse 51. After a night together that almost ended up in one (or both of them) getting stabbed by the drug-using Grant, quite a few hot flirtations and a time trying to live as friends-only roommates, they finally gave in and coupled up in Season 6.
After dealing with the trauma of her serious injury at the start of Season 7, though, Kidd and Severide have hit the bricks. When his estranged father died unexpectedly after a stroke, Kidd was right there for him, but he was having a harder time dealing with the death than anyone could have thought. At the same time, an old friend of Kidd's from high school, Tyler, has dropped into the picture and Severide is sure he's got more on his mind than friendship with Kidd. And, while they're battling it out over Tyler and how Severide has been impacted by his dad's death, it brings things to a head for the couple, putting them on the ropes until they can do a better job of dealing with their issues together.
1. Gabriela Dawson & Matt Casey
Well, this is it, fans! The couple you've all been waiting for: Gabriela Dawson and Matt Casey, better known as Dawsey. They had a long road to happiness, but they made it through...for a season and a half, anyway. What was probably the biggest and longest ship of the entire run of Chicago Fire to date was taken up with thoughts of this couple finally sticking with each other. But, it wasn't quite meant to be. Even once they had folks like Peter Mills and Hallie out of the way, they still weren't able to double down on coupledom for very long.
It should be noted that Dawson and Casey were really put through the wringer during their time together. From her miscarriage and the conflicts with fostering and then trying to adopt little Louie, Casey's time in politics and Dawson's stint as a firefighter, to more than their fair share of worrying over each other as they made it through life and death situations, they managed to come out on top. Until, that is, the couple (who finally married half way through Season 5) get into a big argument over whether or not to try starting a family again, even though it could be dangerous for Dawson. She got so mad over Casey's insistence that she not risk it, that Dawson decided to take a new job...all the way in freakin' Puerto Rico! It took a few months, but by the opening of Season 7, Dawson and Casey had decided to call it quits, leaving millions of broken Dawsey fans all over the country.
Chicago Fire has brought us some grand romances over the past seven seasons, and there's no doubt that the firehouse drama will continue to do so for as long as it lasts. You can catch up on everyone's relationship woes and wins when Chicago Fire airs Wednesdays at 9 p.m. EST on NBC.
Your Daily Blend of Entertainment News
Yennefer's apprentice, Gilmore Girl; will Vulcan nerve pinch pretty much anyone if prompted with cheese...Yes, even Jamie Fraser.