HBO Finally Issued A Statement On The Cancelled Game Of Thrones Prequel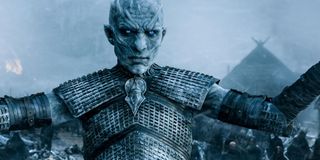 After a "troubled" pilot, the Game of Thrones prequel starring Naomi Watts was officially cancelled by HBO earlier this week. Of the several prequels based on the world of author George R.R. Martin, it had been the only series ordered to pilot. So, it came as a surprise when the cancellation news came out, and the premium cable network is finally breaking its silence about the choice not to move forward.
The Game of Thrones prequel, which also starred Miranda Richardson among several other well-known names, seemed to be going well. Apparently, however, HBO was not thrilled with the completed pilot, with sources citing issues with budget, personnel, and the oft-used reason of there being creative differences between the network and showrunner Jane Goldman.
In a statement (via Deadline), HBO made the cancellation news final and offered thanks to all who worked on the series, short-lived as it may have been.
What's most surprising is that HBO also had pilot issues with Game of Thrones, but they still moved forward with the series from David Benioff and D.B. Weiss, who recently departed the next Star Wars trilogy.
The untitled prequel series would have chronicled the transition from "the golden Age of Heroes into its darkest hour." Despite the intriguing plot, it seems that HBO was far more interested in another series. A few short hours after the cancellation, it was confirmed that another Game of Thrones prequel was in the works, this one aptly titled House of the Dragon.
The series has already been given a ten-episode order and the plot, based on George R.R. Martin's book, Fire & Blood, details the story of House Targaryen. House of the Dragon is set 300 hundred years before the events of Game of Thrones. Naturally, the series will probably include a lot of dragons.
George R.R. Martin recently promised fans that he would finish The Winds of Winter, the sixth installment of A Song of Ice and Fire, before penning any episodes for House of the Dragon, so keep an eye out for that.
While the author has expressed excitement for the Targaryen-centric prequel in a recent blog post, he admitted to being disappointed that the untitled Game of Thrones prequel was axed.
There is currently no premiere date scheduled for House of the Dragon nor has production on the prequel been announced. Stay tuned to CinemaBlend for more information. While waiting for the series and George R.R. Martin's next book, you can now relive Game of Thrones Season 8, which is now available on digital.
Your Daily Blend of Entertainment News
Thank you for signing up to CinemaBlend. You will receive a verification email shortly.
There was a problem. Please refresh the page and try again.