Disney Is Cracking Down On Homemade Baby Yoda Toys, So Sellers Have Gotten Creative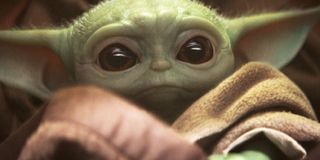 The Mandalorian's Baby Yoda, who recently came face-to-face with Star Wars creator George Lucas, has proven incredibly popular. But any fans looking to pick up their very own Baby Yoda products — including toys, plush dolls, t-shirts — have had trouble finding any licensed goods. Enter Etsy, whose sellers began selling handcrafted Baby Yoda merchandise to fill the void left by the lack of official products from Disney, at least until the company started cracking down on those homemade Baby Yoda toys. In response, sellers have gotten quite creative.
In November 2019, not long after the launch of Disney+ and the premiere of The Mandalorian, Disney announced that Baby Yoda toys and apparel would be released in time for the holidays. Though Baby Yoda products were available for presale, the release dates for many of the toys were largely unknown (and some remain that way). Etsy shop-owners began selling their own homemade Baby Yoda products in response, giving Star Wars fans were able to get their fill of the lovable green creature.
However, while Etsy sellers stepped in and delivered on Baby Yoda decorations and toys, Disney began issuing takedown notices, targeting sellers using the keywords "Baby Yoda," "Star Wars," and "The Mandalorian" in their product listings. According to The Verge, Etsy shops like 100AcreWoodshop and YourStuffedMemories have had to rethink their selling practices after the takedown notices began slowing down their sales.
For instance, YourStuffedMemories' Tanya started selling her Baby Yoda merch using "The Baby Child" to describe the product, effectively removing all Disney-related words from the listing while still referring to the official Mandalorian character title of "The Child." The seller behind the 100AcreWoodShop shop did something similar, selling its Baby Yoda merchandise under "Baby Alien Plush Doll" to avoid further issues.
However, because sellers have had to rename the Baby Yoda Etsy products, they are seeing a dwindling number of customers visiting the shops in comparison to prior totals. Disney's legal takedowns only seem to be targeting specific sellers, though. There are still plenty of other Etsy stores selling knockoff Baby Yoda products, but it's possible that the 100AcreWoodshop and YourStuffedMemories were initially selected because their products were far more popular.
Though Etsy sellers have had to get more creative to sell their Baby Yoda products, this all goes to show how incredibly popular and in-demand Baby Yoda products are. Everyone wants to get their hands on toys, apparel, and plush dolls depicting the precious green creature, which inevitably cost Disney around $5 million in lost sales profits.
Luckily enough for Star Wars fans, Disney is partnering with Build-A-Bear to produce Baby Yoda bears, but the new product won't be available for another few months. And more official swag is on the way, even if it'll still be a while. In the meantime, the more desperate fans can still find certain Baby Yoda toys and merchandise available to buy on Etsy, even if they're now harder to find.
Fans of Baby Yoda – who was memorably spotted at a basketball game by Last Jedi's Laura Dern – can still watch the 50-year-old green baby in The Mandalorian Season 1, which made our list of best new streaming shows of 2019, on Disney+. For more on what to watch, be sure to check out our complete 2020 midseason schedule.
Your Daily Blend of Entertainment News