American Idol: Why Each Of The Judges Left The Show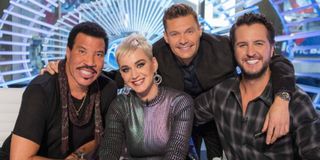 For nearly 20 years, American Idol has served as one of the most famous, popular, well-viewed and influential reality TV shows/competition programs in TV history. Television in the early 21st century has undeniably been shaped by the success and influence of American Idol, but the famous TV show hasn't always stayed the same. As American Idol has molded and adapted itself through new eras of television, the show's panel of judges have been changing in the process. Once, Simon Cowell, Randy Jackson, and Paula Abdul sat around the table and determined who might be the next musical superstar. Nowadays, Luke Bryan, Lionel Richie, and Katy Perry serve as the three judges on the panel, determining who'll make it into the finals of American Idol.
Particularly during the show's less stable years, the judges chairs were left in a constant rotation, featuring a variety of famous faces only serving a limited amount of time in the judge's chair. Some people have stayed on the show much longer than others, and there are certainly some judges who didn't have a great time during their tenure on the popular series. Therefore, let's take a look at the history of American Idol judges and why they left.
DJ Stryker (No Seasons)
There's a good chance you're not familiar with the name DJ Stryker, though if you listen to the radio station KROQ, or played the video game Burnout 3, you might recognize the voice. In the early days of American Idol, there were plans to have four judges at the table instead of the custom three that audiences are used to seeing on the show. In the fourth chair was DJ Stryker, if things had originally gone to plan, but the radio personality decided not to take part in the TV program due to what he deemed "image concerns." It is hard to know what that means; maybe we will never know for sure.
Granted, this one might be a bit of a cheat, since DJ Stryker didn't ultimately accept the position as one of the judges on American Idol. Still, it's fascinating to know that this radio personality had an opportunity to become part of the one of the biggest shows of the early 21st century and turned down the chance. Do you think Stryker regrets it? Maybe. Maybe not. Ultimately, just like DJ Stryker, you're only left to wonder, "what if?"
Angie Martinez (Season 2)
In season two of American Idol, there was a second attempt to add a fourth judge to the American Idol panel, but it didn't work out this time either. In the audition segments of the reality television program, musician/radio personality Angie Martinez was on-hand to judge, critique, and evaluate the contestants and hopeful musicians who came into the audition room. But the process of turning down so many singing hopefuls weighed heavily on her. After only a few days of auditions, the radio personality left the program, claiming that the grueling process of destroying so many people's musical dreams and aspirations weighed heavily on her. In the time since she left the music reality TV series, Martinez has continued her radio career.
Paula Abdul (Season 1 - Season 8)
Among the core trio of the original American Idol judges, Paula Abdul was a world-famous musician before she became an American Idol judge. But the reality TV series provided a second career for the celebrity, allowing her experience as a singer to provide key insight and criticisms of the singers on the show. Allow with her bitter-and-sweet chemistry with Simon Cowell, Abdul served as a key component in making American Idol the immensely popular show we know it to be today.
While she was there from the beginning, Abdul opted to leave the popular series after the conclusion of Season 8, marking the beginning of the end for American Idol as many viewers knew it. The singer left the series after she was unable to come up with an agreement with the producers of the series. Since her American Idol tenure, following a 26 year-pause from singing, Abdul began performing in 2016.
Simon Cowell (Season 1 - Season 9)
Quite likely the most famous and contentious judge in American Idol history, Simon Cowell was not afraid to speak his mind — even if what he had to say wasn't the least bit kind. While the music manager made more than his fair share of contestants shed tears, the British judge wasn't in the game to play it nice. Rather, Cowell spoke his honest truth — as he saw it (and heard it), at least. It cemented the show's pop culture legacy in the process.
But Simon Cowell wasn't mean simply for the sport of it. The music executive could usher out just as many compliments too, if the singer had the chops. Simon Cowell just spoke his mind. That forthright style resulted in many of American Idol's most memorable moments. He served as one of the core trio of judges from American Idol's inception, alongside Paula Abdul and Randy Jackson, but Cowell left the popular reality TV show in 2011 to usher in an American version of The X Factor in 2011, which was cancelled in 2013. In 2016, Cowell took a chair as one of the judges on America's Got Talent, where the television personality has remained ever since.
Kara DioGuardi (Season 8 - Season 9)
As it has been mentioned in this article before, American Idol has tried to incorporate a fourth judge onto the panel with little-to-no success. The past two attempts to include a fourth person at the table went south for separate reasons, and the show kept its central three judges for the majority of the show's run. But in Season 8, the producers were ready for a switch. In Season 8, singer-songwriter Kara DioGuardi joined American Idol as the fourth judge. Evidently, the third time was the charm for the popular TV series, as DioGuardi stayed on American Idol. Well, for a little while, at least...
Kara DioGuardi remained on the reality TV show for two seasons before leaving after the ninth season's conclusion. In a statement, DioGuardi said she felt like she "won the lottery" when she was picked to be a judge on American Idol, but the musician felt like it was "the best time" to leave the hit series. There were rumors that the producers ultimately preferred the three judge format, but it's hard to know for certain if this is the reason. For the next couple seasons, American Idol did return to its three judge format before briefly returning to the four judge panel in Season 12. Nevertheless, since Kara DioGuardi stepped away from American Idol, DioGuardi continues to perform and produce, and she starred in Chicago on Broadway.
Ellen DeGeneres (Season 9)
When Paula Abdul stepped down as a judge on American Idol following a dispute in her contract, Ellen DeGeneres stepped in to fill the now-vacant fourth judge chair. But the talk show's host tenure on the reality TV series was ultimately short-lived, as Ellen had only one season on American Idol. At the time, Ellen admitted that American Idol "didn't feel like the right fit," both due to her intense talk show schedule and the pressures that resulted from this position, which involved judging people and hurting their feelings publicly. There were several folks who were critical of Ellen's time on Idol, as the comedian doesn't have a lot of experience in the music industry, and there were a few claims that Ellen had a tough working relationship with Simon Cowell. Later on, DeGeneres called the American Idol "one of her worst decisions." These days, Ellen continues her show and doing comedy.
Steven Tyler (Season 10 - Season 11)
With Simon Cowell stepping down from his tenure as one of the founding judges on American Idol, the Fox reality TV series was in a serious changing point. With the double digit seasons came a few new faces in the chairs, especially with Kara DioGuardi and Ellen DeGeneres stepping away from the show as well. In comes Steven Tyler. The veteran rock performer certainly knows how to pack a stadium, but he didn't have an especially long stay on American Idol. The musician came on-board in Season 10, but then he left following the eleventh season. As Tyler explained in a statement, he left the show in order to continue working with Aerosmith. Tyler is still rocking with his band these days. It doesn't seem like the absence of American Idol from Steven Tyler's professional career has become any sort of monumental loss.
Mariah Carey (Season 12)
After Steven Tyler and Jennifer Lopez (temporarily) left American Idol, there were a couple judges chairs that needed to be filled. In the show's 12th season, Mariah Carey joined Nicki Minaj as newcomer judges on the popular program. But their time on American Idol would equally be short-lived. After only one season, the record-breaking singer stepped away from the reality television series, and Mariah Carey said she outright hated her time on American Idol. As a replacement for Lopez, Carey claimed working on American Idol was like "going to work every day in hell with Satan," which may have been in reference to her fiery working relationship with Minaj. While the feuds between judges like Simon Cowell and Paula Abdul were playful, Carey and Minaj apparently really got on each other's bad sides, resulting in both of them exiting Idol. Mariah Carey stays busy as a musician and actress.
Nicki Minaj (Season 12)
Similar to Mariah Carey, Nicki Minaj joined American Idol's twelfth season after Steven Tyler and (temporarily) Jennifer Lopez left the program. Alas, the hip hop artist wouldn't stay on the reality television show for long. As it was mentioned earlier, Nicki Minaj and Mariah Carey didn't get along. At least, by Carey's admission. Minaj hasn't talked as much about her departure from the series. Based on her short tenure on the show, however, it's possible that she either didn't care for the show or her feud with Mariah Carey wasn't what the producers wanted. In any case, Minaj continues to perform as a musician.
Randy Jackson (Season 1 - Season 12)
With the notable exception of host Ryan Seacrest, Randy Jackson was one of the longest-running celebrities in American Idol's history. The bassist became a household name thanks to his involvement as a judge, and through his signature line-up of catchphrases and warm personality, Jackson became an endearing presence throughout the majority of American Idol's hit run. Alas, while Jackson stayed involved with American Idol for a long time, nothing can last forever. Following Paula Abdul and Simon Cowell's departures before him, Randy Jackson became the third and final judge in the show's original line-up to call it quits and move on following Season 12. Ultimately, the judge stayed as long as he could, but it was time to leave.
Jennifer Lopez (Season 10 - Season 15, Skipping Season 12)
American Idol's tenth season served as a major shake-up for the reality TV series. With Simon Cowell leaving the hit show following Season 9, and Ellen DeGeneres and Kara DioGuardi following his footsteps, American Idol shaped up to be a different series than before as it hit the double digits. In addition to Steven Tyler, Jennifer Lopez came on-board to serve as one of Idol's new judges. While Tyler only lasted two seasons on American Idol, Jennifer Lopez served as a judge for five seasons in the long run. Although, admittedly, it happened in a rather unorthodox fashion on the hit show.
Similar to Steven Tyler, Jennifer Lopez came and went from American Idol from Season 10 through Season 11, though the musician/actress came back during American Idol's 13th season and she remained involved through Season 15, when American Idol got cancelled by Fox. While Lopez claimed that American Idol's commitments were tough on the musician when she quit before Season 12, they convinced her to return in Season 13 and Lopez remained a fixture on the popular series until its cancellation. Recently, Lopez received a great deal of acclaim for her supporting turn in last year's Hustlers. She received a Golden Globe nomination and a Screen Actor's Guild nomination, but she was ultimately snubbed for the Oscars.
Keith Urban (Season 12 - Season 15)
Following Steven Tyler's leave from American Idol, musician Keith Urban stepped in alongside Nicki Minaj and Mariah Carey to be an American Idol judge. But unlike Minaj and Carey, Urban stayed on the reality TV show for the following few seasons. Specifically, the singer-songwriter remained a mainstay on American Idol for four more seasons before leaving after Season 15, when the TV series came to a temporary end as Fox cancelled the once-popular show. When American Idol was given second life at ABC, much like Harry Connick Jr. and Jennifer Lopez, Keith Urban was replaced by new judges. Specifically, Luke Bryan, Lionel Richie, and Katy Perry. They ushered in the renewed reality TV show's surprise rebirth on a new network.
Harry Connick Jr. (Season 13 - Season 15)
Once American Idol's longest-standing judge Randy Jackson left the reality TV show's panel after Season 12, there was another chair that needed to be filled. That's when Harry Connick Jr. came to American Idol. The actor/singer-songwriter was the final celebrity judge to stay on the program as the show winded down towards its final years on Fox, and he joined Keith Urban (the only judge to return from Season 12) and Jennifer Lopez, who made her return following her absence in Season 12, as the three American Idol judges during the show's decline. Unfortunately for Connick Jr., Idol was on the outs. American Idol was cancelled following its 15th season. When it made its return on ABC, Connick Jr., Lopez and Urban were replaced by Lionel Richie, Katy Perry, and Luke Bryan. The three musicians remain the program's three judges as American Idol continues with its second run.
With that, American Idol has continued with three additional seasons on ABC. While the show is renewed for a 19th season, which will likely air later this year, it's unclear whether or not Katy Perry, Luke Bryan, and Lionel Richie will all be returning as judges. Therefore, if any or all of them decide to leave the show, it will continue a tradition of judges entering and exiting the popular music reality television show. Which judges were your favorites? Do you still swear by the original trio of Paula, Randy, and Simon, or do you prefer any of the folks who joined or replaced them? Let us know below.
Your Daily Blend of Entertainment News
Will is an entertainment writer based in Pittsburgh, PA. His writing can also be found in The Playlist, Cut Print Film, We Got This Covered, The Young Folks, Slate and other outlets. He also co-hosts the weekly film/TV podcast Cinemaholics with Jon Negroni and he likes to think he's a professional Garfield enthusiast.