6 Major Moments And Reveals From Netflix's Aaron Hernandez Documentary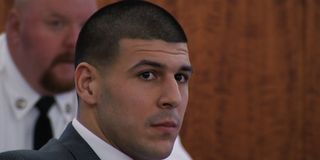 Netflix has gained a reputation for quality (and sometimes controversial) true-crime docuseries, and its latest offering is no exception. Killer Inside: The Mind of Aaron Hernandez offers a look inside the case of former Patriots star Aaron Hernandez and the violent murders he committed all whilst entertaining millions of football fans during the NFL season.
This docuseries revealed a lot of intriguing information, insightful interviews about Aaron Hernandez after his suicide, and even some moments that may make viewers say "wtf." Here are some of the more major moments from the documentary that kept my jaw on the floor, and kept me all the more invested in this crazy story.
The Anecdotes Of Aaron Hernandez's High School Friend And Quarterback
Perhaps the most surprising interview of Killer Inside: The Mind of Aaron Hernandez was given by his former high school friend and quarterback Dennis SanSoucie. According to SanSoucie, the two were thick as thieves throughout high school, and allegedly experimented with each other sexually. SanSoucie said the two were not open about their relationship, as the high school atmosphere and their roles as high school athletes led he and Aaron Hernandez to hide who they were.
The allegations in the Aaron Hernandez documentary aren't entirely new, though they paint the former NFL star's alleged bisexuality in a new light. Was Hernandez's criminal streak a result of traumatic brain injuries, or was it because he was trying to make himself appear as masculine as possible? SanSoucie had his own thoughts that suggested the latter, but the documentary leaves it to the viewer to wonder what Hernandez's true motives for murder were.
Aaron Hernandez's Transition Into Prison Life
As Killer Inside: The Mind Of Aaron Hernandez mentioned, going from a free existence to prison life is quite an adjustment. Testimonies from those who saw Hernandez in prison said the pro athlete had little issue making the transition, which is especially evident in a few key phone calls between family members. Back in 2018, The New York Post reported Hernandez's conversations with family and friends while incarcerated, including one with his mother where he said he was "most relaxed and less stressed in jail," than he was on the outside.
Aaron Hernandez treated his recreation time in prison like training camp, and even surprised guards by initiating fights with other inmates. Per the doc, celebrities typically require special protection from the general population, but Hernandez engaged in activities that sometimes required other inmates be protected from him. His shift to adapt in prison life may have been shocking to some, and may have caused some fans to question his innocence.
Alexander Bradley's Texts With Aaron Hernandez After Being Shot
For those that don't remember, Alexander Bradley was a friend of Aaron Hernandez that was allegedly with him the night of the shooting in downtown Boston. The two still hung out after that night, though paranoia got the best of Hernandez. Bradley was allegedly shot in the head by the NFL star but survived and, instead of turning his friend in, decided to reach out first.
The text exchange between Alexander Bradley and Aaron Hernandez is mystifying, and gutsy. If Hernandez did shoot Bradley in the face, the reality is Bradley didn't initially tell the police and even tried to mend the bridge with Hernandez following the incident. There are a lot of crazy exchanges in Killer Inside: The Mind Of Aaron Hernandez, but this one without a doubt has to top the list in terms of most shocking.
Aaron Hernandez's Secret Apartment Arranged By New England Patriots' Staff
A major question many football fans at the time of the investigation was whether or not the New England Patriots were aware of Aaron Hernandez's wrongdoings. The documentary doesn't explore that question to great depth, but does connect the NFL franchise to an apartment a team staff member arranged for Hernandez. It was in that place ammunition was found that matched the gun used to kill Odin Lloyd, and where Aaron Hernandez and his associates allegedly would smoke marijuana.
Outside of Patriots owner Robert Kraft's testimony in Aaron Hernandez's trial, it's the closest Killer Inside: The Mind Of Aaron Hernandez ropes the Patriots organization into the situation. Ultimately the staff member wasn't doing anything for Hernandez he wouldn't do for another player, so the assumption is that no one asked too many questions about why Hernandez wanted another place equidistant from the stadium as his actual residence.
Aaron Hernandez Was A Harry Potter Fan
When one hears about the habits of a convicted killer in a docuseries, it's not often their love of anything pop culture is mentioned. Killer Inside: The Mind Of Aaron Hernandez decided to spend a bit of time on that in its series, and mentioned that the former tight end became a big fan of the Harry Potter books while he served time.
Moments from the documentary feature Hernandez expressing his excitement to get a hold of more books, though he doesn't get too heavy into talking about the plot or his favorite characters. Aaron Hernandez's love of the character is never fully explained, though it's possible Hernandez connected Harry's rough childhood with his own. Of course, he may have also just enjoyed the book for its content like so many others in the world, I can only speculate.
Shayanna Jenkins Loyalty To Aaron Hernandez
There are many surprising moments in Killer Inside: The Mind Of Aaron Hernandez, though most every reveal pales in comparison to the loyalty of Shayanna Jenkins to her then-fiance Aaron Hernandez. Keep in mind the base of this investigation was that Hernandez was responsible for killing the boyfriend of Jenkins' sister, who was clearly distraught over his death. Jenkins continued to defend Hernandez in spite of that, to the point there was footage shown in the trail that suggested she disposed of what may have been key evidence in the case.
Jenkins continued loyalty to Aaron Hernandez was frequently touched on, though it was never entirely clear how much she actually did or didn't know about the crimes committed. Jenkins was ultimately granted immunity from any crimes for her testimony, in which she defended her fiance on the stand in what some would call an Oscar-worthy performance.
Killer Inside: The Mind Of Aaron Hernandez is currently available to stream on Netflix. Stick with CinemaBlend for more on what's great to watch on Netflix and other streaming services, and for the latest news on what's happening in television and movies.
Your Daily Blend of Entertainment News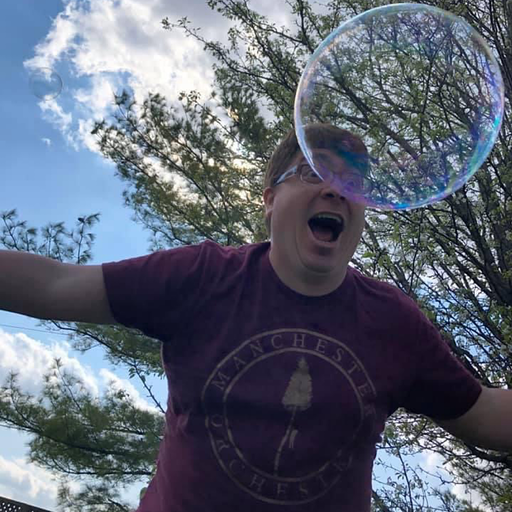 Mick contains multitudes and balances his time reporting on big happenings in the world of Star Trek, the WWE, reality television, and other sci-fi shows.