Former NFL Star Aaron Hernandez Is Dead At 27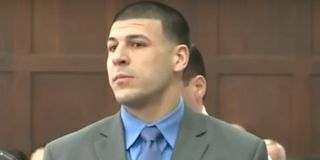 The short and tragic life of Aaron Hernandez has come to an end. On Wednesday, the Massachusetts Department of Corrections (DOC) announced the final chapter in the chronicles of Aaron Hernandez's rise and fall from grace when the former New England Patriot's tight-end ended his life by hanging himself in a prison cell. He was 27 years old. The statement from Christopher Fallon, the Assistant Deputy Commissioner of Communications of the Massachusetts Department of Correction at the Massachusetts DOC, read as follows:
The sad development, according to ESPN (opens in new tab), came days after a jury found Aaron Hernandez not guilty of the 2012 shooting murders of Daniel de Abreu and Safiro Furtado but guilty of the illegal possession of a .38-caliber Smith & Wesson revolver. That trial, which ended on April 14 of this year, was not related to the Odin Lloyd murder trial that concluded in 2015 after a jury found Hernandez guilty of killing Lloyd, the boyfriend of his fiancée's sister. In that case, the former professional football player was sentenced to life in prison without the possibility of parole.
Aaron Hernandez helped the University of Florida win the national championship in 2008, and the New England Patriots drafted him two years later. In Aaron Hernandez's brief NFL career, the athlete inked a five-year, $40 million contract. But Hernandez's accomplishments were overshadowed by personal issues. Before teaming up with the NFL, Hernandez had settled a battery charge out of court and become implicated in a car shooting. After the New England Patriots had drafted Hernandez, The Boston Globe reported that he had admitted to using marijuana and failing multiple drug tests in Florida, a claim Hernandez and the team partly denied.
Once the murder allegations came to light in 2012, the Patriots released Hernandez an hour and a half afterward, and his sponsors, CytoSport and Puma, dropped him as well. The release meant Aaron Hernandez forfeited $19.3 million not guaranteed to him, and the Patriots legally voided the remaining $5.91 million guaranteed to him. EA Sports dropped Hernandez's likeness from their video games, and the Pro Football Hall of Fame took down a photo of him in response to complaints from visitors.
Coincidentally, the New England Patriots were scheduled for an April 17 visit to the White House to honor their 2017 Super Bowl. A spokesperson for the Patriots explained to ESPN that they knew of the reports about Aaron Hernandez's death, but they were not likely to comment on the matter the same day. We will let you know if other details unfold.
Your Daily Blend of Entertainment News
Thank you for signing up to CinemaBlend. You will receive a verification email shortly.
There was a problem. Please refresh the page and try again.