The Super Bowl's Most Heartwarming Ad Is About Dog Cancer, So Grab Your Tissues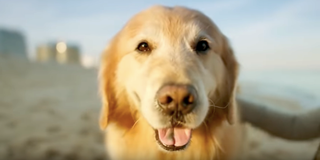 Even non-sports fans know that Super Bowl commercials come in all shapes and sizes, if we can all agree that by "shapes and sizes" I really mean 30 seconds of full-on crazy. These companies need to get our attention between bathroom breaks / stops at the nacho bar in the kitchen, so they usually shell out a lot of cash for wild spots that will do just that. But, every now and them we get some truly heartwarming Super Bowl ads that look to capture our softer emotions, and this year will see a $6 million commercial about dog cancer rip you up inside.
The commercial is from WeatherTech, a company that makes automotive accessories, as well as home and pet care products. This spot features the company's unofficial mascot, Scout, in an ad created to encourage people to donate to the University of Wisconsin School of Veterinary Medicine, and when you watch it, you'll quickly understand why. Take a look:
See? It got to you, didn't it? Hey, you don't have to explain yourself to me. I've been crying (gently) for the past 10 minutes and that started when I just heard about the commercial and hadn't even watched it yet. Don't worry, your tough guy / gal reputation is safe with me; we can all be big ol' softies together when we watch the game on Sunday.
As you might have noticed when you watched the commercial, as long as you weren't crying too loudly to hear, Scout was diagnosed with cancer and got his life saving treatments from University of Wisconsin School of Veterinary Medicine. The 7-year-old golden retriever's owner, David MacNeil, is the founder and CEO of WeatherTech, and as he tells NBC News, last year was a rough one for him and Scout.
In the summer of 2019, Scout collapsed, and when David MacNeil took him to the veterinarian for tests, he was told that Scout had cancer and only one month to live. But, MacNeil was determined to do everything he could to save Scout before putting his beloved pet down, so he took him to the University of Wisconsin School of Veterinary Medicine, which treated Scout with aggressive chemotherapy and radiation that was able to nearly eradicate his tumor.
As noted in the commercial, Scout only had a 1% chance of survival, but, as you can see, he's still with us. David MacNeil was so grateful to the hard-working vets at the university that he took out this Super Bowl ad to thank them and encourage donations to the school to help with its cancer research programs. Hold on...I got another little...tear...dropping...
And, in case you are a soulless automaton which wasn't programmed to cry unless people are in danger, just know that donations to the school won't only help the very good boys of the world. Oh no. From what the veterinary school's dean, Mark Markel, told NBC, a lot of animal cancer treatments and research helps doctors understand how the disease works and can be treated in humans, as well. So, it would seem that this is a good cause to donate to all around, should you be looking to reach your strong metal hands into your wallet in the interest of helping out.
Super Bowl LIV airs this Sunday, February 2, on Fox starting at 6 p.m. EST, with kickoff set for just a half hour later. If you'd like to tune in for Scout's commercial during the game, it's set to air at some point during the second quarter. Until then, check out what you can watch on the small screen right now with our 2020 winter / spring premiere guide and Netflix schedule.
Bachelor Nation, Gilmore Girl; will Vulcan nerve pinch pretty much anyone if prompted with cheese...Yes, even Jamie Fraser.
Your Daily Blend of Entertainment News
Thank you for signing up to CinemaBlend. You will receive a verification email shortly.
There was a problem. Please refresh the page and try again.