Chicago P.D. Is Making Me Nervous About Burgess' Pregnancy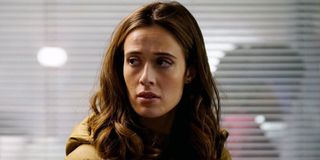 (Image credit: NBC)
Chicago P.D. delivered a game-changing twist for Kim Burgess that should impact her entire arc for however much longer the series lasts: she's pregnant. The pregnancy has been complicated from the start since the father is her coworker/ex Adam Ruzek and they weren't actually in a relationship. Plus, she was reluctant to give up her place in the field, but things seem to be proceeding as best they can on a show like Chicago P.D.
Still, the NBC drama is making me nervous about her pregnancy for a few big reasons, which we'll get into below. Note that things do get a little heavy, given the subject matter.
Burgess Isn't Ready To Leave The Field
Look, there's no denying that Burgess has been apprehensive all along about what having a baby will mean for her career, even though she ultimately decided she wants to be a mom. She took her time telling anybody other than Ruzek about the pregnancy, and she still wasn't willing to warm the bench even after she told everybody else. The next episode will apparently see Burgess start out working as a 911 operator, only to head back into the field to kick down doors again.
And the field on Chicago P.D. is a very dangerous place! Although Halstead's recent life-threatening injuries were more or less his own fault rather than part of the job, members of Intelligence have gotten knocked around pretty badly. Burgess and Upton were kidnapped just last season, and Upton was a bloody mess by the end. Throw in all the bullets that fly and collateral damage, and everything about Burgess remaining on the job as the months of her pregnancy pass makes me uneasy.
Chicago P.D. fans are likely used to varying degrees of darkness and despair from this show, but Burgess losing her pregnancy on the job would be far more tragic than usual. Burgess wants this pregnancy enough that she's willing to give up her body and her career, with no guarantee that she'll ever get either back to where things were before having a baby. But Burgess apparently isn't ready to leave the field, and thus every gunshot, car chase, and pursuit of a bad guy involving her is nerve-wracking for me.
That said, I know this is TV, and the normal rules for health and pregnancy and law enforcement don't apply, and P.D. could very well let Burgess kick ass and take names through the third trimester without any complications. It's TV! So why am I still nervous?
One Chicago Isn't A Good Place To Be Pregnant
Maybe I just haven't fully gotten over some of the tragedies over the years on Chicago Fire and Chicago Med, but One Chicago's history isn't exactly packed with major characters carrying bundles of joy to term. In fact, One Chicago has a history of delivering the Worst-Case Scenario.
Chicago Fire's pregnancy storyline with Gabby Dawson and Matt Casey is arguably one of the most heartbreaking arcs of that series, and this is a show that delivers major crises and kills off major characters in spectacularly tear-jerking ways. Dawson and Casey were excitedly expecting their bundle of joy, with Dawson taking an office job to remove herself from the physical stress of work as a firefighter and/or paramedic.
Tragically, the pregnancy was never viable, and Dawson nearly died during her miscarriage. To make things worse, Dawson later learned that any pregnancy would seriously endanger her life, and it led to the end of the Dawsey relationship until their brief hookup in Season 8. Sure, Donna successfully carried a pregnancy to term, but does Boden's wife really count as a major character with a successful pregnancy?
Chicago Med's Natalie Manning did carry a pregnancy to term and give birth to a healthy baby boy, who seems to be growing up just fine aside from his mom's occasional TBI-induced engagement to a master manipulator. Still, she was already very pregnant when Med launched its first season, and there was some inherent tragedy due to her recently-deceased husband.
Then, in Med Season 2, April Sexton found herself unexpectedly pregnant, and was excited despite dangers to her own health. April made it far enough in her pregnancy that she was slightly showing, meaning her eventual miscarriage required her to go through a heartbreaking procedure. After Chicago Fire with Dawson and Chicago Med with April, of course I'm nervous about Chicago P.D.'s Burgess!
Chicago P.D. Isn't A Kid-Friendly Show
The fact is that most of the characters who turn up on Chicago P.D. are either victims or witnesses to crimes. Atwater is admittedly more father than brother to his much-younger siblings, but those relationships haven't exactly been safe and healthy. Voight and Olinsky (before his death) both lost adult children, and none of the Intelligence cops work regular hours. Unless P.D. is going to lose Marina Squerciati's Burgess or Patrick John Flueger's Ruzek as a series regular, how is it going to work?
Again, I know this is TV and kids can be kept conveniently off-screen, especially if there's a family member who could help out. Natalie on Med pulled off having Owen off-screen for most of the series thanks to her mother-in-law's eagerness to help out, and shows ranging from The X-Files to Friends to even Arrow have worked around pregnancy changing everything about a show.
P.D. could pull it off, and I'm truly hoping Burgess has her baby and somehow manages to remain part of Intelligence. But since I'm already nervous about Burgess' pregnancy, P.D. as one of the darkest shows on broadcast television doesn't exactly reassure me. Hopefully One Chicago's darkest show won't have to get much darker than Upton possibly becoming the next Voight, the occasional gruesome death, and what's in store in the upcoming P.D./Fire crossover.
Find out with new episodes of Chicago P.D. on Wednesdays at 10 p.m. ET on NBC, following new episodes of Chicago Fire at 9 p.m. ET and Chicago Med at 8 p.m. ET. Stay tuned to CinemaBlend for more of what's in store with TV and movies.
Laura turned a lifelong love of television into a valid reason to write and think about TV on a daily basis. She's not a doctor, lawyer, or detective, but watches a lot of them in primetime. Resident of One Chicago, the galaxy far, far away, and Northeast Ohio. Will not time travel, but will sneak references to The X-Files into daily conversation.
Your Daily Blend of Entertainment News
Thank you for signing up to CinemaBlend. You will receive a verification email shortly.
There was a problem. Please refresh the page and try again.