CBS All Access' Interrogation: Cast List, Trailers, Premiere Date, Review And More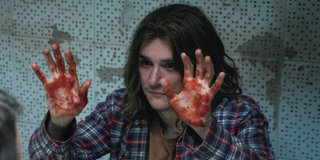 (Image credit: cbs all access press)
With all the love that true crime TV shows have gotten in recent years – both on the docu-series front and on the scripted drama side – streaming service CBS All Access has a dark and twisted entry in the sub-genre with the new series Interrogation. Starring The Batman's Peter Sarsgaard and Outsiders' Kyle Gallner, Interrogation is based on a shockingly complicated murder case, and it was specifically created for streaming with a unique concept that should definitely give viewers more to talk about.
Below, we've got Interrogation's cast list, a spoiler-free synopsis, a quick guide to the show's DIY viewing set-up, and CinemaBlend's review of the show. But first, here's when you can watch!
Interrogation Premiere Date: Thursday, February 6 (3:01 a.m. ET)
All ten episodes of Interrogation's first season will be released at once, but be sure to keep reading to learn why there are more ways than one to watch it.
Interrogation Cast List
Because episodes are connected to the titular characters, not everyone within Interrogation's ensemble appears in equal measure throughout the season, with characters like Vincent D'Onofrio's Ian Lynch getting showcased in just a handful of episodes.
With Andre Royo and Chad Coleman listed above, be sure to keep an eye out for other former co-stars from The Wire throughout the season.
What Is Interrogation About?
Largely based on a real-life case that stretches across more than two decades – though with names and certain details changed – Interrogation essentially begins with the maddeningly brutal murder of Mary Fisher, whose son Eric was charged and imprisoned for the heinous crime. Maintaining his innocence through years in prison, Eric's biggest opposition is initially the on-the-rise Detective David Russell, who wavers little in his stance on Eric's guilt. With waves of new evidence that alternately help and damn both sides of the law, Interrogation aims to put viewers in the detective chair as they watch the conflicting narratives bolstered by interrogations taken from the existing police files.
Interrogation's Unique Viewing Order
CBS may be very well-known for its long-lasting procedurals, but Interrogation creators John Mankiewicz and Anders Weidemann have reinvented serialized sliced bread with this one. Basically, Interrogation's premiere and finale serve as the first and last episodes, but the middle eight installments were intentionally crafted to be watched in any order that the viewers choose. (Not that there's anything wrong with the default set-up.)
Each episode is named after a different character who factors heavily into that chunk of the story, which is one manner that could influence viewers about which episode to watch next. For instance, hearing Dr. Marjorie Thompson's name in one episode may inspire viewers to watch the episode bearing her name, thus revealing information they wouldn't yet have if they'd watched other installments first. So audiences will likely have very different perceptions and suspicions about the various characters depending on the order in which the eps were watched, with the season finale solving the mysteries and detailing the aftermath.
Interrogation Trailers
Though CBS All Access gave Interrogation a straight-to-series order back in November 2018, the show's first big public splash came during the Television Critics Association winter press tour in January, where the first trailer was revealed, along with further information from the creators and cast. You can watch the trailer below.
A trailer like that obviously can't dig too deeply into specific characters, what with so many to showcase, so Interrogation also released a secondary promo specifically focused on Peter Sarsgaard's Det. David Russell, a family man who appears incapable of distrusting his gut, no matter what the consequences. Check out that video below.
Stay tuned for more trailers and closer looks at the main characters as those videos get released.
CBS All Access' Interrogation - Review
With unmistakable shades of Rashomon and Memento's unreliable protagonists ever-present, CBS All Access' Interrogation is a whirlwind of a whodunnit that aims to inject something fresh into TV crime dramas. Interrogation puts more responsibility on viewers to pay attention and seek out the connections and proof needed to figure out the decades-old murder, with a structure inspired by the non-sequential way investigators approach unsolved cases. Though one's mileage may vary on the viewing order, Interrogation is gripping, shocking, and will leave audiences wowed that it all came together.
To be sure, Interrogation works best if one thinks of it as a disturbing crime drama first, while keeping the watch-in-any-order gimmick tethered to the back of the mind. That outlook not only allows for easier enjoyment of the talented ensemble cast, but it also helps keep the story more grounded in a way that doesn't paint the characters too harshly.
As husband and detective Peter Russell, Peter Sarsgaard oozes the same kind of quiet stoicism that he usually excels with, though his charisma gets tainted in places as the story progresses. Kyle Gallner's Eric Fisher, meanwhile, is the complete opposite of stoic is his youthful years as a foolishly confident, long-haired drug addict who routinely takes advantage of his perpetually forgiving parents.
To that end, one of the strongest elements of Interrogation's first season is the frustratingly hopeful and empathetic performance delivered by The Expanse's David Strathairn. His Henry Fisher is the kind of parent everyone should have to a certain extent, in that he never gives up on Eric, never stops believing in him, and never stops giving up his own sense of happiness and safety in order to make Eric's life just a tiny big better. It's a heartbreaker to watch.
With each new episode comes a new character and/or a new perspective on the case that causes viewers to think back and recontextualize everything they've seen to that point. Other important faces include Vincent D'Onofrio as Sgt. Ian Lynch, who sticks with the case years after the original conviction; Kodi Smit-McPhee as Eric's rebellious and intimidating outsider friend Chris Keller; and Ebon Moss-Bachrach as the loud-mouth dealer-with-connections Trey Carano.
It is because this cast is filled with such strong actors that Interrogation's episode-order conceit works as well as it does, even if a lot of people will probably bypass it to watch the website's default order. What the show does best, in a sense, is prove just how unreliable people are as witnesses even when they're talking about their own experiences, and how fragile and thin the balance is between objectivity and subjectivity. (Also, that said unreliability goes up ten-fold when heavy drug use is involved.)
For instance, watching Det. Russell's actions in one episode will have a completely different meaning for the viewer depending on what episodes they watched before that. A previous episode with a sympathetic scene for Russell would cloud one's mind in a completely different way than if the previous episode featured Russell being morally corrupt. My mind is still blown that the episodes were wholly conceived like this, goading viewers to make judgment calls on characters in such brazen ways.
Like Black Mirror: Bandersnatch and other branching-narrative projects, Interrogation couldn't have properly existed a decade ago, and thus John Mankiewicz & Anders Weidemann deserve special credit for trying something new, especially under the CBS umbrella. Perhaps it isn't the peak version of this any-episode-order TV series, but Interrogation has laid out the blueprints for any other show willing to attempt that complex creative process. The dark and twisty mystery deserves the attention of CBS All Access subscribers everywhere, and offers another promising look at the streaming service's future beyond the Star Trek universe.
Interrogation will debut all ten episodes of Season 1 on CBS All Access (opens in new tab) on Friday, February 6, at 3:01 a.m. PT.