The Witcher Showrunner Is Planning Some Big Changes For Season 2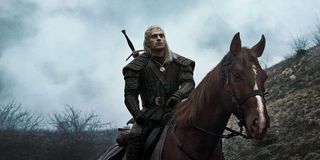 The Witcher was launched into the spotlight, sparking conversation, theories, and even more Geralt in a bathtub memes. As is the case with any TV show, though, The Witcher's first season wasn't perfect — what with all the confusing timelines and such — and a sophomore season presents the perfect opportunity to improve on what didn't work in Season 1. Naturally, showrunner Lauren Schmidt Hissrich is already planning some big changes for Season 2.
While it was a huge hit with fans, there were many critics who weren't very kind in their reviews, though the showrunner had a response to the negative reactions. Still, The Witcher Season 1 proved incredibly popular. But even Lauren Schmidt Hissrich wants to tweak some things to help make the series even better, so don't expect the series to be the same when it does return. Here's what she said on The Writer Experience podcast about the changes in store for Season 2:
It sounds like The Witcher will have a bit of a clean slate in Season 2 and the changes seem like an opportunity to make an even better show, to build upon the story being told while ironing out the kinks from the first season. Personally, I'm not opposed to the alterations, as any and all changes become a big part of a series' evolution. One can only hope that the changes will make The Witcher all the more exciting in Season 2. Totally different Nilfgaard armor? Bring it on!
While Henry Cavill gave a production update about The Witcher Season 2 in January, the Netflix series won't return to the streaming service for a while. While fans wait for more on Season 2, Netflix has heard the call for more Witcher content and is planning an anime film called The Witcher: Nightmare of the Wolf.
The anime will be set in the same universe as The Witcher TV series, though it doesn't have a release date scheduled yet. Stay tuned to CinemaBlend for updates. In the meantime, you can watch The Witcher Season 1 on Netflix. For more on what to watch, be sure to check out our 2020 midseason schedule for all premiere dates and times.
Your Daily Blend of Entertainment News
Thank you for signing up to CinemaBlend. You will receive a verification email shortly.
There was a problem. Please refresh the page and try again.