Watch Henry Cavill's The Witcher Season 2 Production Update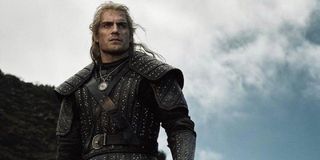 Henry Cavill had to go through a lot of preparation before and during the filming of The Witcher Season 1, from creating his unique accent as Geralt of Rivia to his "miserable" dehydration diet. With filming for Season 2 set to begin as early as the spring, Cavill is offering fans a production update about The Witcher's sophomore season. Hear what he had to say in the video below!
Henry Cavill is quick to explain that his Christmas break is over and that he's back to work on The Witcher. Though the season hasn't begun filming yet, Cavill confirms on Instagram that pre-production will be starting "very shortly on The Witcher Season 2" and he promised that he would be giving more updates on his Instagram as time goes on.
For some background, pre-production usually entails all the planning that goes into a series before it begins filming. Costumes are picked out, shooting schedule is solidified, and all of the minute details are sorted out before anyone can call "action!"
In addition, Henry Cavill said he heard that viewers greatly enjoyed Season 1 of The Witcher and he was very happy about that, thanking the audience for liking the show. Though the series has gotten some bad reviews, to which series showrunner Lauren Schmidt Hissrich had the best response, fans have been enthusiastic about The Witcher and its characters, despite the confusing timelines.
Henry Cavill's video update about Season 2 is sure to keep fans excited. Keeping up with the details of The Witcher's second season helps pass the stretch of time between Season 1, which premiered on Netflix in December of 2019, and Season 2.
The Witcher Season 2, which has a cool Game of Thrones connection, doesn't yet have a scheduled premiere date, though Lauren Schmidt Hissrich did reveal that the show's premiere window is 2021. With Henry Cavill's updates, the Netflix show, which was named one of our best TV shows of 2019, seems to be staying on track with its production schedule and 2021 can't come soon enough.
The Witcher, which is based on the books and short stories of Polish author Andrzej Sapkowski, helped fans see Henry Cavill in a new light. He was no longer just Clark Kent/Superman from Man of Steel, he was the fierce Geralt of Rivia, and Cavill's video update makes it clear that the actor is just as excited to get back to filming The Witcher Season 2 as fans are to see it.
Netflix's The Witcher Season 2: What We Know So Far
The Witcher Season 1 is currently available to stream on Netflix. Stay tuned to CinemaBlend for more updates on Season 2. In the meantime, be sure to check out our complete 2020 midseason schedule to find out when every new and returning show is premiering.
Your Daily Blend of Entertainment News
Thank you for signing up to CinemaBlend. You will receive a verification email shortly.
There was a problem. Please refresh the page and try again.