Filming Season 1 Of The Witcher Sounds Like It Was A Smoky, Muddy Nightmare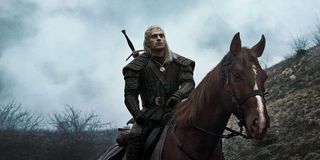 Filming in bad weather can be treacherous and unpredictable, but the show must go on. All that mud and gloomy weather throughout The Witcher Season 1 didn't just appear out of nowhere though and, according to The Witcher director Marc Jobst, filming the show's Battle of Sodden Hill scene sounds like it was a smoky, muddy nightmare.
Marc Jobst, who directed the premiere, finale, and Episode 7 of The Witcher Season 1, recently revealed that shooting outdoor scenes did not make things easy for the Netflix fantasy drama. When asked what was the most challenging aspect of directing the Battle of Sodden Hill, Jobst revealed that, while it was one of the most exciting battles to film, the biggest obstacle he faced while filming the scene was the atrocious weather. Here's what Jobst said:
Honestly, what Marc Jobst is describing sounds straight out of a nightmare. There would have been less to worry about if these sequences were filmed in a studio, but the majority of The Witcher's first season, which was named one of our best new shows of 2019, takes place outside. Unfortunately, that means the scenes are beholden to the weather, but at least Jobst managed to work everything out.
In a Reddit AMA, the director added that, because they had to shoot the battle scene in a variety of locations, "one of the trickiest things" was creating consistency for the geographical locations so it wouldn't look different onscreen. Marc Jobst also revealed that filming wide shots for the episodes were invaluable.
He also joked the "vast amounts of blood" seemed to help ease the filming challenges as well. Who knew? So, fans might want to toss a coin to Marc Jobst for working within the scope of these weather and filming conditions and for making the scene look impeccable and seamless in its final cut.
The Witcher Season 1 is currently available to stream on Netflix. Henry Cavill has provided an update on Season 2 of the series, which has begun pre-production and might shoot as early as the spring. For more on what to watch, be sure to check out our Netflix schedule to find out when your favorite new and returning shows are streaming.
Your Daily Blend of Entertainment News