McMillions: 7 Things We Learned From HBO's McDonald's Documentary's First Episode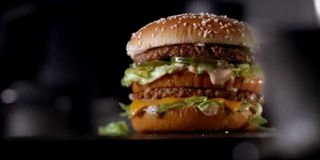 This week, the true crime genre just got super-sized. More specifically, HBO unveiled their latest documentary, McMillions, which follows the infamous McDonald's Monopoly fraud scandal which took place in the early 2000s. In recent years, filmmakers have seen the rich potential in this unbelievable story. It was announced in 2018 that 20th Century Fox would turn this story into a narrative feature with Ben Affleck directing, Matt Damon starring, and Deadpool screenwriters Paul Wernick & Rhett Reese writing the screenplay. Before that movie comes to be, however, McMillions will give viewers an opportunity to hear this kooky story for themselves in a six-part mini-series, beginning with the first episode, which premiered on Monday evening.
This docuseries promises no shortage of surprising revelations along the way, including a few in the first episode. Here are seven surprises found in this pilot episode. Obviously, you should expect spoilers for this new HBO documentary series to follow from this point onward. You've been warned.
The FBI Got McDonald's Involved In A Fraud Investigation
In the early moments of HBO's McMillions, we follow a Florida-based division of the Federal Bureau of Investigation (FBI) -- namely FBI Agent Doug Mathews -- who in 2001, have reason to believe that McDonald's famous nationwide Monopoly game, wherein everyday customers have the chance to win millions from the fast food conglomerate, has been fraudulently rigged. While Mathews very much wants to keep this investigation as secretive as possible, the majority of the bureau believes it's ultimately in the best interest of this ongoing case to get McDonald's involved — at least, in some modest fashion.
Therefore, in an effort to figure out what the company knew about this case, the FBI division contacted the company's head of global security and asked them to come to Florida without causing much noise or notice from the rest of the company. With that, McDonald's (in a very minor fashion) found themselves hearing the surprising details of this case, which meant the fast food franchise was involved (if loosely) in this investigation.
A Number Of McDonalds' Biggest Promotions Were Done With Simon Marketing
While one might be willing to believe that McDonald's came up with some of their most profitable and well-known promotions and products, including the McDonalds Monopoly game and their happy meal toys, McMillions claims a number of the worldwide company's big, lucrative ideas came from an outside company, known as Simon Marketing. With McDonald's focused squarely on food products and management, they left marketing matters to this company. Of course, as this docuseries reveals during the course of this first episode, that might've resulted in a huge headache for McDonald's.
The FBI Pretended To Film A Commercial For McDonald's
As the investigation gained more momentum, particularly with McDonald's notified of this potential fraudulent web of deceit, some serious provocative measures were necessarily. When Michael Hoover became the recent winner in McDonald's latest million dollar Monopoly winner, Doug Mathews had an idea: what if the FBI disguised itself as a film crew making a commercial for McDonald's? That way, they could get the information they needed in a manor that would seem inviting and casual, but ultimately prove revealing. After some resistance, it was to Mathews' surprise that the bureau agreed on the undercover mission, which found Mathews acting as the fake commercial's director with other FBI agents played various parts of the film crew.
The FBI Got A McDonald's Employee Involved In An Investigation
When Doug Matthews' undercover mission gets the green-light from the investigation bureau, there are several steps that are needed to legitimatize this sting operation. One of those steps involves getting McDonald's involved, yet again, in this FBI case. While Matthews admits that it's extremely rare for non-FBI agents to be involved in an FBI undercover mission, the team needed someone with legitimate McDonald's credentials involved, in an effort to make their fake commercial seem legitimate to an unsuspecting civilian.
Enter Amy Murray.
A communications department employee at the time for McDonald's, she had the background and experience to make the operation seem real, and she provided the vital commercial background information needed to make it seem like these FBI agents were actually commercial filmmakers. With that, an employee at McDonald's quickly (and surprisingly) found herself at the front of a major FBI investigation, one that proved nerve-wracking for everyone involved in this undercover mission.
A Man On The Beach Tried To Steal The Million Check
In the midst of this intense FBI undercover mission with Michael Hoover, Doug Mathews (disguised as a commercial director) pushes the subject to take the fake film crew to the various locations described in his story. This eventually leads to Hoover taking the FBI and McDonald's Amy Murray to the beach, where there is a brief moment of panic. As Hoover holds the million dollar check up for footage on the sandy shores, a stranger steals the giant check off the man and sprints down the shore, with Mathews chasing after him. While the check is obviously fake, they don't want their cover to be blown, so Mathews makes a dash for the thief and, thankfully, yanks the big check away from the looting stranger before he can get too far away.
Michael Hoover Laughed About The Situation On A Phone Call
Shortly after the mission is completed, the FBI keeps a close tap on Michael Hoover's phone line. In doing so, they track his incoming and outgoing calls, and they discover quite the doozy in the process. After the FBI undercover mission, Hoover makes a call to a man named Andrew "AJ" Glumb, and in their phone call, laughed about the stuff he told the film crew, saying that they "believed everything" he was telling them about winning the ticket and his elaborate People Magazine story. The FBI considered it "perfect" evidence for their investigation, and it confirmed that Hoover's story was, indeed, a giant hoax, one that connected to an interlaced spider web of people that — somehow — connected to a man known as "Uncle Jerry."
The McDonald's Monopoly Winners Were Connected To The Head Of Security At Simon Marketing
As you would expect, the first episode of McMillions ends with a major bombshell. As the FBI continues to track these phone calls, the name "Uncle Jerry" is heard more and more in these interconnected conversations. He's described by one subject as a "mobster" running his "mafia empire." The FBI needed to find out who Uncle Jerry could be. As the FBI searched through all the past McDonald's Monopoly winners, a common pattern started to be found, wherein one person was found in common for all these various people. That person was Jerome Jacobson, also known as Jerry. This man was the head of security at Simon Marketing, which (as established earlier) was front-lining this entire McDonald's-based Monopoly promotion.
Mic drop. For those TV viewers who don't know what happens next, they'll need to tune in next week on February 10th to watch the latest episode of McMillions on HBO. In the meantime, let us know what you think of the story and the first episode of this documentary series in the comments below!
Will is an entertainment writer based in Pittsburgh, PA. His writing can also be found in The Playlist, Cut Print Film, We Got This Covered, The Young Folks, Slate and other outlets. He also co-hosts the weekly film/TV podcast Cinemaholics with Jon Negroni and he likes to think he's a professional Garfield enthusiast.