Creepy Mindhunter Video Compares Charles Manson Season 2 Interview With Real Life Footage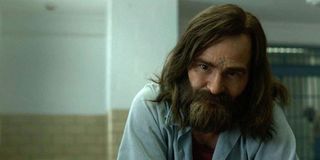 Mindhunter Season 2 brought the chills. In addition to expanding on Wendy Carr and Agent Tench's personal lives, the show included multiple serial killers like BTK, Season 1's Ed Kemper, and Wayne Bertram Williams. They also teased John Wayne Gacy, best known as the "Killer Clown," in the Season 2 finale, potentially setting up an appearance in Season 3. However, one of the most memorable scenes from Season 2 involved Agents Tench and Holden interviewing the infamous Charles Manson. A Mindhunter fan went a step further and created a video comparing Manson's interview on the show with a real-life one. It's honestly really creepy.
One of the most striking components of Mindhunter is its attention to detail. Since it's heavily based on actual events, the series tends to draw from previous interviews, facts, and images to create its storylines. An example of this is how the show casts actors who look a lot like the characters they're playing. Actor Damon Herriman, who expertly portrayed Charles Manson in Season 2, really leaned into all of Manson's mannerisms, voice type, and body language. Interestingly, Herriman has played Manson twice this year, both in Mindhunter and in Quentin Tarantino's Once Upon a Time… in Hollywood.
A YouTube video edited a 60 Minutes interview with Charles Manson side-by-side with the Mindhunter interrogation scene and the similarities are staggering. It's easy to see how the scene from the show is meant to reflect this specific interview, right down to the dialogue and subjects discussed. You can check out the uncanny video below.
As for Mindhunter, the characters were faced with a major shake-up in FBI's ranks early on in Season 2. The former FBI boss was replaced by new director Ted Gunn, played by Michael Cerveris. Gunn seemed very enthusiastic about investigating serial killers and offered Holden a chance at interviewing Charles Manson early on. Though he was only in one scene, Manson's presence was intense and his seemingly nonchalant behavior rubbed Tench the wrong way. It was one of the only times Tench has almost lost his temper on the show, so Manson definitely had an effect on him.
Mindhunter Season 1 premiered on Netflix in the fall of 2017, so there was a lot of anticipation ahead of the show's second season. According to actor Holt McCallany, who plays one of three members of the FBI's Behavioral Science Unit Agent Bill Tench, director David Fincher seems to have plans to go five seasons. However, there's no telling if that will be the case. As of right now, Netflix has not renewed the show for a third season, though it didn't really announce a Season 2 was coming until earlier this year. With the success of the show and how much discussion there is about its material, the streaming service will hopefully give it another season.
Until we hear back about Mindhunter's renewal, there are plenty of other dramas that are premiering on streaming and network television this fall that have a similar vibe. To see what else the streaming service has coming up, be sure to take a look at our Netflix schedule.
Your Daily Blend of Entertainment News