Did Chicago Med's Halstead Just Make His Worst Decision Of The Season?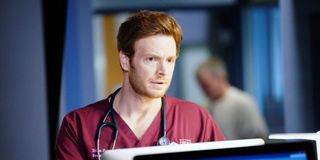 (Image credit: NBC)
Spoilers ahead for Episode 14 of Chicago Med Season 5, called "It May Not Be Forever."
Will Halstead hasn't had the easiest season on Chicago Med, spending most of the first half being rebuffed in his attempts to alert Natalie to Philip's sketchiness, moving on only to face his debatable role in the local opioid crisis, and then making the decision to participate in an illegal safe-injection site where he ran into a colleague... who is an addict. Now, Will has made a decision about Dr. Hannah Asher, and it could backfire.
When Hannah showed up at the safe injection site, Will did his best to convince her that she knew better and giving Narcotics Anonymous a shot was a good idea. At least partially motivated by Hannah's threat to expose his illegal work if he exposed her drug habit, Will persisted in trying to get her to deal with her problem and seemed to seriously consider outing her for the greater good, no matter the cost to him.
After asking Hannah to meet him at a bar -- which even she pointed out wasn't a very sensitive move -- he revealed he decided to deal with her refusal to turn herself in by quitting the safe injection site. When she protested that it meant so much to him, he said that it didn't mean more than "this." She told him that she never would have turned him in, and Will got pretty cozy when he offered to help her.
Touched that he cared, she said she'd turn herself in come morning, and he offered to go with her. Then she asked him to come over to her place, he grinned and nodded, and I heaved such an exasperated sigh that I might belong in the Windy City. Oh, Will, why do you do the things that you do?
On the one hand, of course Will's heart is in the right place as he tries to help Hannah without ruining her career (and potentially his own), and him telling her that he cares was enough to convince her to turn herself in. A+ on the caring, Will! On the other hand, Hannah was casually heading to safe injection site incredibly recently and had to have her arm metaphorically twisted to decide to turn herself in.
She won't recover just because she tells the truth about her addiction, and Will has already shown questionable judgment this season with how he handled working at the safe injection site. Seemingly starting a romance with a woman he hasn't known very long but who he knows has a drug problem and very recently threatened his career seems like a reckless decision for everybody involved.
Honestly, this was more irresponsible and short-sighted than actually awful or dangerous, but Chicago Med still has a ways to go in Season 5, and I'm guessing things will only go downhill even if they start off well. Hannah is in a precarious place with a rough road ahead of her; is Will able to live a balanced enough life to be stable for her? And how will it backfire on him and potentially prove to be his worst decision of Season 5, if my fears are (once again) proved correct in One Chicago?
Hey, at least Chicago Med continues to prove that the Halstead brothers are very much related! See what happens next for Will, Hannah, and the rest with new episodes of Med on Wednesdays at 8 p.m. ET, ahead of new episodes of Chicago Fire at 9 p.m. ET and Chicago P.D. at 10 p.m. ET.
Resident of One Chicago, Bachelor Nation, and Cleveland. Has opinions about crossovers, Star Wars, and superheroes. Will not time travel.
Your Daily Blend of Entertainment News
Thank you for signing up to CinemaBlend. You will receive a verification email shortly.
There was a problem. Please refresh the page and try again.