8 Walt Disney World And Disneyland Characters That Need Their Own Disney+ Shows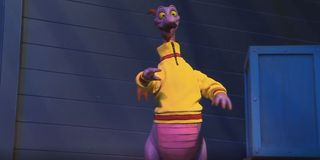 As soon as Disney announced its own streaming service we knew that Disney+ would be a major player. The library of content alone was going to make the service attractive, but along with all the classic stuff we love, we're getting a solid amount of brand new content as well, with series based on Star Wars and new parts of the Marvel Cinematic Universe, as well as Disney live-action remakes exclusive to Disney+.
It's clear that a big part of the Disney+ strategy is to attract viewers by creating new films and series based on popular characters that Disney already owns and fans already love. If the plan is to look at what has worked on the big screen to figure out what to do on the small one, then one place Disney needs to be looking is at its own theme parks. There's a lot of creative work there that can be "borrowed" for new material.
While it's certainly true that only Pirates of the Caribbean has been a complete success when it comes to theme park attractions adapted for film (though Jungle Cruise at least has a chance to change that), that is only proof that the concept can work, the rest is just figuring out the details. Perhaps what Disney needs is to start with the right characters. Here are eight characters that were created for Disneyland and Walt Disney World that should get their own Disney+ projects.
Orange Bird
Orange Bird has been around since Walt Disney World opened in 1971, but he's more popular now than ever before. Originally, Orange Bird was created as a mascot character for the Walt Disney World Tropical Serenade (the WDW version of Walt Disney's Enchanted Tiki Room) and its associated juice bar. He was part of a partnership with the Florida Citrus Commission, who sponsored the attraction. When the sponsorship ended in the late 1980s, Orange Bird faded from the park. However, in 2007 Orange Bird started to appear on merchandise at Tokyo Disneyland and the character proved incredibly popular. Eventually, he returned to Walt Disney World as well, and fans are still quite into the little guy.
Making a full series about Orange Bird is probably a little over the top, but Disney+ has proven itself to be a great home for animated shorts, like the Disney Short Circuit program or Pixar's SparkShorts. Perhaps we could get some Orange Bird animated shorts added to the service.
Redd
The Pirates of the Caribbean may be a successful film franchise, but at this point it's unclear exactly what the plan is for it on the big screen going forward. While there was talk about a new film somewhat recently, it hasn't gone anywhere. One pair of writers left the project and another has come on, but at this point it doesn't look like anything is really active. As with Star Wars, perhaps, if you're not sure what to do with your property on the big screen, the right solution is to bring it to the small one.
And, much like The Mandalorian, a Pirates of the Caribbean series can differentiate itself from the film franchise by focusing on a new character. Redd is the newest addition to the theme park attraction at Disneyland and Walt Disney World. She's a redheaded pirate that shows herself to be the equal of the men. She's a standout character on the ride and the most obvious place to center a new pirate-themed TV series, that should, if made, take place in the same universe as the big screen version. The movies can always come back to Captain Jack Sparrow later if they can figure out how.
Figment (And Dreamfinder)
Of all the characters that have been created for Disney theme parks, there may be none quite as popular as Figment. The little purple dragon was the star of Journey into Imagination, an early Epcot attraction, alongside his partner the Dreamfinder. When the attraction was remodeled in 1998, both Dreamfinder and Figment were essentially erased, but the outcry from fans was so strong that the attraction went through another update shortly after that, at least, brought Figment back into it.
Much like Orange Bird, an animated series, or collection of animated shorts, is probably the way to go here. Figment is very much a cartoon character and, assuming the show had some sort of focus on Imagination, an animated series would seem to fit, especially if it was a Figment solo show. Of course, if we can bring Dreamfinder back too, a live-action/CGI series sounds incredibly exciting, though the budget of such a thing would probably be too high to make it work.
Captain EO
Alright, so there are a couple of potential issues with this one. The first being that Michael Jackson, the man who originally played Captain EO, is dead. The other being that Michael Jackson, the man who originally played Captain EO, is...problematic. Still, if you were visiting Disney parks in the '80s there's no way you don't remember Captain EO. It was a fantastic combination of science fiction, 3D technology, and pop music. It needed to be, considering that, on a per-minute basis, it's one of the most expensive things ever filmed.
The lack of Michael Jackson isn't really a deal breaker. There are numerous other ways a Captain EO series could be handled. Under the circumstances, nobody is going to be shocked if you simply recast the part and reboot the idea from scratch, but you could also make it a prequel or a sequel series that takes place long after the events of the original theme park film. As long as it has some cool aliens, and good music, we can probably make it work.
The Society Of Explorers And Adventurers
One of the more fun creations within the Disney theme parks over the last several years has been an organization called The Society Of Explorers And Adventurers, or S.E.A. The organization is made up of a collection of fictional characters who are referenced at Disney Parks all over the world. The first reference to the organization came in 2001 with the opening of Tokyo DisneySea. Tokyo's version of the Tower of Terror isn't themed after The Twilight Zone, but has an entirely original story. The tower was built by a man named Harrison Hightower III. Lord Henry Mystic built Mystic Manor, Hong Kong DIsneyland's version of the Haunted Mansion. Even the Jungle Cruise's Dr. Albert Falls is a member of the special club of adventurers.
Needless to say, a series following the adventures of a collection of globetrotting explorers sounds like a lot of fun. It could go for a more serious Indiana Jones type of vibe or something a bit more comedic, seeing as how most portraits of the various characters are quite exaggerated. But, either way, a series would be a great way to add depth to these characters, and perhaps even include the park attractions as actual locations in the series.
Albert
Above I made reference to a character named Lord Henry Mystic, the owner of Mystic Manor at Hong Kong Disneyland. Mystic isn't the only character you'll meet if you visit the attraction. Lord Henry also has a little monkey friend named Albert, who inadvertently opens up a mysterious music box and sets off the story of the attraction itself. While Albert could be incorporated into a series about The Society Of Explorers And Adventurers, he could also just as easily get his own series.
Albert is cute and mischievous, and Lord Henry Mystic surely has lots of interesting trinkets in his collection. An animated series where Albert gets himself in trouble on a regular basis with each one could be quite fun, and it would introduce western audiences to this character that most have probably not had a chance to experience first hand. Perhaps we could see a series of shorts focusing on Albert as an adjunct series to the larger S.E.A. series, in the same way that Forky has his own shorts collection on Disney+ following Toy Story 4.
Country Bears
Ok, yeah, the Country Bears were the subjects of one of those "theme park attraction-to-movie" ideas that just didn't work. However, the reason the idea didn't work had nothing to do with the characters themselves, and everything to do with a terrible script. The characters might still grab an audience if the material is strong.
Am I entirely certain something like this would work. No, not at all, but the Country Bears are sort of...ridiculously popular. When a rumor went around that the attraction might be closing at Walt Disney World, people basically flipped out, so, clearly, there's an audience. And, with modern, Lion King style digital effects, Disney could create something so distinct from the movie that nobody will even be able to compare the two.
Tiki Birds
We started this conversation with Orange Bird, who was born from the Walt Disney World version of the Enchanted Tiki Room, and so we'll wrap up with the original characters. Jose, Fritz, and the whole gang were the first audio-animatronic characters inside Disneyland, and the show they put on is still one of the most popular attractions in the 60-year-old park.
This could be an animated series or a Lion King-esque CGI series, but a show that included the birds, the singing plants, and the various Tiki gods, seems like something that could do well on Disney+. If nothing else, it would have one hell of a catchy theme song. Dole Whip not included.
While most of the attractions at Disneyland and Walt Disney World are based on movies themselves, quite a few have their own creative characters and stories that are entirely original. The attractions bring these characters to life in ways that no television series can, but since most of us can't go ride these attractions any time we want, some Disney+ content based on them might help scratch an itch, and also create some fun new series and exciting adventures.
CinemaBlend's resident theme park junkie and amateur Disney historian. Armchair Imagineer. Epcot Stan. Future Club 33 Member.
Your Daily Blend of Entertainment News
Thank you for signing up to CinemaBlend. You will receive a verification email shortly.
There was a problem. Please refresh the page and try again.